Advent is the celebration of the second coming of Jesus. Observing the four weeks before Christmas with some family Advent activities will enrich your enjoyment of the holiday season. It will also give you a deeper understanding of the true meaning of Christmas. Here are seven fun ways to celebrate Advent with your family.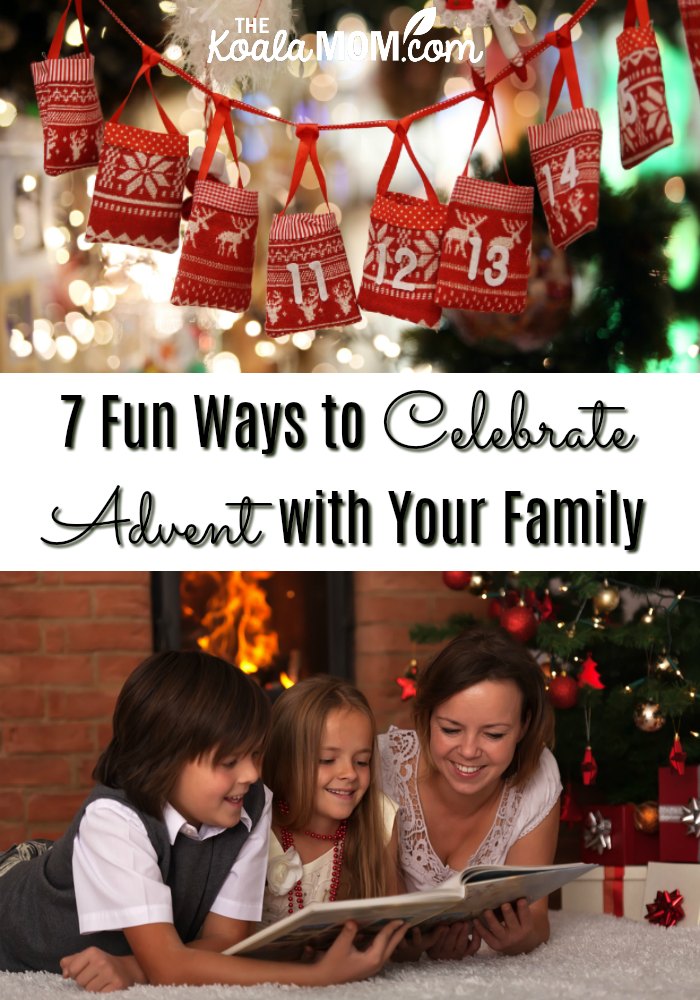 This is a guest post written for the Koala Mom by Laurel Whitworth.
1. Make Your Own Advent Calendar
While it's true that some Advent calendars available for purchase are quite extraordinary, there's something to be said for making your own. Rather than spending a lot of money on a fancy manufactured piece or buying a disposable paper calendar filled with cheap chocolate, you can create your own personal masterpiece with a little bit of creativity.
Children are natural artists, so creating an Advent calendar is a perfect opportunity to teach them about the meaning of the season. Your Advent calendars can be as simple or elaborate as your heart desires.
Here are a few Advent calendar ideas:
Go rustic with a chalkboard calendar. Find a template online on how to fashion your own foldable boxes, spray paint them silver to give them a galvanized look and use chalk to write the day of the month over each one, with a pretty star marking December 25th.
Don't spend a dime by repurposing empty containers, such as coffee and tea canisters or any metal can with a sealable lid. Print out numbers for your canisters on your home computer or paint them onto the outside of the cans themselves. Stack them in the shape of a tree.
Create a tiny tin pail garland by purchasing miniature metal pails and tying them to a length of your favorite colorful ribbon. Use numbered craft stickers or carefully script pretty numbers onto each pail, then fill them with gifts and candies. Hide the contents with small swatches of pretty tissue or wrapping paper.
Use an empty picture frame or a cork board and attach tiny manila envelopes in five rows of five. Number the envelopes, decorate them with bakers' twine, stamps, stickers, wrapping paper cutouts, and name tags. Fill them with religious stickers, a proverb, or a prayer.
2. Make a Prayer Garland
Remember the meaning of the season by creating a prayer garland around your advent wreath. You can make a garland from something as simple as a length of pretty ribbon or use an actual garland.
Select 24 Christmas gift name tags and write the name of a family member, friend, neighbor, or congregation member on each one. Tie them to your garland. Use this garland the same as you'd use an Advent calendar. Each day in December, remove a name, and, as a family, pray for the person whose name appears on the tag.
3. Read for the Season
Replace typical bedtime stories with Advent series or books about Jesus. There are a countless number of Jesus-centered storybooks that will help children gain a deeper meaning of the season, from board books for the smallest readers to more involved books.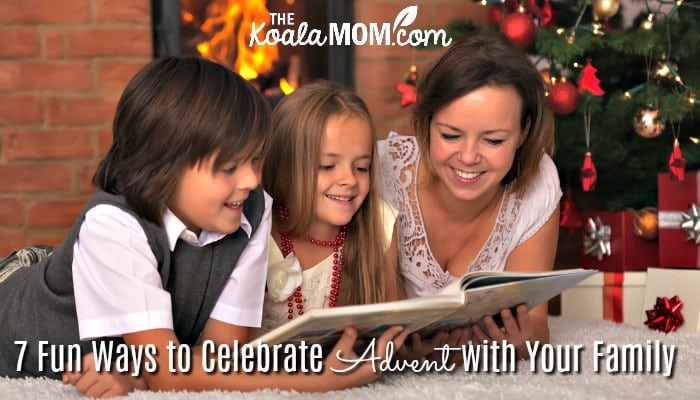 Here are some of our favourite Christmas books:
Take the opportunity to create a Christmas library by individually wrapping 25 Jesus-centered Christmas books and having kids open one each night before bed. This could become a favourite way to celebrate Advent with your family!
Bonus for Mom: 7 Christmas novellas to get you in the holiday spirit!
4. Paper Trees and Ornaments
Another way to celebrate Advent with your family is by making a new paper ornament each day. Decorate these with the standard fare like crayons, markers, puff paint, and glitter, or get crazy with different shapes of pasta, beads, and bird seed. Hang your Christmas crafts on a large paper tree—green poster board works great—or use a small live tree if you prefer.
Alternatively, you can use this opportunity to create a Jesse Tree. Rather than plain crafted ornaments, select 24 of your favorite Bible stories and create an ornament that represents the day's story throughout the celebration of Advent. As you do this, read the stories and Scriptures and discuss what they mean, then place the ornament on the tree. Finish your tree on Christmas Eve with a paper star representing the birth of baby Jesus.
5. Create a DIY Nativity Scene
Go simple with Play-doh, make it more permanent with clay you can let harden and later paint, or go big and display your scene in the front yard with plywood cutouts representing Jesus, Mary, Joseph, the Three Wise Men, and all the animals. If you'd like to make a lawn display but don't have the time for such an elaborate project, consider making it a family tradition and create a new figure each year.
6. Make Christmas Cards Mean More
As the Christmas cards begin to fill your mailbox, designate a basket for them to sit. Once a day, gather as a family and choose a card. Pray together for the individual or family who sent the card. You can even have the kids write a special note to the person, thanking him or her for taking the time to remember them during this special season.
7. Make Your Own Advent Candles
Candle making is fun and easy and can be enjoyed by the whole family. Not only is this a time-honored homesteading skill, but it'll give special meaning to the candles you burn throughout the season. Depending on the age of your children, there are a host of online tutorials to help guide you. Younger children can make candles from craft paper or felt.
You'll need a few supplies like wicks, wax, a tall narrow metal container for your wax, nuts to attach to the ends of the wick to keep it straight, a tall bucket of cold water to dip your candles into to cool them quickly, scissors, and a rack where you can hang your candles to cool and harden. Also, don't forget the right Advent colors—white, violet, rose. You can dye your wax with special dye melts sold at craft stores, or you can use food coloring.
Final Thoughts on Celebrating Advent with Your Family
With these seven family Advent activities, you can rekindle the true meaning of the holiday season. Your entire family will share in the prayer, preparation, and joy of Advent.
What ways to celebrate Advent with your family would you suggest?
Laurel Whitworth is married to David and is a mom to four little people. She is the VP of Merchandise for Aquinas & More as well as the manager of all things family life. She and her family are enjoying their new life in Colorado with many trips into the mountains and forging new friendships in church and school. Laurel dreams of a world where all baptized Catholics rise up and follow their faith in every aspect of life.