There's nothing like snuggling up in a blanket by a roaring fire with a cup of hot chocolate and a good book for the Christmas season. Whether your fire comes from Shaw or a birch log, here's seven Christmas novellas to get you into the holiday spirit.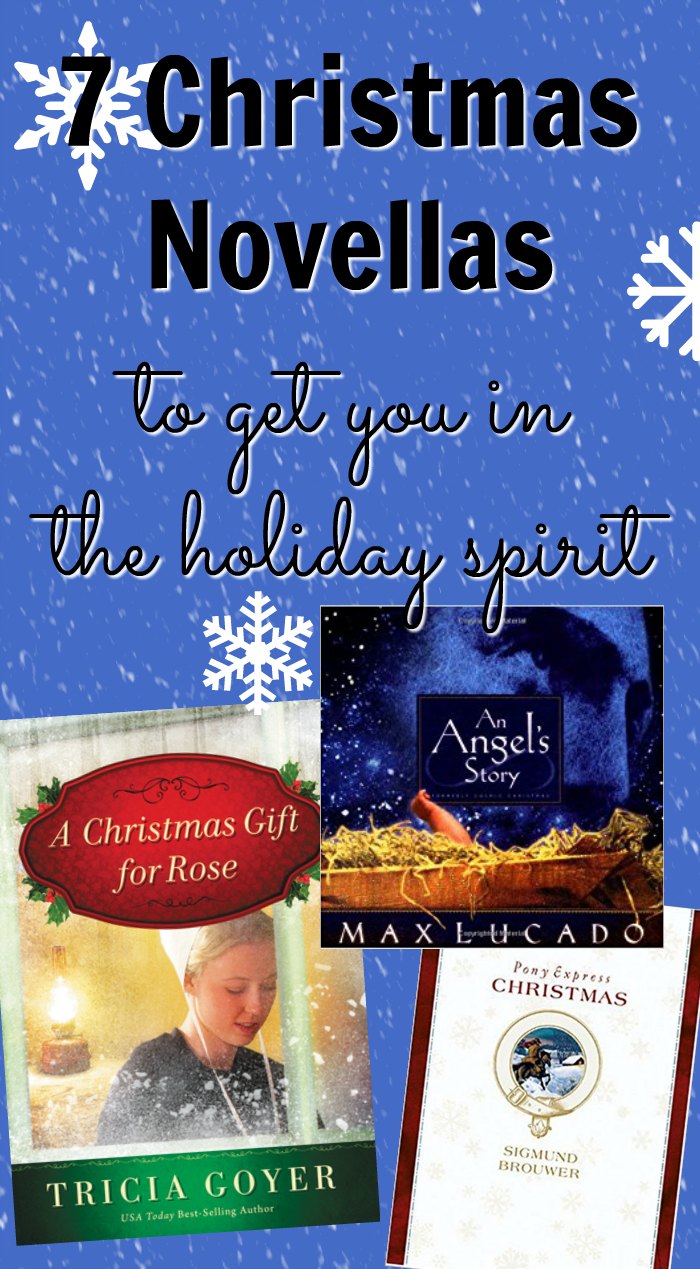 This post contains affiliate links; as an Amazon Associate, I earn from qualifying purchases.
Pony Express Christmas by Sigmund Brouwer
Jeremiah and his son are on their way back from town when they run into trouble—a broken wagon, bad weather, and brigands. A Pony Express rider must choose between staying on time with his mail run and offering help to the stranded settlers. And at home, Jeremiah's wife watches anxiously for her husband's return, wondering how this Christmas—so far from home, with so little to celebrate—can be happy at all.
Pony Express Christmas
is one of my favourite Christmas stories. If you like the Little House on the Prairie books or any of Sigmund Brouwer's other westerns, you'll enjoy this novella.
Silent Star by Tracie Peterson
World War II is not a good time to be the town's telegram delivery boy. Unable to serve in the war because of a foot injury, Andy becomes known as the bearer of bad news. Then he meets Estella, a widow who tries to tell him that people in pain often do not understand the wounds they give others.
"If Christmas means even the slightest bit of loneliness and sadness to you, I think you will experience the essence of God's love while reading this book. I highly recommend it." ~ Amazon review
Silent Star
by Tracie Peterson is a story of love and hope in unlikely places.
Timken's Christmas by Michael Kimball

Like everyone in Doursville, Timken gets to choose his own cornello and begin learning to play it when he turns eight.  Unlike everyone in Doursville, however, Timken can't seem to play the right music. Then one day Timken meets someone who teaches him about another type of music…
Timken's Christmas is a cute allegory about Christmas. I enjoyed learning, along with Timken, that each of us has a part in God's orchestra.
Cosmic Christmas by Max Lucado
Gabriel is entrusted with a special mission: take God's most precious gift to earth. Yet even God's most trusted angel has questions about God's plan this time. As Gabriel follows Mary on her journey to Bethlehem, we see the Christmas story in a whole new light.
"In that moment a wonderful thing happened. As we looked at the baby Jesus, the darkness lifted. Not the darkness of the night, but the darkness of the mystery. Heaven's enlightenment engulfed the legions." ~ Cosmic Christmas
Read excerpts from Cosmic Christmas
(now An Angel's Story), as well as an afterword, on Max Lucado's website. My mom often read this story aloud to us on Christmas Eve or while we drove to my grandparents' place for the holidays.
A Christmas Gift for Rose by Tricia Goyer
Christmas is approaching, but Rose is having a hard time feeling festive. Her fiance has returned from serving as a medic in World War 2, leaving her conflicted about their relationship. They are Amish, yet he helped the Englisch. In the end, Rose must learn to trust in God and His plans for her.
Author Tricia Goyer pens a touching story about community and faith and adoption in A Christmas Gift for Rose. If you like Amish novels, you'll enjoy this story.
Unafraid by Angela Elwell Hunt
Mary is one of the most revered women in history, but she was an ordinary woman striving to please God in the same way that women still do today. Gain a new appreciation of the familiar story through Francine's signature style. Unafraid: Mary
includes a  study on the Biblical text for personal or group study. (Note: Francine writes from a Protestant point of view.)
Where Treetops Glisten by Tricia Goyer, Sarah Sundin and Cara Putnam
Where Treetops Glisten is three Christmas novellas in one. Written by Tricia Goyer, Sarah Sundin and Cara Putnam, these stories follows three siblings through the Christmases of World War II, from December 1941 to 1945. Faith is a constant theme in the stories, yet doesn't come easily for any of them. I enjoyed following the Turner family through each story, getting each siblings' perspective on the war and the holiday season.
What are your favourite Christmas novellas or novels?