I've noticed that one measure of whether I like a book or not is how long it takes me to read that book. I flew through Together With You in about a week (don't ask me how I found the time!), but Life in Defiance seemed to take much longer (at least for the first half). I start every book with a sense of anticipation and I always finish a book that I start, but some take longer than others. Like Jerry B. Jenkins' new novel about the Apostle Paul, Empire's End: A Novel of the Apostle Paul
.
I read many of Jenkins' other novels during my teens and I really enjoy Biblical fiction. Even though Paul's story is told in Acts and he himself wrote much of the New Testament, we don't know that much about him. So I thought it would be fascinating to see what Jenkins could dig up—or make up—about him.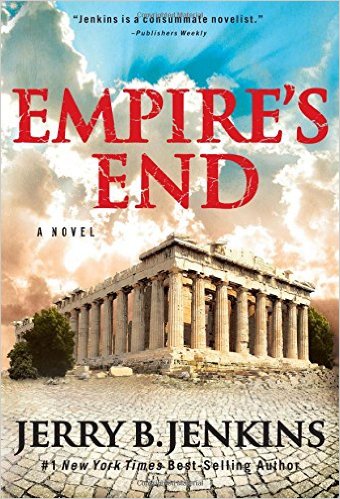 I received this book for review courtesy of the publicist; all opinions expressed are my own. This post contains affiliate links; as an Amazon Associate, I earn from qualifying purchases.
Plot Summary for Empire's End
Jenkins opens the novel with Paul reflecting on stoning Stephen as he heads for Damascus. Then he encounters Jesus on the road and spends several days in prayer in Damascus before escaping. From there, fiction takes over as Paul's horse carries him far out to the Arabian desert. Most of the novel takes place here, as Paul lives in a hidden early Christian community and spends his days in prayer and tentmaking.
Finally, God sends Paul back to civilization. He goes first to Jerusalem, where he meets some of the other disciples, including Barnabas, who will become his companion in later years. Then Paul heads to Caesarea, where he helps some friends from the desert community in which he'd taken refuge. Finally, Paul returns to his home town of Tarsus, where, of course, no prophet ever received a welcome.
My Thoughts on Empire's End
Empire's End spans only the first few years of Paul's ministry, giving us a hint of the development of some of the ideas of his letters. I think my biggest problem with this novel was simply that I didn't like the character Jenkins gives to Paul. Although, from Acts and his letters, I'm not sure that Paul was an entirely likeable character, I found it hard to identify with him. So I'll pass this book along to my younger brother; maybe he'll enjoy it more than I did.
More about Jerry B. Jenkins
Jerry B. Jenkins is the author of 186 books, including the best-selling Left Behind series
. He's also the founder of the Jerry Jenkins Writers Guild, offering support and courses for aspiring writers. Writers working on a book can grab his free guide on How to Write a Book: Everything You Need to Know in 20 Steps. He and his wife have three grown sons and live in Colorado. Find out more about his books or download his writing tips by visiting his website.
"The best writers don't explain history or spin tales, they show us our own hearts. This is what Jerry Jenkins has done in Empire's End." ~ Chris Fabry
If you want to learn more about the Apostle Paul, you may also enjoy Paul: Apostle of Christ (DVD) or In the Footsteps of Paul (a nonfiction book that traces Paul's missionary journeys).