Saint Paul is one of the best-known apostles and missionaries of the Bible. His conversion story remains one of the most famous in history and his missionary journeys took him through most of the known world in his day. His letters to the early Christian churches form nearly half of our New Testament and much of our Christian understanding is based on what Paul said. Yet for most of us, the places that Paul visited and walked remain just random names in our Bible or spots on little maps in the back of our Bibles.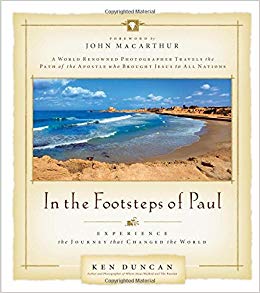 This book was provided for review courtesy of the publisher or publicist; all opinions expressed are my own. This post contains affiliate links; as an Amazon Associate, I earn from qualifying purchases.

Ken Duncan's book In the Footsteps of Paul: Experience the Journey that Changed the World
illuminates Paul's life and journey with beautiful photographs, excellent quotes from noted Christian authors, and pertinent Bible passages. With his camera, Duncan traced Paul's journeys through the Mediterranean, photographing the way things are today, yet also capturing rocks and gates and tells that have stood since Paul's time.
In his introduction, Duncan admits that "part of me didn't really want to follow in Paul's footsteps because I knew it would challenge me in my own walk with God, and I was right. Paul was a man just like me. … Yet as I looked closely at Paul's life, I realized how far I still had to go as a believer. Paul was all in for Jesus." Duncan's pictures, maps, and reflections on Paul's life give the reader new understanding of what this one man accomplished for God.
Duncan's photographs are amazing, making each place pictures seem stark and real. As John MacArthur says in the foreword, "Ken is a superb photographer with an uncanny ability to capture the atmosphere of Paul's world with breathtaking clarity." Duncan captures the churches built as memorials to Paul's journeys, the icons and statues carved in honour of Paul and those he met on his journeys, and places that Paul himself would have seen and traveled past.
In the Footsteps of Paul is a book that readers will want to read again and again, to delve into in their devotional life, or just to leave on the coffee table to glance through as time permits.
If you want to learn more about the Apostle Paul, you may also enjoy Paul: Apostle of Christ (DVD) or Empire's End by Jerry B. Jenkins (Biblical fiction).