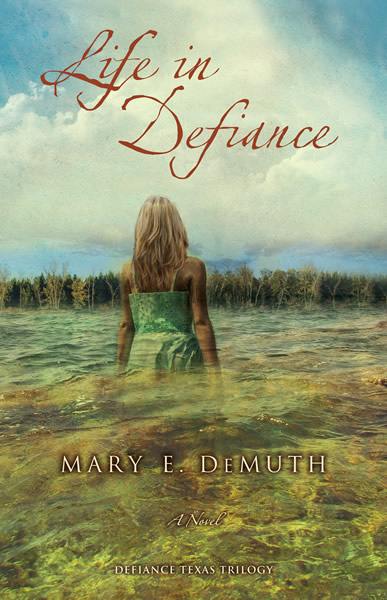 I've been looking forward to reading the final book in Mary E. DeMuth's Defiance, Texas, trilogy ever since I finished the first book. Life in Defiance turns the storytelling over to Ouisie, Jed's mom and Emory Chance's best friend. Here, finally, the mystery of Daisy Chance's death and murder is revealed.
However, I found Life in Defiance hard to get into. For the first half, while I wanted to find out the "whodunnit," I was a bit frustrated with Ouisie. Hap Pepper's abuse is hinted at in the first two books and completely obvious in this book, making me want to yell at Ouisie, "Just get outta there!" At the same time, I could in some ways understand the prison she felt herself in.
Through Ouisie's eyes, we see Jed grow more and more distant and angry. We also see Emory's path to healing and restoration. Ouisie struggles with her faith and role as wife and mom, turning to Elijah, the strange man who shows up in town and give Ouisia cryptic advice and small presents, and Sheba, the author of a book about marriage who gives Ouisie advice via correspondence.
About halfway through, the book began to pick up. By the last quarter, I couldn't put it down. Everything comes together quickly at the end as the threads of the story come together. I liked the way some unexpected friends showed up in Ouisie's life. Like the first two books, Life in Defiance is a story of healing and redemption, and I enjoyed seeing this happen, not only in Ouisie's life but in several of her friends' as well, as the story wraps up.
For more about the first two books in the trilogy, check out my reviews:
Mary DeMuth loves to write and speak about the redemptive work of God. She and her husband Patrick served for several years as missionaries in France; now they and their three children live in Texas. She's the author of the Defiance, Texas trilogy as well as several nonfiction books, including Everything: What You Give and What You Gain to Become Like Jesus. She has a variety of free resources on writing and sexual abuse on her website. You can also find her on social media.
I bought this book because I liked the first book so much; all opinions expressed are my own. This post contains affiliate links; as an Amazon Associate, I earn from qualifying purchases.