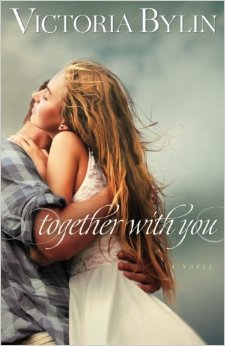 Every once in a while, I challenge myself to read a book by a new-to-me author. Together with You by Victoria Bylin caught my eye because of the theme of Fetal Alcohol Spectrum Disorder. I know several children with FASD so I was curious about what I'd learn about it from Victoria's novel.
Carly Mason is an ex-social worker with a part-time job at the mall while she works on her master's degree. When she meets Penny, she knows right away that the little girl suffers from FASD. Carly's been burned before by getting too close to a client, but she can see that Penny's dad Ryan desperately needs help. Telling herself not to get emotionally attached, she takes the job at Penny's nanny.
Ryan Tremaine is a successul dentist and a less successful family man. With his ex-wife away on a missions trip, he's got the kids for the summer. Nothing, however, is working out the way he'd hoped when he wrote his sink-or-swim (SOS) list. His sons remain distant and Penny is going through one nanny after another. Until Carly shows up, with her intuitive understanding of Penny's problems.
As the summer progresses, Carly and Ryan must deal with the various crises facing the family… as well as their growing attraction to each other, despite the differences in their view of faith. Both must also deal with the pain of their past mistakes and learn to forgive themselves.
I read this book in less than a week. Victoria has a gift for creating realist, unique characters, and I enjoyed each of them, from Carly's next-door neighbour to Ryan's sons and Penny's aunt. I particularly enjoyed the few short sections written in Penny's point of view, which captured both her childlessness and her unique perspective on what's going on around her. Transformation happens slowly and realistically through the novel; it was neat to see the family growing closer together, yet I never felt like Victoria rushed the story.
Victoria Bylin is the award-winning author of more than 10 novels. She and her husband live in Kentucky and have two grown sons. She says, "My books generally fit into one of three themes: redemption, resurrection and restoration. They're about people overcoming life's trials with the help and grace of God. I hope readers come away with a sense of hope, an interest in faith and an understanding of forgiveness." To find out more about Victoria and her books, or to find her on social media, drop by her website.
I received this book for review courtesy of Graf-Martin Communications; all opinions expressed are my own. This post contains affiliate links; as an Amazon Associate, I earn from qualifying purchases.