Nine years ago when I hit "publish" on my first blog post, I had no idea what I was getting myself into. I knew nothing about HTML or SEO. I didn't really read any other blogs. I liked taking pictures, but I'd never tried photo editing. All I knew was that I was a writer and this was a space to write.
Over the last nine years, this blog has grown and changed with me. It has taken me to conferences like Women of Faith in Seattle and BlogHer14 in San Jose. It has introduced me to other great bloggers, like the lovely ladies who are hosting this party with me. It has become my part-time job, a way to earn a bit of extra money while staying home with my daughters. And it has always been my creative space, a place for me to share my thoughts and writing and stay sane.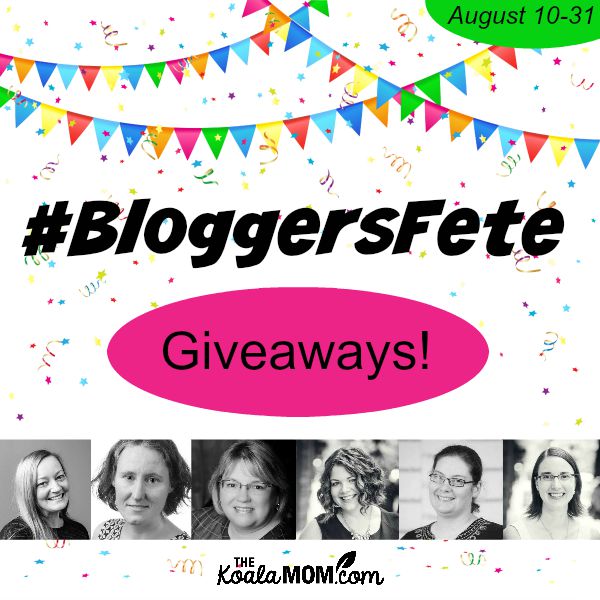 This month, I'm celebrating those nine years with BloggersFete 2015. I want to celebrate the brands whom I've had a chance to work with in the past few years and YOU, my amazing readers. I wouldn't be here today without you. Seriously, if my blog were still just read by my husband and my mom, I think I would've given it up a long time ago. So thank you for reading and making this space possible for me.
The BloggersFete 2015 Givewaways
To give back to you, I've teamed up with some fellow bloggers and amazing brands to bring you as many giveaways as I can!!! Browse the list below and then leave a comment letting me know which prize(s) you'd like to win. If your name is picked by Rafflecopter on September 1st, I'll check your comment and email you to let you know you've won!
1. The Catholic Mom Giveaway (Can/US)
One lucky Catholic mom will receive a bundle of books, ebooks and printables including:
St. John the Baptist Fun Fact Cards for Catholic Kids, St. Kateri Fun Fact Cards for Catholic Kids, and Printable Rosary Cards for Catholic Kids from Dianna at The Kennedy Adventures.
Sisterhood of Saints: Daily Guidance and Inspiration (hardcover), a page-a-day devotional featuring a different woman saint each day of year and how she can inform our faith journeys today, from Melanie Rigney
Blessed Are You: Finding Inspiration from Our Sisters in Faith (paperback), which shares the way in which women saints lived the Beatitudes and how they can help us do the same, from Melanie Rigney
Loving Yourself Well, a full-color 29-page ebook jammed full of our best home remedies, tinctures, and tonics so you can learn to build a foundation of wellness and joy in your life, by Daja and Kristina from The Provision Room
Grace & Glory For Moms, a compilation of 31 devotions that speak peace, joy, and encouragement for the journey of mothering, along with journaling pages, by Daja and Kristina from The Provision Room
Two feast day table runner patterns (one for Advent and one for July 4th) from Jen Frost at Faith and Fabric Design
The Intentional Schedule: A Workbook for Creating a Priorities-Based, Scheduled Rhythm by Amy Garro from Go Forth and Mother
Love Rebel: Reclaiming Motherhood by Bonnie Way, Anna Eastland, Monique Les, Monique LeBlanc and Melanie Jean Juneau
2. The Homeschool Giveaway (CAN only)
Bonnie Landry's "Homeschooling, Simplified" series of five paperback booklets: Dictation, Chocolate Chip Math, Writing with Children, How to Read a Book so it Becomes the Curriculum, and What Matters Most
Tadeo Turtle by Janis Cox (paperback book and PDF curriculum supplement)
The Bear's Song Puzzle by Benjamin Chaud and Space Flash Cards (Featuring Photos from the Archives of NASA) plus tote bag from Raincoast Books
3. The Legal Giveaway (Can/US)
One LegalShield Family Plan for 2 months (includes personal will, enduring power of attorney, and a personal health directive for one lucky mom and her spouse, valued at $62 and applicable for residents of BC, Alberta, Ontario and the US except for

Alabama, Arkansa

s, Florida, Illinois, Massachusetts, Mississippi, Missouri, Montana, Nebraska, New Jersey, North Dakota, South Carolina, Tennessee, Texas, Virginia, Wisconsin.

) from Judy Reiman at Legal Shield.
4. The New Mom's Giveaway (Can/US)
5. The Reader's Giveaway (Can/US)
6. The Housecleaning Giveaway
500 ml Spray Bottle of ready-to-use FrogWash solution and a 250 ml refill of commercial strength (undiluted) FrogWash. FrogWash solves the problem of needing a number of different cleaning products in your home or business with a single, effective, non-toxic, eco-friendly, unscented, concentrated solution.

7. The Fitness Giveaway (Can/US)
BeachBody's 21-Day Fix program (workout DVDs and portion control containers, valued at $75.00) from Janelle Yasinski

8. The Homesteading Giveaway (Can/US)
9. The Kids' Book Giveaway (CAN only)
10. The Vancouver BC Giveaway (CAN only)
Plus, BloggersFete 2015 continues!!!
Join our LIVE BloggersFete 2015 Twitter party tonight at 8 pm for more chances to win incredible prizes (make sure you RSVP here and participate at the party to be eligible).
Come back tomorrow to join our social media linkies and meet some new friends online and win more prizes!
Drop by the BloggersFete 2015 co-hosts blog to check out their givewaways:
Plus we'll be hosting an Instagram contest, a Pinterest party, and a Facebook party too, so stay tuned for more details.
Sign up for my email newsletter to make sure you don't miss an announcement or keep an eye on our social media channels. Have fun partying at BloggersFete 2015!