Once upon a time, I was an organized person. My bed was always perfectly made, my stuffed animals were lined up on a shelf, my desk and dresser tops were bare. When I worked in various offices during university, my co-workers were always amazed at the fact that there was nothing on my desk—everything was filed away and neatly organized. Then I became a mom.
I don't know if it's mommy brain or the reality of cleaning up after three kids, but I'm much less organized now. My desk is piled high with whatever gets dumped on it and I routinely run out the door without something I was supposed to take with me.
Zara Merbaum is a mom who understands what that's like. She tried to use Ziploc bags to keep herself organized and then created her own line of Eco-friendly cloth bags to help moms keep track of everything. The Mother Load Collection consists of five durable cloth bags, each color-coded for its function: diapering, dirty clothes, clean clothes, toys, and snacks/bottles.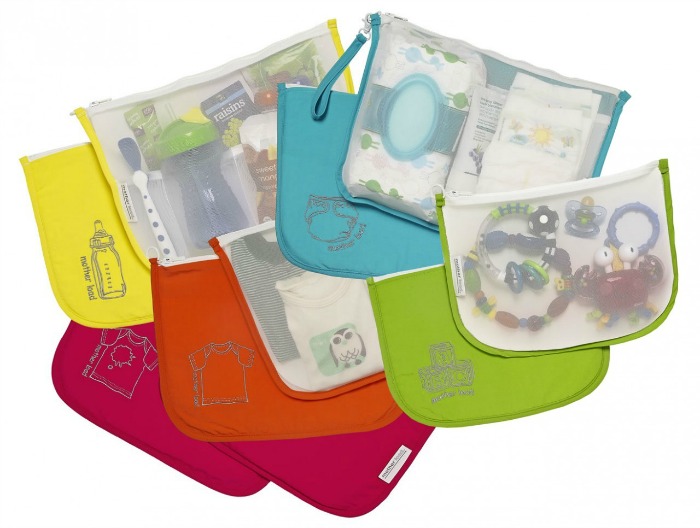 I really like the bags' bright, gender-neutral colours. Each bag has a big, sturdy zipper along with a convenient strap clipped onto the corner. The embroidered logos in each corner makes it easy to know what each bag holds. When we're heading out the door, I can fill the girls' water bottles and throw them in the bottle bag to make sure we stay hydrated through the day. Now that Jade is getting older and I need less things in the diaper bag, it's nice to grab the Mother Load diaper bag, which comes with a change pad, for a quick trip into town.
These are going to be very handy for road trips as well. When we went for a longer driver up-island, I used the toy bag for the girls' LeapFrogs; I wasn't sure all three LeapFrogs would fit in the bag, but the stretchy mesh side provided lots of room for three machines and the game cartridges. The girls were able to pass the bag back and forth to share games.
As a mom, I've tried various diaper bags and I'm always looking for products to help me stay organized. The Mother Load Collection delivers on both fronts, making it easier to make sure I've got everything I need with me. And it's easy to get Sunshine and Lily involved in helping pack or grab the bags by just telling them to get the blue bag or the red bag for me.
To find out more about the bags or order a set for yourself, drop by the website. You can also follow the Mother Load on Facebook and Pinterest.
I received the Mother Load collection for this review; all opinions expressed are my own.