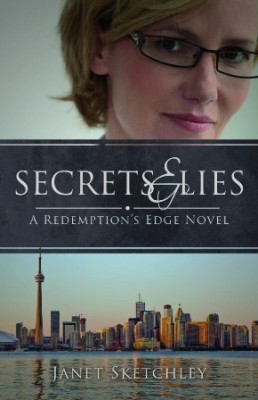 With her second novel, Janet Sketchley has firmly established herself as one of my favourite authors. I asked her to let me review Heaven's Prey earlier this year, and I was delighted when she asked me to review the sequel, Secrets and Lies. I downloaded it onto my Kobo and then kinda got lost in it… I'd grab it any time I had a few seconds to read. My husband tried asking me once or twice what I was reading and got a mumbled answer of "Janet Sketchely's new novel."
Carol Daniels thinks that with her recent move to Toronto, Ontario, she's escaped anyone who knows of her connections to race car driver Harry Silver, now in jail for rape and murder. All she wants is a quiet, peaceful life for herself and her son, Paul. Then the phone calls start. The drug lord Harry was working for wants his money… and he thinks Carol has it.
As Carol tries to cope with her nightmares and fear, she turns to two new friends: Joey, the late-night DJ who plays her favourite Billy Joel songs when she can't sleep, and Patrick, a regular at the cafe where she works. Both men are caring and concerned for her, but both are keeping secrets from Carol… as is her son, Paul.
Secrets and Lies has the same fast-paces suspense and deep character insight as Janet's first novel. Once again, Janet displayed her incredible ability of making an evil character into someone whom the reader can feel compassion for—and then redeeming that character by the end of the novel. A constant theme throughout the novel was the perils of drug use, yet the story never felt preachy. Janet simply tells stories about how drugs impacted different people, from Carol's younger son Keith to the drug dealers to Paul's friend Amber.
Another thing I liked was the way that Janet wove the two novels together. Yes, Secrets and Lies is the sequel to Heaven's Prey, but either novel stands alone. The first tells the story of the brother, the second of the sister. And while we're aware of Harry's presence in Secrets and Lies, Janet never stops the story to say "oh, in case you didn't read the first book, here's what Harry did." If you haven't read Heaven's Prey, you'll probably want to after reading Secrets and Lies… just as I can't wait for Janet to write the next novel, which is also hinted at with a minor subplot in this character. (Up next: the story of Harry and Carol's cousin.)
Janet Sketchley is a Canadian author with a passion for fiction. She has over 50 varieties of tea in her house, has ridden an elephant, and is really good at untangling yarn and Slinkies. Janet is a long-time member of ICWF and was the fiction columnist for their newsletter FellowScript. She and her husband have two grown sons. Drop by her website to read the free prologues to both Secrets and Lies and Heaven's Prey (not found in either novel) and check out a playlist of Carol's favourite songs.
"With the backdrop of music and family, Secrets and Lies could really be defined as a retelling of the Ultimate Redemption. Sketchley is very adept at writing about the sometimes intricate and confusing relationships that make up a family. This one is not to be missed." ~ Linda Hall, award-winning author of Steal Away (Christian fiction) and Night Watch (mainstream)
I received this book for review courtesy of the author; all opinions expressed are my own. This post contains affiliate links; as an Amazon Associate, I earn from qualifying purchases.