When I stared editing FellowScript, Janet Sketchley was doing acquisitions and writing the fiction column.  Over the years that we worked together, I knew she was writing a novel, so I was delighted last year to hear it was finally being published.  I shamelessly asked her if I could review it for her and she said sure—but she wasn't sure it was the type of book I usually read.  She added, "I'm a timid reader, and if I hadn't written it, I'd hesitate to pick it up."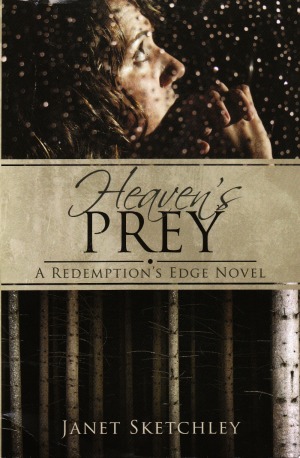 I was intrigued.  I read the occasional suspense novel, so I looked forward to getting Heaven's Prey.  My husband did a double-take when I told him what the book was about, but once I started reading, I couldn't put it down.  Janet tackles a truly tough topic with the grace and poise I expected from her after reading her fiction column for so many years.
After her niece's brutal kidnapping and murder, Ruth Warner finds peace and healing by praying for Harry Silver, a race-car-driver turned serial rapist who recently escaped from prison.  Her prayers, however, stir up tension not only with her unbelieving husband but also with members of her local prayer group.  She's on her way home from a weekly prayer meeting when she runs into Silver himself.  Now, all her faith is put to the test as Harry kidnaps her and plans to make her his last victim…
As I started the novel, I wondered how earth Ruth would escape from Harry.  Janet does an excellent job of writing him as a dark, scary sociopath.  As the novel progresses, however, Janet slowly takes the reader into Harry's head.  We learn about his porn addiction, his racing career, his childhood.  While none of this excuses Harry's crimes, it makes him human rather than monster.
I appreciated the fact that, even when Janet was writing about Harry's crimes, she never made it graphic.  We are given enough detail to know what happened but not so much that the crime is sensationalized.  Yet these scenes never felt like the author was intruding by withholding information.  Ruth talks about reading crime reports, about the horror she experienced in learning about Harry's crimes, and her fear and disgust towards him gives the reader a bigger picture of Harry.  At the same time, Ruth's faith allows her to see Harry in another light.
To get a taste of the story, you can check out the Heaven's Prey Blog Chase.  At each stop in the chase, you'll get a short "prequel" of the novel, some insight into what happened before Ruth encounters Harry.  You can also drop by Janet's website to read interview with the characters and with Janet.
Janet Sketchley is a long-time member of Inscribe Christian Writer's Fellowship.  She is passionate about fiction, but also has a nonfiction story in the award-winning anthology A Second Cup of Hot Apple Cider.  She calls herself "a Christian growing in faith, trying to balance relationships and responsibilities."