I'm not good with directions.  Well, that's not quite true.  If the directions are absolutely clear and minutely step-by-step, then I do okay.  The problem is that I worry about going new places and then I start to second-guess my directions.  Then I panic and make a wrong turn and get lost and have to ask directions from strangers.
Knowing this, I asked my husband to print me a map for getting through Vancouver when I drove back to Alberta with the girls last week.  Usually, he's either driving through Vancouver or navigating while I drive.  This time, I was solo, and I wanted to make sure I didn't end up at the border crossing (like we did the first time we drove back to Alberta) or (even worse) in downtown Vancouver.  So he looked it up on Google maps for me, talked me through the directions (reminding me how we'd driven it just a few months ago) and printed the map for me.
In reality, the map was about as good as Dumbo's feather.  It didn't show Tsawwassen Ferry Terminal or the TransCanada Highway.  It just showed me the middle—a vague blue line intersecting a few other lines and driving through names like Surrey and Langley.  I still clung to that map, checking it whenever I feared I was going the wrong way, and reassuring myself that I did indeed have to drive through Surrey and Langley to get to the highway.  Without a problem (other than typically thick Vancouver traffic), we reached the TransCanada and I could set the cruise control and relax until we reached Kamloops.
I should have thought ahead to Kamloops and planned my route there as well.  Usually, we go straight through Kamloops on the highway, heading for Banff.  This time, I was going to go north, through Jasper.  So when we woke up at my friend's and got ready to hit the road, I just started driving down Highway 3… and then began wondering where I was supposed to turn off at Highway 5.
I finally turned around to ask directions… took a wrong just doing that… talked to a lady who wasn't completely sure which way I needed to go, but helped me look at the map… drove all the way back downtown… took a wrong turn… took a long, scenic drive through Kamloops (a lovely but very big city) and made it back to Highway 5… only about an hour later than I should have been.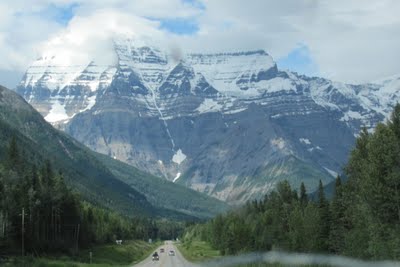 You could say the drive was uneventful after that, as I only had to follow Highway 5 north until it intersected with Highway 16.  And once I got there, I almost whooped, because it was familiar territory—I grew up not far from that highway.
Mount Robson was a blessedly familiar sight (which we had to stop and take pictures of) and Jasper was like coming home.  I was there almost every summer of my growing up years and, more recently, every spring with my girlfriends.
Hopefully, the rest of our trip continues just as peacefully.  I've made sure to ask directions of nearly everyone we're visiting and still have my map of Vancouver to make it safely back onto the Island next weekend.
Do you stop and ask directions when traveling? Do you plan your route using maps or GPS?