The May long weekend found us on the road to Alberta and back again.  We caught the 3 pm ferry off the Island on Wednesday and made it to the McDonald's PlayPlace in Kamloops by 9 pm.  I'm not usually a huge fan of McDonald's, but traveling with toddlers have made us keep our eyes out for that bright yellow M.  I can highly recommend the Kamloops PlayPlace; it was one of few that was accessible even for Lily, who has discovered a love of slides.
Spending the Night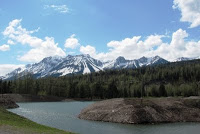 We spent the night at the Three Valley Gap hotel.  It was a spur of the moment decision; we were trying to get as far as we could before stopping for the night, but the windy, dark road between Salmon Arm and Revelstoke was starting to feel long.  When we whizzed past Three Valley Gap, we at first didn't even think of it as a stopping place.  Then my husband said, "We're not likely to be back here at this hour of the night again, so let's stop."
We turned around and checked in for the night.  Waking up in the morning to bright sunshine, a towering mountain on either side of us, and a calm lake lapping at a narrow beach made my day.  It was too bad we were in such a hurry to keep going and didn't have time to enjoy the scenery.
Visiting Our Family
In Alberta, we were able to visit with most of our family—my husband's parents, his sister and her family, my aunt and uncle, my mom, my brothers, my grandparents, my uncle and his girlfriend.  Sunshine adores her grandpa and had fun feeding the cows and the dog with him.  Even Lily figured out that giving Grandpa a hug was a ticket to going outside, and my usually clingy mommy's-girl disappeared out the door without even a glance back at me.
Driving Back
Driving back on Sunday and Monday, we took Highway 3 across the southern part of Alberta and BC.  I enjoyed seeing how the scenery changed as we traveled, from the rolling ranchland of Longview to the gnarly mountains around Crowsnest Pass and then the fruit orchards around Osoyoos and the thick evergreens of Manning Park.  That highway is one of the twistiest roads I've ever driven, and I can see why friends strongly recommended avoiding it in the winter, but it would have been fun to have more time to tour some of the little towns, tourists spots, and hiking trails along the way.


My husband did most of the driving, while I passed the girls snacks, read books, changed CDs for them, and tried to keep them occupied during the long hours.  We tried to get Sunshine involved in the scenery, pointing out cows or black bears (we saw three in the space of half an hour going through Manning Park) or waterfalls.  Lily was good at sleeping, putting her blanket over her head whenever she got tired.  While there were moments when they were both completely done with their carseats, usually a quick stop to go potty and run around a park or playplace for a few minutes was enough to give them a break before we hopped back into the Jeep.