Happy Australia Day! To celebrate, here's a few memories from my trip there in 2005. I spent three and a half months there on a working holiday visa before my last year of university. It was a coming-of-age, formational time for me in many ways.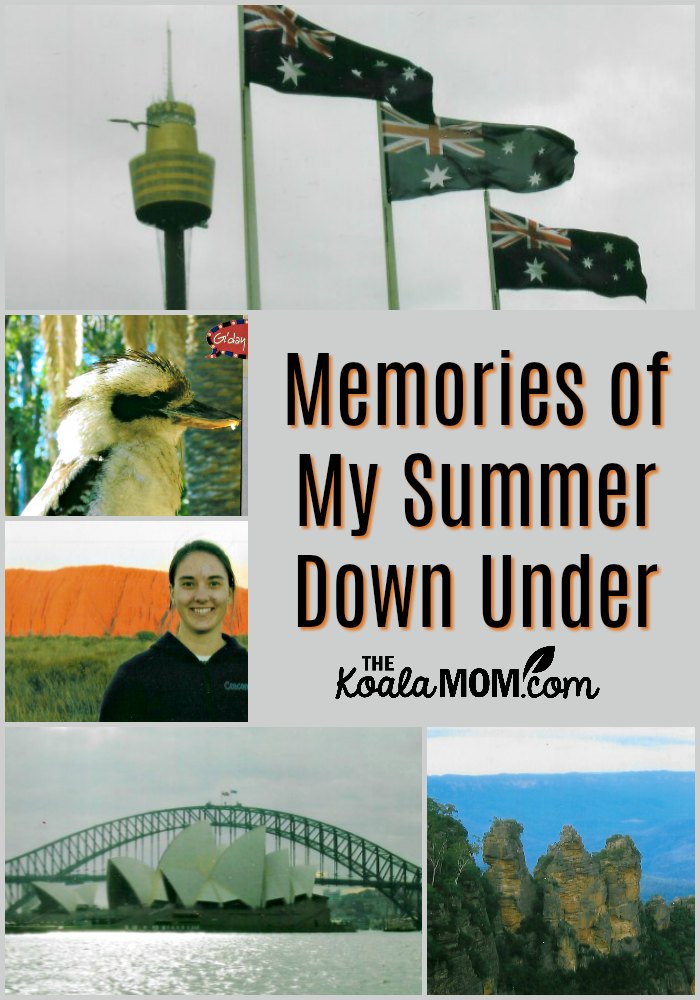 Sydney and the East Coast
I flew into Sydney and spent my first month there. Then I went back and forth from there to my other destinations. That's where I saw these flags with the Sydney Sky Tower in the background.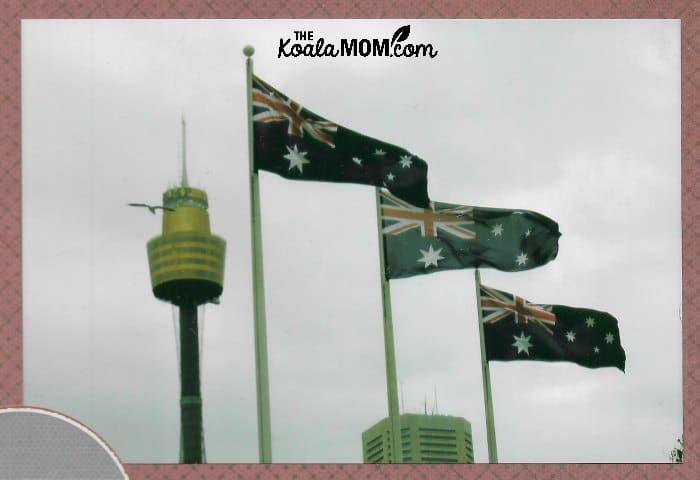 Like any good tourist, I took a trip to the top of the tower and had a bird's eye view of Sydney—a great way to get a mental map in your head for later explorations.
I was in Australia during their "winter," and the coast in particular was rainy sometimes. In Sydney, I got really good at dodging under storefronts down George Street to stay out of the rain. Once I reached the Queen Victoria Building, I'd duck inside and keep dry for that block of the street. It didn't hurt that the QVB is a beautiful old building, restored as a mall, so there was lots of architecture and stores to look at while I walked.
I spent a Sunday afternoon wandering around the Royal Botanic Garden, checking out the local Aussie flora and fauna. From there, I got this awesome view of the Sydney Opera House and Harbour Bridge—both famous landmarks. For a slightly exorbitant price, you can climb the bridge, but I never did. I did attend a play at the Sydney Opera House by a local Aboriginal playwright.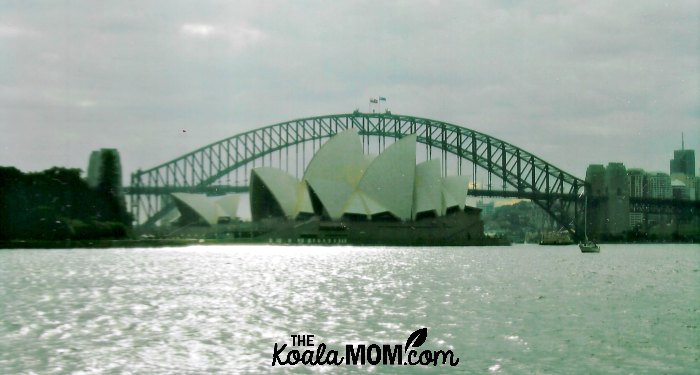 On one particularly rainy day, despite all my attempts at ducking inside shortcuts and under awnings, I arrived back at my hostel looking like my dog after her bath. I had a job interview that afternoon and didn't want to arrive there wet, so I marched up to the desk and asked about the buses. The fellow was quite happy to explain which buses ran down George Street, and gave me a puzzled look when I asked about the fare. That depended on how far I was going.
I ventured back out into the rain armed with some change and waited for the bus. Unlike Canada, where if you haven't got the exact change for your ride, you either won't be riding or will be paying too much, drivers there carried change and only charged you for the distance you rode. So I arrived at my interview safe and dry, but walked back afterwards in the rain (it was a toss-up between the stress of the bus and the wet of the walk).
Katoomba and the Blue Mountains
I took a day trip into the Blue Mountains (which are neither blue nor mountains). We stopped at the Three Sisters, a neat rock formation with some fun Aboriginal legends about them.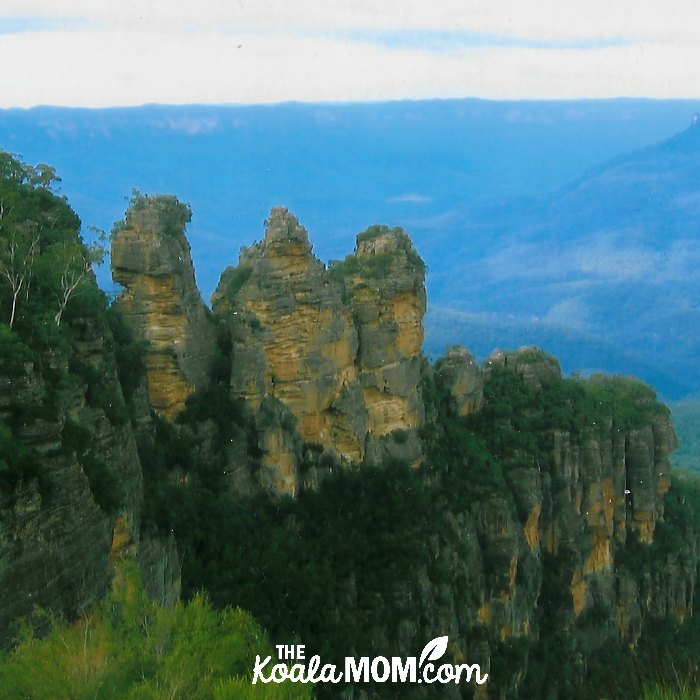 Usually a blue haze is created over the mountains by sunlight refracting through the eucalyptus oil hanging in the air. Because it was a cloudy day when I was there, the mountains weren't as blue as they could have been. I saw my first kangaroos there, as we stopped to watch the big grey kangaroos come out at dusk.
Later in my summer, I returned to Katoomba with a Danish friend I'd met. We were looking forward to exploring the Blue Mountains, until we woke up to drizzling rain. All right, we decided, we'd go caving. Crawling around the Jenolan Caves, twisting through holes just as big as we were and crawled down corners nicknamed "the Toilet Bowl," kept us out of the rain.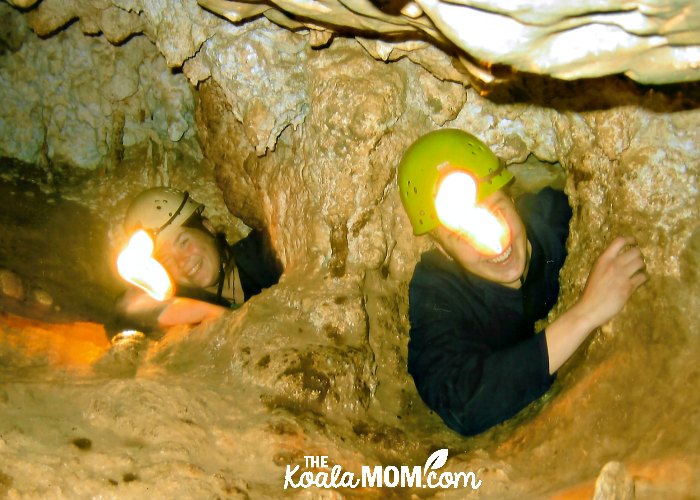 But the next day again dawned drizzly again. We weren't going to be stopped by that, and set out for a trolley tour. Halfway through, we found the Prince Henry Cliff Walk. Well, we'd brought our rain jackets and rain hats, and surely there'd be enough trees there to keep the rain off.
Have I mentioned that wet dog look before? Five kilometres in the rain requires an extremely waterproof jacket. Back at the hostel, though, others we'd talked to the night before had just spent the day sitting around waiting for the rain to stop.
Pittwater and Kurungai Chase National Park
A few weeks later, I escaped from Sydney to a small hostel nestled between the ocean and Kurungai Chase National Park, which is where I met this very friendly kookaburra.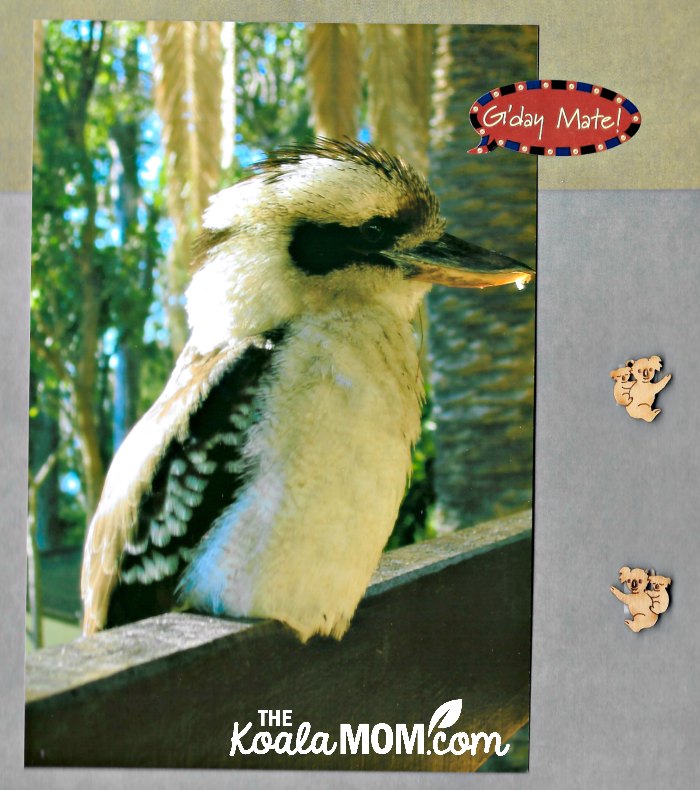 He usually joined me for breakfast on the deck in the mornings, including snatching my breakfast one morning. The wallabies usually came out around 4:00 in the afternoon, and we also had an iguana and a wild turkey wander through.
Alice Springs and Uluru
I spent a month in Alice Springs, and started it off with a tour of Uluru (Ayer's Rock) and Kata Tjuta (the Olgas).
Uluru is definitely the centre of Australia and a sight worth seeing. We spent the nights sleeping around a campfire in our swags and watching the stars. Our "troopy" dodged camels and kangaroos as we bombed around the middle of Australia—there aren't many roads to and from Uluru.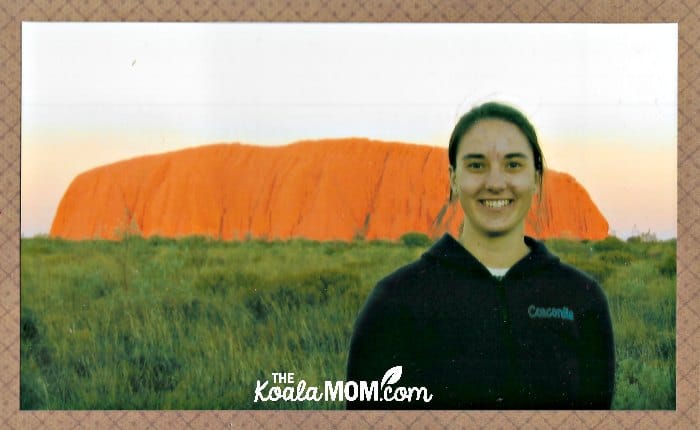 After a month working at the Telegraph Station in Alice Springs, I caught a bus tour down through Coober Pedy to Adelaide. Reading Australian novels while working and travelling there helped me understand more about the country I was visiting.
Adelaide and the South Coast
In Adelaide, I discovered what an empty beach is like. Even the seagulls looked wet. But I only had a week there, and I wanted to see the city before I left. While I was growing up, my parents had never let rain get in the way of our family holidays and so I also didn't let it stop me from seeing what I wanted to see in Australia.
Of course, Koala Bear went with me as my mascot. He spent most of his time hanging out in my duffel bag, but he was a comforting bit of home to place on my hostel bed every night. He also made it into one group picture after a tour!
I have about a thousand pictures, a few books and CDs, some jewelry and souvenirs, lots of memories of a very good trip, and plans to get back there someday. Until then… Happy Australia Day and g'day, mates!