Having a trustworthy dentist is crucial to maintaining good oral health. However, finding the right dentist may prove difficult, especially with so many choices available. A good dentist is skilled in dental procedures and exhibits good bedside manners. The following comprehensive guide will detail how to find a reliable dentist.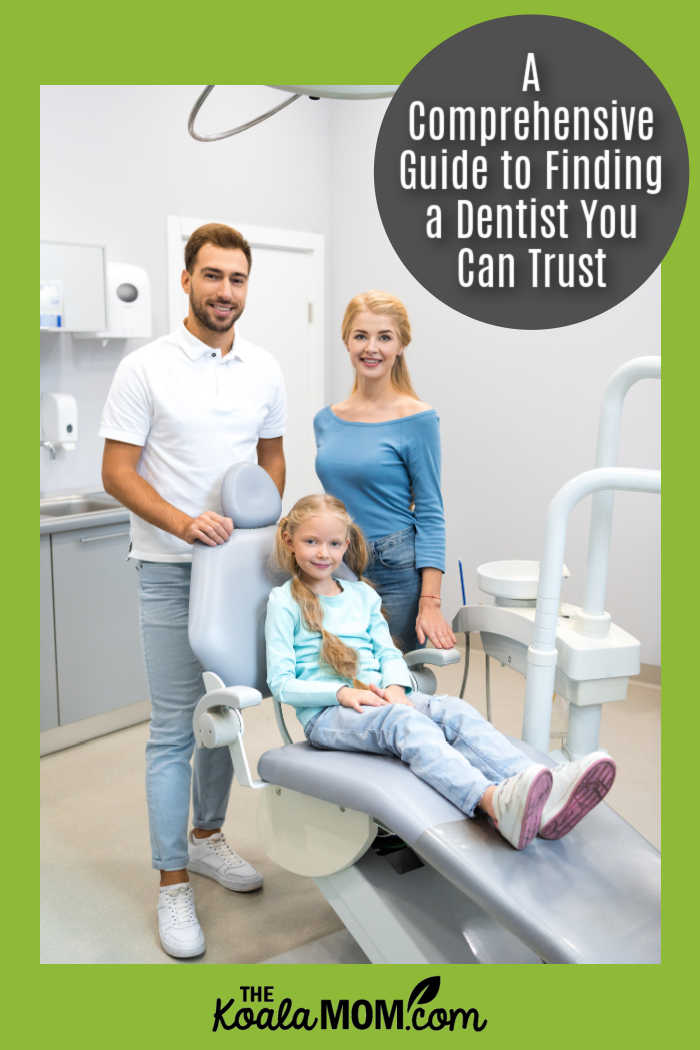 Location and Accessibility
When choosing a dentist, it is important to consider the location and accessibility. Patients need to find a dentist in a convenient location, easily accessible from the home or workplace. This will ensure patients get to appointments easily. If you have a long drive to get to your dentist, or traffic tends to be bad along the route, or parking is difficult, then you'll dread dentist visits and put off going.
Additionally, consider the office hours, especially if you have a busy schedule. For example, I usually see my dentist on Saturday mornings, as I'm busy homeschooling my kids on weekdays. Not every dentist has weekend availability and I often have to schedule my appointments a month or two in advance to get in on a Saturday. Most dentist's hours are available on their website, so you can see if it fits with your schedule before going for a consult.
Referrals
Another true method is to ask for referrals from family and friends. Word-of-mouth recommendations are reliable and give a better idea of what to expect from a particular dentist. Be bold and ask questions about their experience, the quality of care, and the dentist's bedside manner.
If you have a particular dental concern, you may want to ask your friends about that. Maybe a friend who has a similar concern can recommend a dentist who handled it well. Referrals will also provide insight into the office's cleanliness, wait time, and the staff's professionalism.
Experience and Qualifications
Upon having a list of potential dentists, verify their experience and qualifications. Check with the state or provincial dental board to verify their credentials, including their education, training, and any disciplinary actions taken against them. Know their area of specialization, since some dentists specialize in specific dental procedures, such as orthodontics or cosmetic dentistry.
If you are looking for a dentist for your children, you'll want a dentist who has experience in working with kids. For example, our regular dentist (and all hygienists in the office) have been great with our children. However, for any extra dental work such as cavities requiring dental sedation, they refer us to a pediatric dentist. If your child has had a bad dentist experience in the past, or has a history of bigger dental needs, you may want to go directly to a pediatric dentist.
Reviews and Ratings
Online reviews and ratings are great resources. Many dentists have websites with client testimonials, and a patient can also check various online directories. Be sure to read positive and negative reviews, and pay attention to how the dentist responds to clients' concerns or complaints. A dentist who responds to negative comments professionally and respectfully shows they are committed to providing quality dental care.
Communication
Good communication is essential. Patients must feel comfortable communicating their dental issues, and the dentist should be patient and willing to listen to every patient's concerns. Additionally, the dentist should explain the diagnosis, treatment options, and any potential risks involved. If a patient is uncomfortable communicating with the dentist or if the dentist does not listen, explore other options.
Technology and Equipment
Dental technology and equipment have evolved and improved over the years, and a good dentist should keep up with these changes. Before choosing a dentist, find out what technology and equipment they use and how often they are updated.
Dentists investing in modern equipment are more likely to provide quality dental care. I noticed this particularly the last time we changed dentists (due to a move); our new dentist also had much newer technology in the office, and that definitely gave us better quality of care.
Emergency Care
Accidents or emergencies can happen anytime, so find a dentist who offers emergency care. A good dentist should have a plan for emergencies and be available to attend to a patient's needs. Emergency care may involve open communication lines, on-call dentists, or even 24-hour access to dental care.
Personal Comfort
Ultimately, a patient must feel comfortable and at ease with the dentist. Before choosing a dentist, visit their office and interact with the staff to get a feel for the atmosphere and service quality. If you do not feel at ease, consider other options. I've always found the staff at our current dentist to be very friendly, welcoming, and accommodating (even when I show up with five kids and we occupy the whole office!).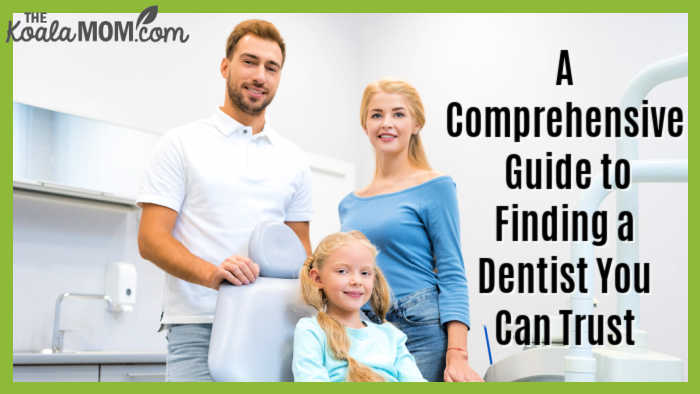 Finding a dentist is critical to maintaining good oral health. Focus on referrals, location and accessibility, experience and qualifications, reviews and ratings, communication, technology and equipment, insurance or payment options, emergency care, and personal comfort when searching for a trustworthy dentist. With this comprehensive guide, patients will make an informed decision and find a dentist who will provide quality dental care.
Photo credits: Depositphotos.