When it comes to buying a used car for your family, there are a lot of factors to consider. How much money do you have to spend? What kind of driving will you be doing? How many people will be using the car? What features do you want?
Of course, no one perfect car exists that will meet all your needs. You may have to compromise on some features to get others. By understanding what's important to you, you can make a more informed decision when choosing a used car for your family.
Over the fifteen years I've been a parent, I've owned several SUVs, minivans and cars. Sometimes, we didn't have time to research and find a new vehicle for our family (like when our minivan was rear-ended and we needed a new vehicle ASAP). Other times, we were able to take a few months to watch and wait for exactly what we wanted to be available.
Let's look at several important tips for choosing the right used car for your needs.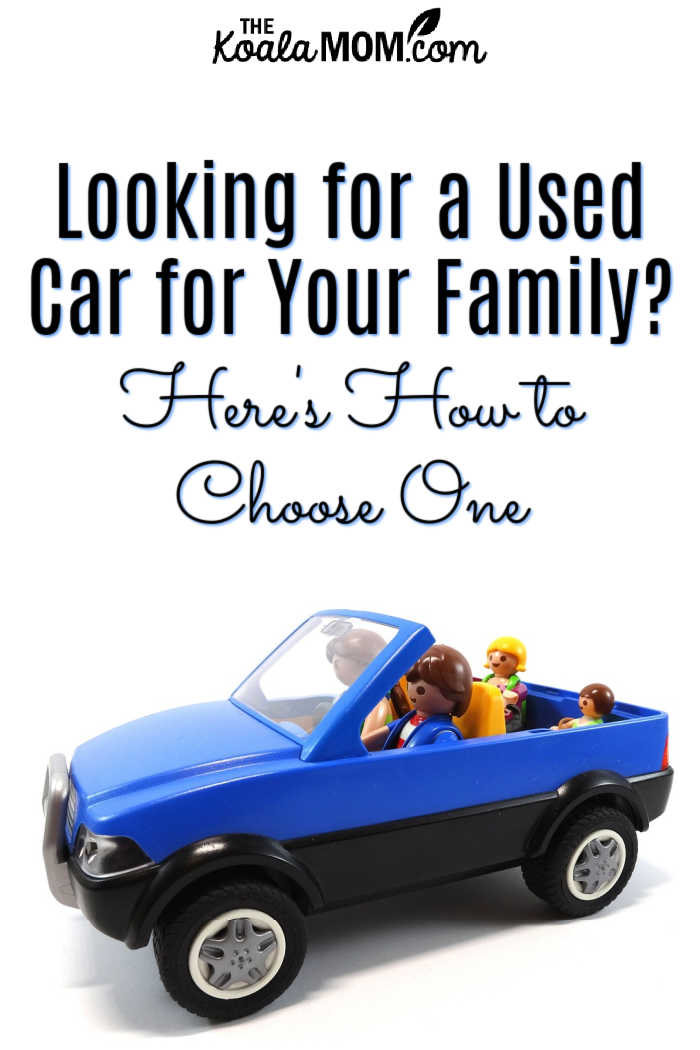 Set a Budget
The first step in choosing the perfect used car for your family is to set a budget because this will help you narrow down your search and eliminate any cars out of your price range. Many car websites allow you to set the max amount that you're willing to spend, so you only view the vehicles that are within your price range.
Make sure to factor in additional costs beyond the purchase price such as taxes, insurance, registration fees, maintenance costs, etc.
The best way to do this is to use an online auto loan calculator and determine what your monthly payments will be depending on the price of the car. For instance, if the calculator tells you that a car with a purchase price of $10,000 would result in a monthly payment of $250, then you should stick to cars within that price range.
Research Reputation
Once you have a budget set, it's time to start researching cars that fit within it. Before making any final decisions, research the current market value for the make and model of each car you're looking at. At UsedCarsMinnesota.com, you can check the average price for a given car over the past six months to get an idea of what's reasonable.
You should also look into consumer reviews and ratings from magazines or websites such as ConsumerReports.org and Kelly Blue Book as well as safety ratings from sites such as Safercar.gov.
For example, when I was planning to do replace my 20-year-old Dodge Durango, I spent quite a bit of time researching comparable SUVs. I'd search something like "Dodge Durango vs. Toyota 4Runner" and then read the comparisons of the two vehicles, comparing each vehicle's ratings for the features I wanted.
Also look for reviews online about the make and model, as well as any known issues or problems that other owners may have experienced with their vehicles. My brother is a heavy-duty mechanic so it was helpful to discuss possible ideas with him as he's heard various things about different brands or models. Doing this research ahead of time can save you a lot of headaches down the road.
Make a List
What features matter to you in a vehicle? For example, I knew I wanted an SUV for driving up to the ski hills or over the mountains to Alberta to visit our families. I did not want a DVD player in my vehicle. I needed something with third row seating as I have five kids, but I also wanted reasonable cargo space for groceries and camping gear.
Prioritizing what you need and want in a car can help you narrow your search down to the right vehicle. When we were shopping for our Durango a few years ago, we really wanted an 8-seater, and waited until we found a 8-seater for sale. Then we drove four hours to buy it, because we'd watched used car websites for long enough to know it was a good deal that was worth the drive.
Inspect and Test Drive
Once you've found several cars that meet your needs and budget, it's time to take them for a test drive. Make sure to bring along someone who knows about cars and can spot any potential problems with the vehicle. During the test drive, check for any strange noises, smells, or vibrations, as these may indicate a mechanical issue.
Also be sure to ask the seller about when the last oil change and other routine maintenance was done, so you know what kind of shape the car is in mechanically. If possible, take it to a mechanic for a full inspection before making a final decision.
Consider Size and Fuel Efficiency
Another important factor to consider when choosing a used car for your family is size. Will you also be using the car to transport large items or drive long distances? If so, then you may want to opt for a larger vehicle with more room and better fuel efficiency.
If you have children in car seats, you'll also want to consider how the car seat fits the new vehicle. If you take the vehicle for a test drive, try to move your car seats to the new vehicle to see how they fit and how easy it is to install them. Friends of mine bought a large, high-quality car seat for their vehicle only to find out that it didn't fit well in their small car.
Many used cars today offer great gas mileage, so make sure to compare different models and find one that best fits your needs. If you're looking for a car that's highly fuel efficient, consider a hybrid or electric car, as these can save you money over the long run.
Examine the Warranty
Not all used cars come with a warranty, but if you're buying from a dealer, they will likely offer some form of protection for the car. Make sure to ask about what type of coverage is included and for how long. Some dealers may offer a limited warranty, meaning that any repairs or parts replacements needed after the warranty period will be your responsibility.
On the other hand, some dealers may offer a longer warranty, so it's important to ask and make sure exactly what is covered before making a final decision. For instance, some warranties may even cover roadside assistance or towing services, which can be very helpful if you ever find yourself stranded with a broken-down car.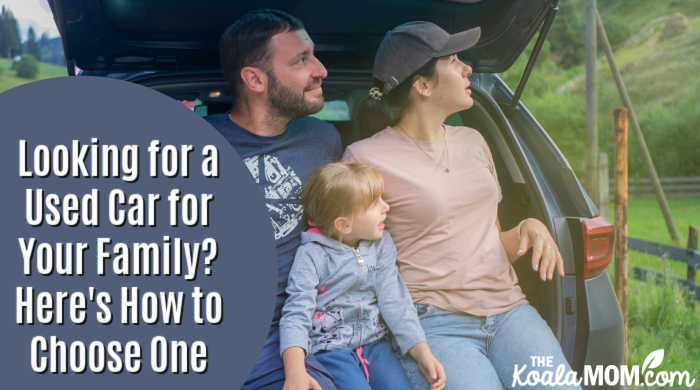 When it comes time to choose a used car for your family, there are several factors you'll need to take into account. Make sure to research the make and model of each car carefully, as well as inspect and test drive them before making a final decision.
Consider the size, fuel efficiency, and warranty offered by the seller. Ultimately, choose a car that's best suited to your needs and budget, and take the safety of you and your family into account.
With the right used car, you can be sure your family will enjoy many years of safe and comfortable rides.