Deciding on what type of car seat to purchase for your toddler can be pretty daunting, especially as a new parent. Of course, safety is the biggest factor you want to consider. But what are some other just-as-important factors to consider when shopping for the best car seats? With all the options available to parents today, it can be hard to choose the best car seat for your toddler. Budget, safety, fit and more need to be considered as you browse car seat sales.
Here are essential yet expert tips about how to buy the best car seat for your 1-year-old.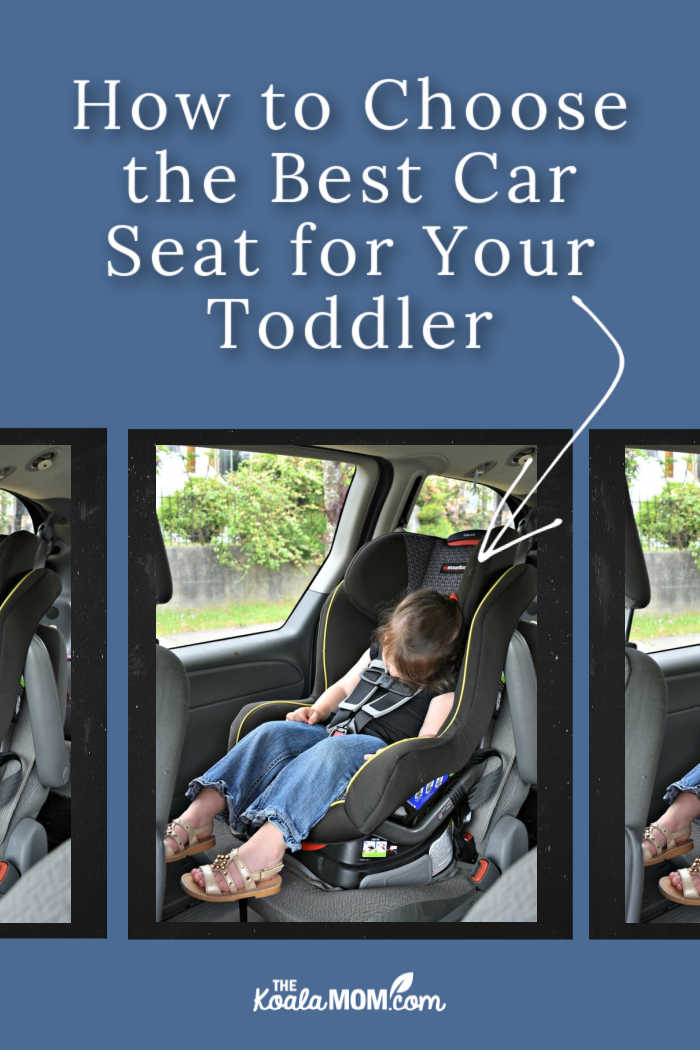 1. Does it fasten with the seatbelt or a latch?
Most cars, especially newer models, provide passengers with two options for strapping cat seats in. The first option (most common in older cars) is to thread the seat belt through the car seat and buckle it. This is often awkward and may not result in the tightest fit for your car seat. Most cars manufactured in the last 20 years have built-in systems for attaching car seats.
Carefully browse through your automobile's user manual and read about its UAS or LATCH features. LATCH stands for Lower Anchors and Tethers For Children, and UAS stands for Universal Anchor System. Usually, this means there will be two hooks in the crack of the seat and another hook on the floor behind the seat, to which you can attach the car seat straps. Knowing where the UAS or LATCH features in your car are located will help you choose the best car seat for your toddler.
For example, every seat may not have a UAS. When we drove a Dodge Caravan, the rear seat did have a UAS—however, it was located right in the middle of the seat. Without a car seat in the rear seat, two people could sit there, one on either side of the seat. With a car seat in the middle, only the car seat would fit there. I never ended up using the UAS in that seat, as I just put the car seat on one side and buckled it in with the seat belt.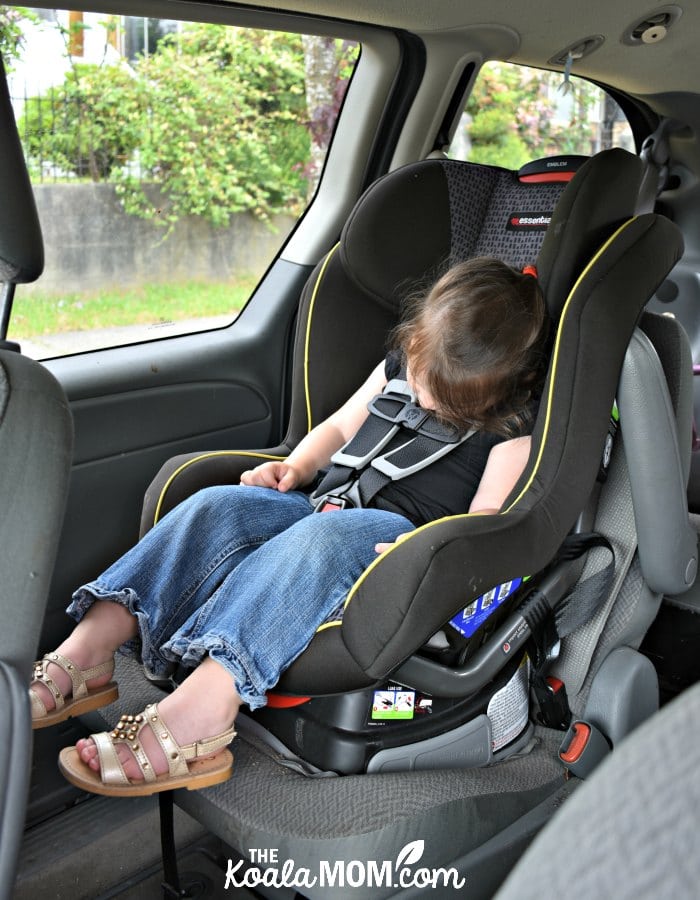 2. Measure your vehicle
There is no other more practical method than this—measure the seats of your car and the toddler seats you're eyeing. And yes, with a tape measure or any similar measuring tool. Take note of the dimensions of the toddler seat's base (in overall length). Even better, if the store will let you, take the car seat out to your car to see how it fits where you intend to install it. Not every toddler seat fits every car.
Secondly, although child car seats are typically small in size, many tend to have bases that are wide and thus tough to fit through just-as-small car doors. Hence, your car seats aren't the only components to consider. Measure the door frames as well, to make sure that you can easily get the car seat in and out of your vehicle. If you try to choose the best car seat for your toddler but it won't fit in your car, then it's not the best car seat!
3. Measure your toddler
You'll also want to measure your toddler to help choose the best car seat for him or her. What size of car seat are they ready for? Look at the weight and height recommendations for the car seat you're considering. Is your child the right size to fit that car seat?
For example, recently we got a second vehicle and had to decide who needed car seats and booster seats in each vehicle. Jade, age 8, still needs a booster seat according to BC standards. Pearl, age 5, has been in a convertible booster seat, and I wanted to keep her there as long as possible for safety reasons. However, she is heavy enough by BC regulations to go into a booster seat, which is more affordable and also easier for her to buckle herself. Joey, age 3, still needs to be in a convertible seat. So right now, we have a convertible car seat in each vehicle for Joey, and Pearl and Jade each have a booster seat in each vehicle.
You'll want to check your provincial or state regulations regarding what size your child can be in different car seats. Here in BC, babies under one year old must be in a rear-facing seat. After one year, you can switch your child to a front-facing seat, depending on your vehicle and other preferences. However, remember that your child's size is more important than their age when it comes to car seat safety. A smaller child should stay in a car seat or booster seat for longer than a taller or heavier child.
4. Should you buy convertible or rear-facing?
These classifications will depend on the interior space of your car alongside your needs when caring for your toddler as you drive.
Convertible toddler seats can switch from a rear-facing position to a front-facing position (usually when a child is about 1 year old). This convertible feature is perfect if you want a car seat that your children can continue to use from toddlerhood into their preschool stage.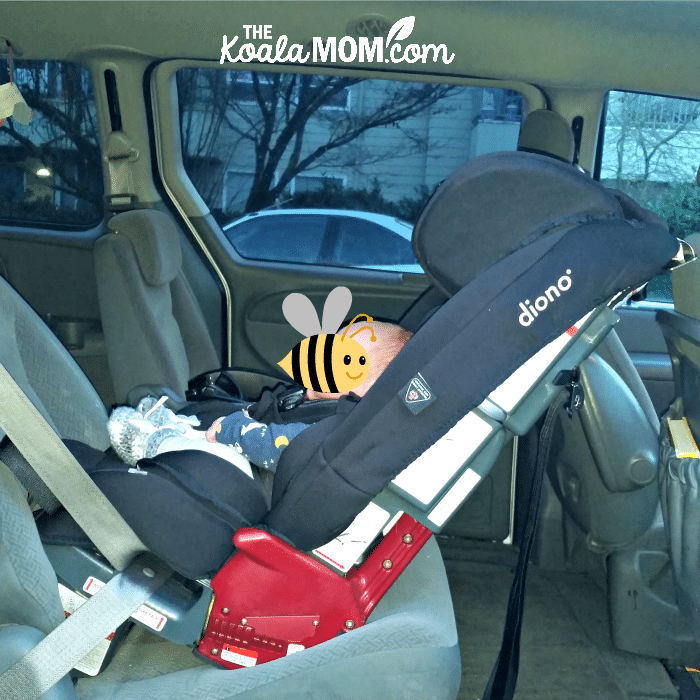 Rear-facing is the safest way for toddlers to travel in a car, so I actually left my younger kids rear-facing well into their first year. However, this may depend on your vehicle. For example, when my oldest was one, we drove a Jeep TJ. Her rear-facing bucket seat fit in the back seat—just barely. As soon as she turned one, we turned her car seat around and had much more space to get her in and out of the Jeep.
A convertible car seat is not as easily transferable between vehicles as an infant bucket seat. If you are driving two vehicles and will be moving car seats between the vehicles frequently, then a bucket seat with an extra base is a better option.
A rear-facing bucket seat is also an excellent option when your significant other drives and you stay in the passenger's seat to tend to your youngster face to face. If your infant or toddler really dislikes driving in the car, then having Mommy or Daddy sit next to them to talk to them, play games, and offer soothers or snacks may help you reach your destination with less stress.
5. New is the best way to go
We have found much of our baby gear and clothing secondhand for our kids. Pre-loved car seats are being sold and do continue to carry quality and safety to their optimum. If you do buy a secondhand car seat, I recommend buying it from a friend you know who can assure you that the car seat hasn't been in an accident or otherwise mistreated, and has been cleaned regularly. You'll also want to make sure that the car seat is not past its expiry date.
However, experts say that "brand new" may still be the safest way to go. This is because new car seats pass through rigorous tests to hit certain quality and safety standards before being rolled out. Speaking from experience, older car seats are pretty dirty, as it can be hard to clean them (even when seat covers come off to get washed). Our first bucket seat was starting to wear out (both straps and plastic parts) by the time it expired and I recycled it after three babies had used it.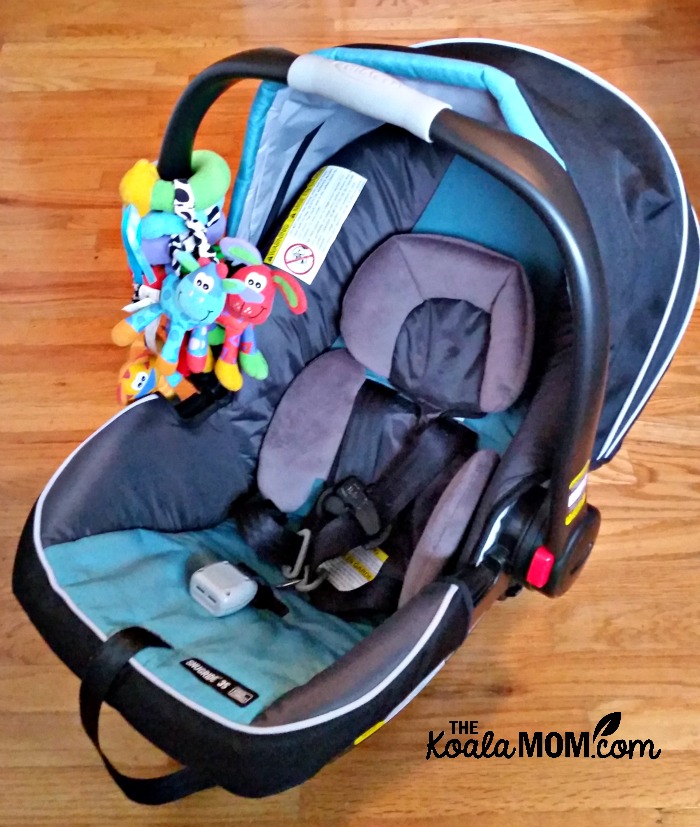 Car seats are one of the biggest expenses for new parents, but you know that your child will use this on a regular basis for several years. Shop around to find the best deals but I strongly recommend buying a new car seat for your child.
6. Talk to friends and a car seat tech
Before we switched from our daughters' first rear-facing bucket seat to a convertible car seat, I asked my friends for car seat recommendations. At the time, we were driving a Dodge Durango and I wasn't sure how the car seats would fit in the back of the car. It was helpful to have my friends mention which car seats they liked and what vehicle they were driving. Later, when we had a Dodge Caravan, I again relied on friends' recommendations to find a car seat that would fit in our van.
Lindsay from Maman Loup's Den is a Certified Passenger Safety Technician. She recommends that parents also talk to a CPST before buying a car seat. The CPST can help you choose the best car seat for your child's age and height, your vehicle, and your car seat preferences.
The absolute best way to make sure you choose the car seat that fits your child, your vehicle and your budget is to contact a Child Passenger Safety Technician (CPST). We are trained to teach parents about car seat usage and car seat installation, and we can help you figure out what your family's unique car seat needs are, both now and in the future. Our goal is to empower parents so that they can choose the right seat and install it and use it correctly every time. ~ Lindsay
Lindsay also has a lot of car seat reviews and installation tips to help you choose the right seat and get it into her car. I've checked her blog several times when looking at car seats myself. Reading reviews does help you make a good decisions about your car seat, but remember to look at who wrote the review—a first-time mom? a mom of seven kids? a CPST like Lindsay?
7. Extra car seat features
There are toddler car seats that have bells and whistles which go beyond aesthetics. If you want a few extra yet vital features, why not select something with an anti-rebound element? "Anti-rebound" car seats are excellent shock absorbers. They may help lessen motion sickness by opposing friction wrought by driving on uneven surfaces. More importantly, they act as additional protection by restricting motion in the event of sudden brakes and crashes.
Extra pull cords and straps are a definite win as well. For this, it isn't so much about the number of straps rather than where the main straps are positioned. Consider how sturdy the straps are and whether they require re-threading if you need to adjust or wash the car seat. Some car seats also come with cup holders, which can be helpful if you have space in your car but get in the way if you have a smaller car or multiple car seats.
My favourite car seats:
What factors did you consider when choosing the best car seat for your toddler?