One of the best things about summer is having the opportunity to spend more time outdoors with your family. And what better way to enjoy the warm weather than by cooling off in the water? If you're looking for some fun water activities to do with your kids, you've come to the right place. In this blog post, we will share some of our favorite water games and activities that are sure to make a splash with your little ones. From water balloon tosses to pool noodle races, read on for some fun ideas that will make a splash with your kids this summer.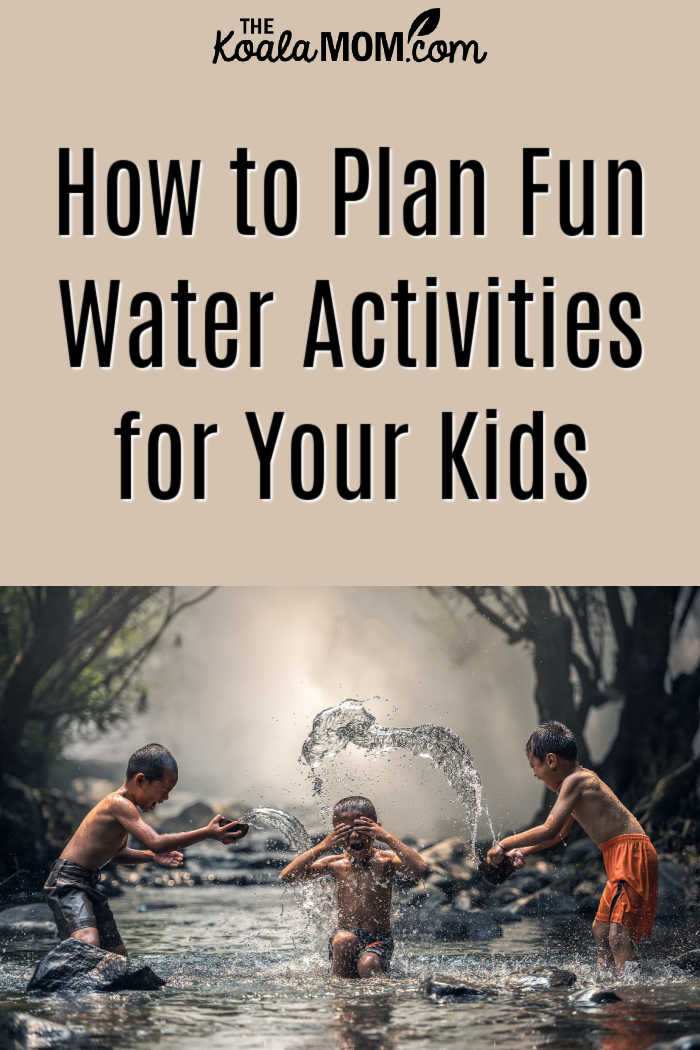 Backyard Pool
When it comes to planning fun water activities for your kids, there's no need to look any further than your own backyard pool! Whether you have a small kiddie pool or a full-sized swimming pool, there are plenty of ways to keep your little ones entertained all summer long. You can even find inflatable floating docks to create a safe play area for your kids.
Give your kids pool noodles to play with in the water. They can use them as swords, shields, or whatever else their imagination comes up with! See who can swim the fastest by having kickboard races in your backyard pool. This is a great way to get your little ones moving and active!
Water Table
The water table is a great way to get your kids involved in water activities. It can be used as a sandbox, to create a water garden, or even to catch rainwater. Here are some tips on how to plan fun water activities for your kids:
Use the water table as a sandbox. Fill it with sand and let your kids play in it. They can use their hands or small toys to build castles or other structures.
Create a water garden. Plant some flowers or vegetables on the water table and let your kids help take care of them. They will enjoy watching the plants grow and watering them each day.
Catch rainwater. Place a container under the rain gutter on your house and let your kids collect rainwater in it. They can use this water to water the plants in their water garden or fill up their sandbox.
Have a picnic by the water table. Pack some snacks and drinks and have a mini picnic by the water table. Your kids will enjoy spending time outdoors while they eat their snacks and play in the sand or water.
Go on a nature walk. Take your kids on a nature walk around your neighborhood or a nearby park. Have them look for different types of leaves, flowers, and bugs. They can bring their findings back to the water table and discuss what they found.
Fill the water table with small, plastic sea animals for your child to play with. They'll have hours or fun creating imaginative stories around their little dolphins, whales, mermaids, and crabs.
Sprinkler
Water activities are a great way to keep your kids cool and entertained during the summer months. But with so many options out there, it can be hard to know where to start. A sprinkler can provide endless hours of fun for kids, especially on hot days. A sprinkler is a type of lawn irrigation system that sprays water onto your lawn to help keep it green and healthy. They're relatively cheap and easy to set up and can be a great way to keep your kids cool during the summer months.
There are a few different types of sprinklers, but the most common is the impact sprinkler. Impact sprinklers have a spinning head that throws the water out in a circular pattern. They're great for large areas, like lawns, but can also be used in smaller areas like gardens.
For more fun on a summer day, set up the sprinkler under your trampoline and let the kids bounce through the water. Or toss a beach ball back and forth over the sprinkler—the water spray adds a fun challenge that could push the beach ball in a new direction!
Slip 'N Slide
A slip 'n slide is one of the most classic and loved water activities for kids around. It's easy to set up and can provide hours of fun. All you need is a long plastic sheet, some water, and a little bit of soap. Once you have your materials, simply lay out the plastic sheet on a flat or gently sloped lawn and add some water to it. You can add a few drops of soap to create more sliding power. Finally, let your kids loose to slide around and have fun!
Water Fights
Another fun option during the summer is to have a water fight with water balloons or water guns. Kids will enjoy trying to get each other wet without getting wet themselves. Water guns are easier to refill than water balloons and require less clean-up (balloon pieces shouldn't be left on lawns for kids or animals to find) but water balloons may seem less threatening or be easier for younger kids to play with.
Just set sound ground rules ahead of time (such as aiming below the waist and where kids can find a safe spot if they don't want to be hit by water) to avoid any tears or fights.
Lake or River
Don't have a yard for the kids to swim, slide or play with water in? Head to your local lake or river to play. We love spending a day at the beach, where kids get the best of both sand and water for hours of fun. Look for a lake with a roped-in swim area and a dock; some lakes or beaches may also have a life guard on site.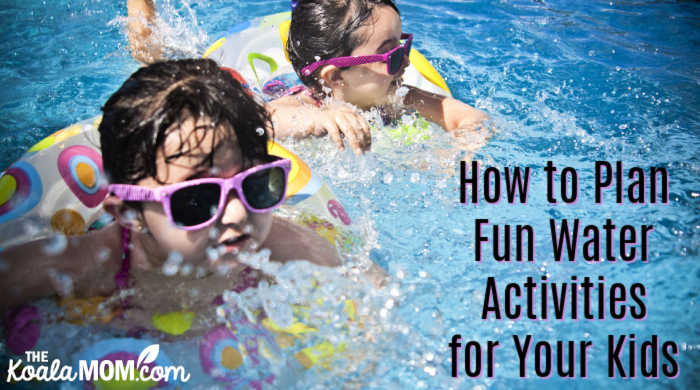 With a little bit of planning, water activities can be a great way to keep your kids entertained and active during the summer months. We hope our tips have helped you come up with some fun ideas for how to keep your kids cool and busy this summer.