It's no surprise that shapewear is becoming more and more popular among moms after giving birth. Your body has done the extraordinary by growing a human but now it's time to say goodbye to your maternity clothing and start feeling more like yourself.
There are plenty of benefits when it comes to wearing shapewear. In addition to giving you a slimmer, more hourglass figure and therefore boosting your confidence, shapewear can help hold in stretched or loose tummy muscles, hide visible panty lines and help you wear more kinds of outfits. Shapewear can even improve your posture by supporting your back muscles, which is a great benefit after carrying a baby for nine months.
However, since there are so many types of shapewear on the market, it can be hard to know what items you need to suit your individual needs. Keep reading to discover the different types of shapewear and what they can do for you.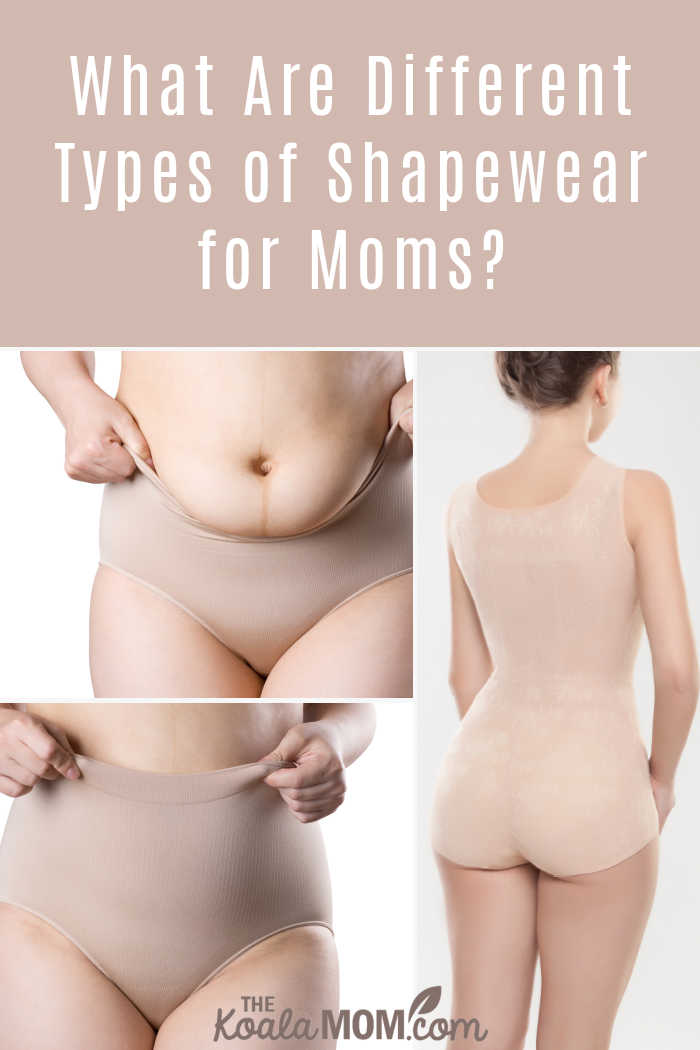 Bodysuits
Although bodysuits are commonly worn as part of an outfit, you can also find bodysuit shape wear that's worn underneath your clothing to sculpt your body. This type of shapewear will sculpt your stomach, hips, and potentially your upper thighs too if you buy a bodysuit with shorts.
Depending on the style, it can also lift your bust. If you are nursing, you may want to avoid shapewear that covers your bust area, as you will likely experience numerous size changes here as your baby grows. You'll also want to make sure that you can nurse easily.
Overall, bodysuit shapewear is great for targeting multiple areas of your body at the same time, making it a great choice to wear underneath tight or clingy dresses and tops. With some shapewear bodysuit styles, you could even incorporate them into your outfit by layering an oversized shirt or jacket on top.
Leggings
If you want to target your legs instead of your upper body, then shapewear leggings will be the right option for you. Shapewear leggings are fantastic for women who worry about the size and shape of their hips, butt, and thighs when wearing certain outfits. These are common areas of concern for many women, which is why shapewear leggings are extremely popular.
Underwear
For those who just want to target their hips and butt, underwear shapewear is a great choice. Depending on your personal preferences, you could choose thongs, briefs, shorts, or any other style of underwear, as different styles will give you different levels of coverage and support at the front and back.
Typically, underwear shapewear is very high-waisted, which means it will also sculpt your stomach at the same time as your hips and butt. Underwear shapewear is a great discreet option for those who want a bit of sculpting without worrying about wearing a huge garment underneath an outfit, especially if the outfit is more revealing.
Catsuit
On the other hand, if you want a full-coverage garment that sculpts and shapes your entire body, then you should go for a catsuit (also known as a full bodysuit). A catsuit typically covers your entire torso as well as your arms and legs, although it may leave your arms uncovered. Since a catsuit completely covers your body, you'll be able to slim and sculpt your whole body instead of targeting just a few areas.
Waist trainer
If light sculpting and support aren't enough for what you want, then a waist trainer is a much more intense sculpting option for those who want to completely reshape the stomach area. This item compresses your stomach in order to give you an hourglass shape, making it similar to a traditional corset (but with a more modern, lightweight fabric).
Whatever type of shapewear for moms you choose to try, remember to give yourself grace. Your body did something incredible and it will likely never look the same again—and that's okay. Shapewear may be able to help you feel more confident or fit into that dress you need to wear to your sister's wedding, but also try to embrace that bit of stretch around your middle. Remind yourself that your body is awesome and that those marks show what you are capable of doing.