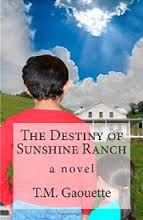 The Destiny of Sunshine Ranch is Catholic author T. M. Gaouette's debut novel. Written for tweens, this novel tells the story of Benedict, a foster child whose destiny is about to change. I loved the way this story highlights the plight of foster children and how one family is living out the Church's call to be open to life.
I received this book for review courtesy of the author; all opinions expressed are my own. This post contains affiliate links; as an Amazon Associate, I earn from qualifying purchases.
The Plot of The Destiny of Sunshine Ranch
"Benedict woke up right before sunrise. The house smelled different. He wasn't sure of what, but it was different from all the other places he'd stayed at. He knew for sure what it didn't smell of though: cigarettes and dirty diapers."
Benedict has been shuffled from one home to another during his ten short years. When he and his foster sister Melanie arrive at Sunshine Ranch, he doesn't expect to stay here. He leaves his bags packed, ready to get kicked out, but there's something different about this place. The parents, David and Martha, seem genuinely happy to have the kids here. And there's a lot of kids—ten, to be exact.
As the summer passes, Benedict soon sees that everything isn't perfect at Sunshine Ranch. David and Martha are tight on money, especially when a storm causes huge damage to the house and barns, and then a big horse-breaking contract David had counted on falls through. The bank is ready to foreclose on the entire property, leaving all the kids scared that they'll be sent to new homes, despite Martha's promise that she'll keep them together no matter what.
Things go from bad to worse when one child ends up in the hospital and another child is taken back by her mother. As the Credence family clings to their faith, the children try to help save the ranch.
My Thoughts on The Destiny of Sunshine Ranch
The Destiny of Sunshine Ranch reminded me of The Lion Cubs (another novel about foster children) and Cheaper by the Dozen (an autobiography of a large family that I enjoyed as a kid). I enjoyed getting to know each of the children on the ranch. Gaouette has such a gift for characters that it wasn't hard to keep Sebastien, Tommy, Eva, Micah, Benedict, Isabella and the younger children straight.
You can read a sample of The Destiny of Sunshine Ranch on Amazon.
"I never had great role models as a child, and so I put my writing to work for the Lord, trying to create those role models. My stories are my ministry and through them, I speak His truth, and hope that I inspire young readers to want to know, love, and serve Him more." ~ T. M. Gaouette
If your teens enjoy The Destiny of Sunshine Ranch, they'll also want to check out T. M. Gaouette's other novels, the Faith & Kung Fu series.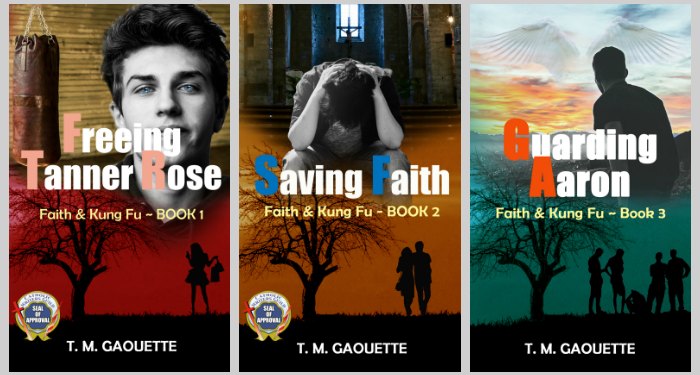 T. M. Gaouette is a freelance writer, blogger and novelist. She was born in Africa, raised in London, and now lives in the United States with her husband and four children. The Destiny of Sunshine Ranch is her first novel. To find out more about her and her books, including recent reviews, drop by her website. You can also find T. M. on Facebook, Twitter and Goodreads.