The only thing worse than facing a struggle in your life, faith or vocation is facing that struggle alone. Knowing that others have been through a similar struggle, even if those others lived hundreds of years ago, often makes a huge difference in my struggles. That's why I enjoy reading saint stories and Christian biographies, like Elizabeth Prentiss: More Love from Christian Focus Publications.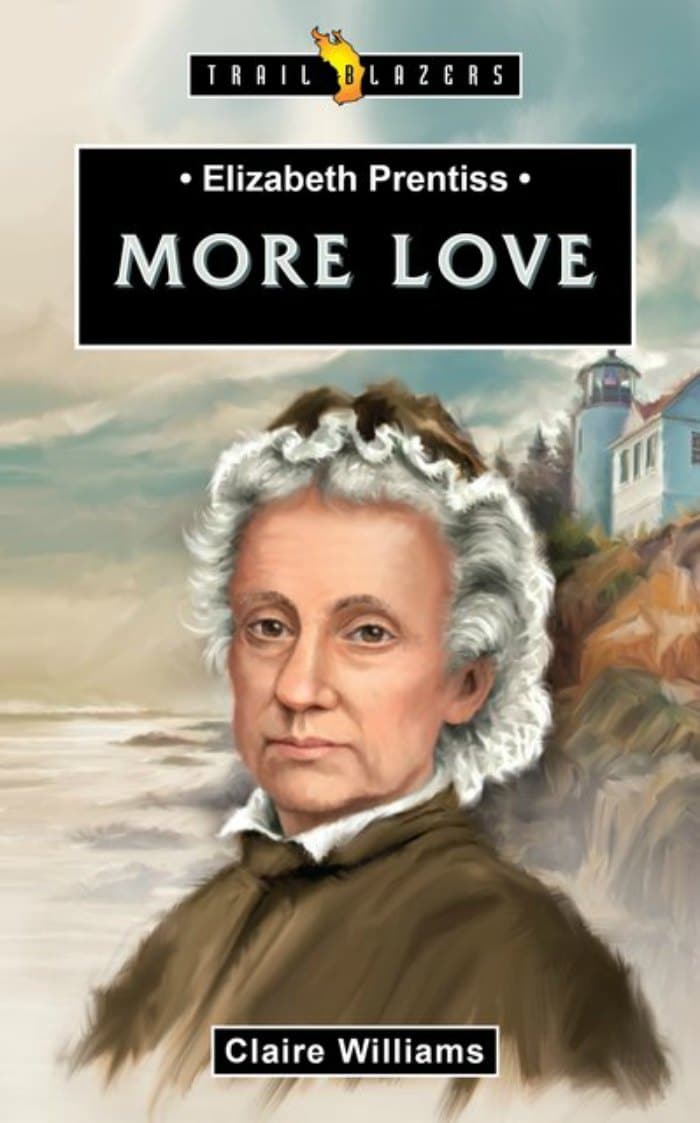 Who was Elizabeth Prentiss?
Elizabeth Prentiss lived during the 1800s and wrote many hymns still well-beloved today. Both her father and her husband were pastors. She endured several childhood illnesses as well as chronic insomnia throughout her life.
She also faced intense suffering in the loss of two of her children. Instead of becoming bitter about her suffering, she allowed it to draw her closer to Jesus, and thus became a light for those around her as well. She was a teacher, wife and mother, and a writer.
Elizabeth Prentiss: More Love Plot Summary
Elizabeth Prentiss: More Love is a slender, easy-to-read chapter book about this amazing woman. The novel begins at Elizabeth's birth and moves quickly through her childhood to Elizabeth's years as a teacher and then as a wife and mother.
Elizabeth found [housework] very boring. She was tempted to give in to this boredom and complain bitterly. However, as with other trials in her life, she decided to see the good in it. "I shall find what the Lord will teach me from housework!" she declared to the empty, and still dusty, room…

The answer was to come later, in a deeper understanding of finding God in the small, mundane chores that life always demands. The things that are never finished, but that help us to focus our minds on God. Elizabeth would later talk about them as 'Christ's school' that taught her humility and grace.
During her life, Elizabeth Prentiss frequently faced the loss of loved ones. Her beloved father died when she was a girl. Her son died when he was only five, and she lost other children as infants. Children who've lost parents or siblings may find comfort in Elizabeth's experience.
Her losses made her long for heaven, where she would be reunited with both Jesus and her children. As she explains to her daughter,
Your brother and sister are in heaven, they have not had to struggle on in life like we sometimes do. I miss them, but I know that they are better off, and the grief that we felt at their deaths has brought us closer to our Lord Jesus and that is more precious than anything.
In her suffering, Elizabeth often turned to writing. She wrote letters to family and friends and kept a journal. She helped her husband with his pastoral duties. And she penned her famous hymns, including "More Love to Thee."
Born out of all the sufferings that Elizabeth had endured and a faithful devotion to God and knowing him better, the hymn was Elizabeth's attempt to cry out to God during the hard times, not in despair but in rejoicing.
While I enjoyed Elizabeth Prentiss' story, I often found this book hard to read because of grammatical errors. There are poor transitions (on the second page, the story jumps a decade without warning between two paragraphs), misplaced commas, dangling modifiers, etc.
With my background in editing and writing, mistakes like these bother me and likely wouldn't be noticed by others. However, this title could definitely use a good editor.
The Trailblazers Series
Elizabeth Prentiss: More Love is a recent title in the popular Trailblazers series from Christian Focus Publications. This series includes over 50 biographies of Christians throughout history, including some modern-day heroes and heroines.
Each book has extra features—in this instance, a timeline of Elizabeth's life and a selection of 'Thinking Further Topics' for children to think through on their own or discuss with an adult. They include challenges to put what's been learned into action.
The Trailblazers books are intended for children ages 9-14 or as read-alouds for younger children.
Christian Focus Publications
Christian Focus Publications is a conservative, evangelical publishing house with a non–denominational reformed background. Their books point readers, no matter what their age, to look for help in their lives from the Bible, and the Author who gave us His Word.
For about the Trailblazers series and other books from Christian Focus, visit their website. You can also find them on Facebook, Twitter, YouTube and Instagram.
You can also check out my list of fun faith resources for kids for more ways to inspire your child's relationship with God!
Do your children enjoy reading biographies such as this one about Elizabeth Prentiss?