In today's world, nearly every family has been touched by cancer.  I've shared about losing a dear family friend and my best friend's mom to cancer.  It seems there is always someone in our circle of friends who is battling cancer as well.  Yet trying to explain this disease to children is tough.  Of course, when I have questions, I turn to books and so I was delighted to see a new book by a friend of mine which addresses this very topic.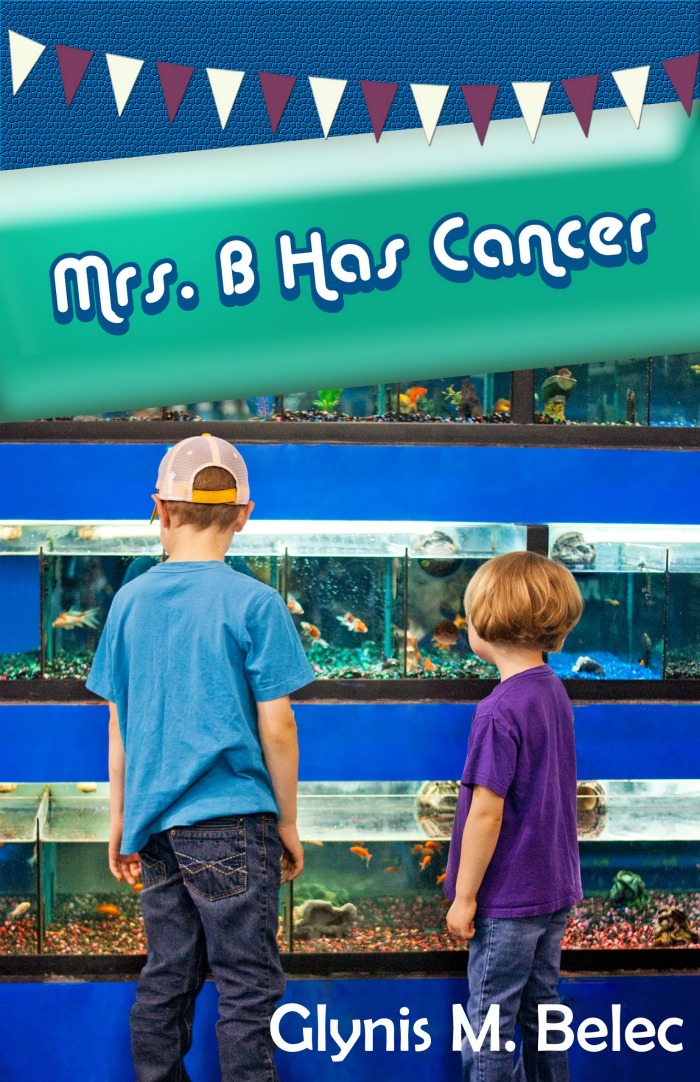 Mrs. B Has Cancer is told by Tristan, a twelve-year-old boy whose tutor gets ovarian cancer.  Tristan's innocence and curiosity propel the story forward as he tries to learn more about what Mrs. B is facing and how he can help her.  Mrs. B explains her treatments and disease in ways that Tristan can understand, but he's still upset when those treatments prevent him from seeing her.  Along with his friends, Tristan pulls together a fundraising event and party for Mrs. B.
"I couldn't help but stare at Mrs. B as she was talking to Shawna.  She winked at me when I came in.  I hate to say it, but Mrs. B looked different.  She had a red scarf on her head, but I could tell she had no hair."  ~Tristan
I read the book in about half an hour on the plane to Toronto.  Tristan is a delightful character who pulled me into his life (and how much he misses Mrs. B) and made me root for Mrs. B to beat her cancer too.  I'd like to read this book again with Sunshine to talk about cancer with her.  It is a chapter book, but it is a short, easy read intended for kids in grades 2-5.
Glynis says, "Mrs. B Has Cancer started out as nonfiction because I was aching to find a way to answer questions that my students asked of me once they found out I had cancer. So I suppose you could say, it was therapy to begin with for me as I faced my own chemotherapy. The predominant question asked was Are you going to die? Children are forthright and want answers. Sometimes adults hush children up [maybe because they don't have all the answers.]
"I wanted to find a way to talk to children about cancer and to give them the privilege of having their questions answered as best as possible. My nonfiction manuscript became too clinical so that was when I decided to compile the questions from my students and allow Tristan, my main character to take over in a work of fiction based on my true story. Somehow, it just flowed from there.
"As far as the semi-autographical bits—yes, many things are from my own experience. The whole cancel cancer party was pure fiction but oh how it worked for me to help children realize they can be such a blessing or help whether they do little or a lot for an adult facing cancer. This book can also help other children who don't know much about cancer understand things, too. I am in the process of setting up opportunities to speak in some local schools. I've had adults tell me they can understand the tests a little better now that they read about Tristan and Mrs. B, too, so that is a good side effect!"
Glynis Belec is a fellow Inscriber, author and cancer survivor.  Her stories have appeared in the Chicken Soup for the Soul and Hot Apple Cider anthologies.  She's also written picture books for children, devotionals, a stage play, and a regular column for FellowScript.  She's now an official speaker for Ovarian Cancer and does workshops about writing and Mrs. B Has Cancer.  For more about Glynis or her books, check out her website.
I'm linking up with Fellowship Fridays and Essential Fridays.  Glynis provided me with a copy of her book for this review; all opinions expressed are my own.