I love pasta. I could eat pasta for lunch and supper, every day of the week. However, I've come to realize that's not going to help me lose the post-baby weight. Along with my husband, I've been trying to eat a low carb diet lately. As a busy mom, that's sometimes easier said than done. If you're also trying to reduce the carbohydrates in your diet, here's what's worked for me.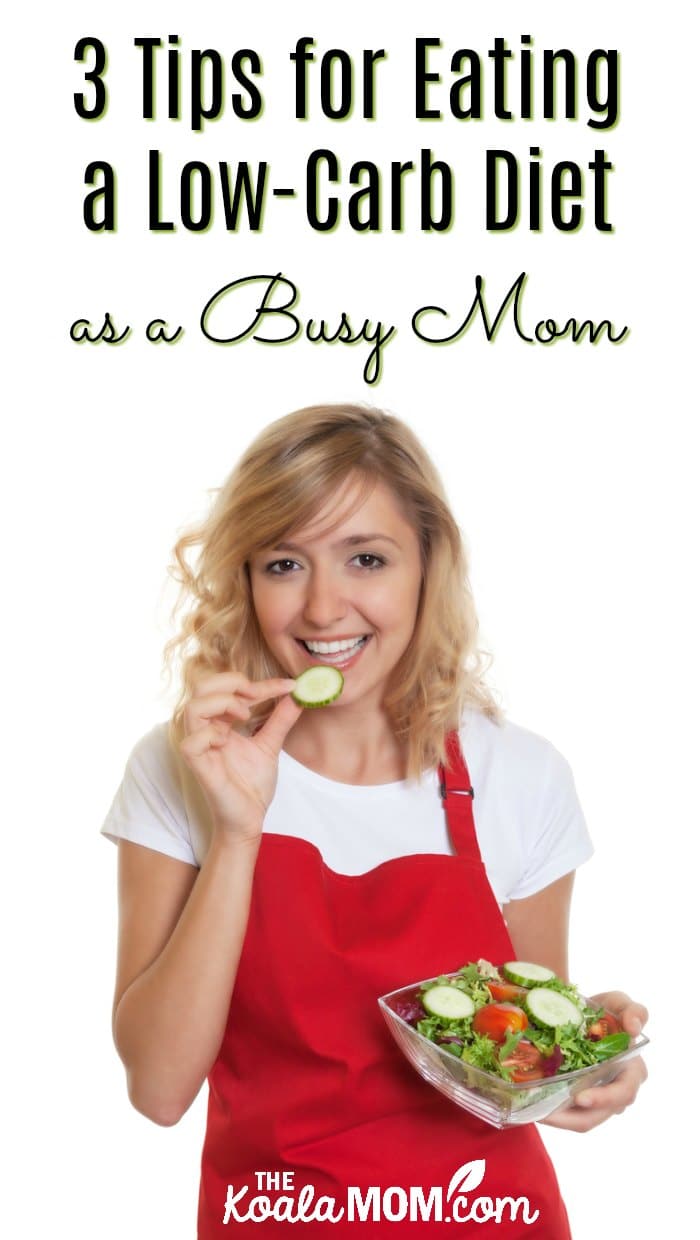 This post contains affiliate links; as an Amazon associate, I earn from qualifying purchases. I received a copy of Low Carb on the Go for review from DK Canada; all opinions expressed remain my own.
Involve Your Family in Your Low Carb Diet
Eating different foods than everyone else in your home gets old fast. It's either too much work to prepare two meals or too tempting to go back to your high carb cravings when it's sitting right there in front of you. Instead, involve your family! If reducing carbohydrates is better for you, it's likely better for them too. My husband is also trying to lose weight, so he appreciates it when I choose low-carb, non-pasta options for meals.
I also want to set a good example for my kids. Food isn't just about taste; it's also about experience and memories. Making low-carb options a bigger part of our meals now will help them choose these options later, when they're adults.
Sandra and Mirco Stupning, authors of Low Carb on the Go: More Than 80 Fast, Healthy Recipes – Anytime, Anywhere
, say, "It is often much easier to stick to resolutions as a group and therefore achieve preset goals, such as eating a healthier diet." You can get support from friends in your new diet, but it's often easiest to get the support you need from those whom you are eating with regularly—including your spouse and children.
Plan to Eat Healthy
One of the hardest parts about reducing carbs in my diet is that bread, pasta, and other carbs are so convenient! It's easy to throw on a pot of noodles for supper or grab a sandwich for lunch. That's why planning ahead is so important.
Meal planning is a great help when you're trying to change the way you eat. I like to sit down when I'm not hungry and decide which healthy meals I want to cook this week, then buy the groceries for those meals. If I have it in the house, I'm more likely to eat it! Stock up on the healthy, low-carb snacks and try to avoid processed, high-carb foods.
Planning ahead is also important if you work out of the home or find yourself on the go during meal times (that's you, taxi mom!). Instead of packing sandwiches or grabbing fast food, a little prep ahead of time can arm you with some low carb meals that you can take with you. Low Carb on the Go has tons of ideas, from salad-in-a-jar to energy bars to shakes. If you can take coffee in a travel mug to your child's soccer game, you can also take a smoothie in a tumbler!
Make Small Switches
Sometimes, the idea of changing eating habits is overwhelming. Did I mention that I really like pasta? I don't want to give it up all together! Instead, I've made healthy, delicious swaps in our diet. For example, instead of white rice, I cook brown rice. It takes a little bit longer to make, but it's a bit healthier—and nobody noticed the switch! You can do the same by switching regular pasta for whole grain pasta and white bread for whole wheat bread.borde
You can also make other swaps from high-carb to low-carb foods. Low Carb on the Go has a whole list of healthy swaps to try. These are often easy and allow you to keep enjoying your favourite foods, just with a slightly different twist. For example, we really like faux-tatoes (mashed cauliflower) instead of mashed potatoes and riced cauliflower instead of rice. You can also use cauliflower to make pizza crusts, though I haven't tried this yet!
"It's not a question of banning foods, but rather of placing the emphasis on choosing the right foods." ~ Sandra and Mirco Stupning
Other switches we've made include bake a spaghetti squash to serve with marinara sauce instead of spaghetti noodles. I also like using my Ninja spiralizer to turn a zucchini into "zoodles" for pasta dishes. If I'm making soups or chilis, I'll add more beans and vegetables instead of rice or pasta.
Don't Say Diet
There's something about the word "diet" that makes most of us want to run in the opposite direction. Diet conjures up images of giving up our favourite foods and eating spinach and green beans for a month. Diets are often short-term and unsuccessful. Instead of planning to go on a low carb diet, simply choose to make healthy, low carb choices in your eating habits.
"Ideally, the low-carb approach will shape your nutritional intake in the long term and become a natural choice, rather than being a short-term diet in which you consciously avoid bad carbohydrates such as sugar, white flour, fast food, pre-prepared products, and too many pastries, baked goods, and other unhealthy foods. Look after yourself by providing your body with healthy foods." ~ Sandra and Mirco Stupning
More Tips for Your Low Carb Lifestyle
Low Carb on the Go has more than 80 recipes for breakfast, lunch and dinner to help you lose weight, keep your blood sugar stable, or just prevent that afternoon carb coma. Authors Sandra and Mirco Stupning will help you discover tips and tricks for healthy meal prep. All the recipes include nutritional information, prep times, and tips for making the recipe ahead of time and taking it with you to work, school, or your daughter's dance class! Low Carb on the Go includes an index of all the recipes as well as information about good carbs and bad carbs, and why and how to do a low carb diet.
My favourite recipes from Low Carb on the Go include:
chocolate pudding (easy, smooth, and yummy!)
chickpea pasta salad (perfect for hot summer days)
chicken kebabs (the whole family liked these)
rainbow rolls (a nice sandwich alternative)
energy balls (great snack for on-the-go)
lemon poppy seed mini muffins (easy, healthy breakfast option)
Sandra and Mirco Stupning say, "We love real food and work mainly with ingredients that are unprocessed and good for our bodies."
I hope these tips help you make healthy choices for your family! What tips would you share for eating a low carb diet as a busy mom?