Maintaining a healthy diet isn't always the easiest thing in the world to do. However, it doesn't have to be difficult or unattainable. Believe it or not, incorporating healthy foods into our daily diets can be surprisingly simple and taste scrumptiously good. I've put together some of my favourite ways to make healthy but delicious swaps — you and the kids will never know the difference!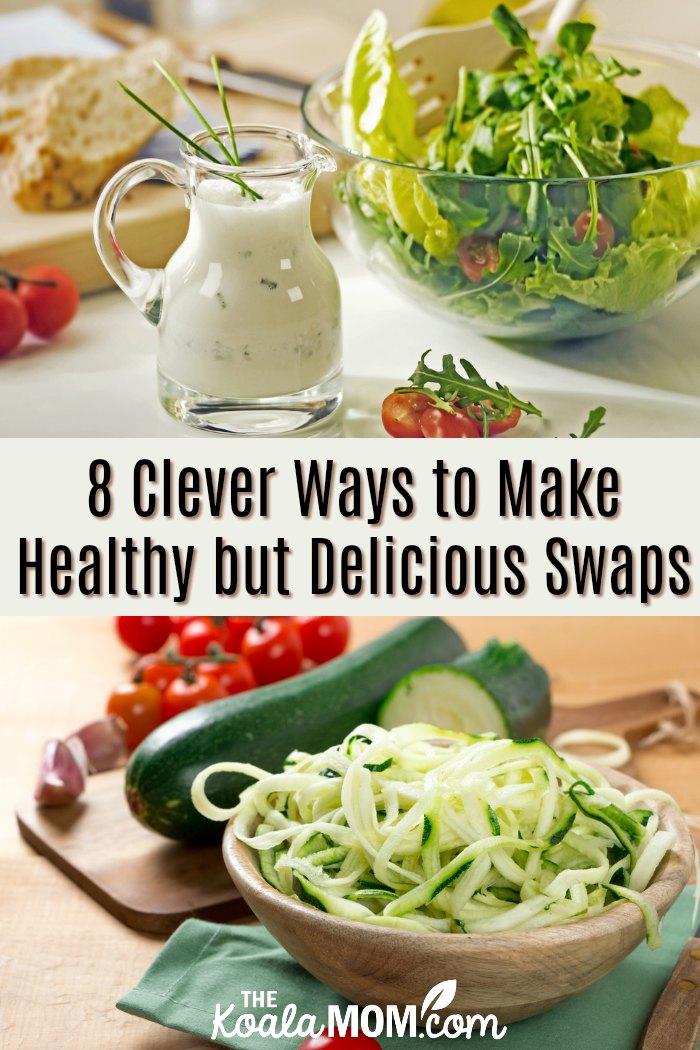 Don't Ditch the Desserts
Most kids love cakes and desserts, but they can be full of fat and refined sugar. Trying to get kids to stop eating sweet treats is nigh on impossible, but you can make them healthier. Some healthy dessert recipes are so crafty, you can hardly taste the difference.
With a little of creativity, you can even make chickpeas or sweet potatoes into a dessert. Why not give Chickpea Blondies, Beet Berry Coconut Chia Pudding or Sweet Potato Brownies a try? There are so many options for healthy desserts using alternative ingredients. Just remember that even though they are healthier, you can't eat all of them — save some for the kids!
Make a Condiment the Star!
Making your own condiments can be an excellent way to give your meals a flavour boost. Have you tried making your own pesto? You can add it to pasta or use it s a yummy coasting for chicken.
Are you a fan of that creamy butter? Avocado is a great to spread on toast or a flatbread and has a similar texture to butter. You can also try making your own hummus, salad dressing or salsa. It's super simple and healthy way of adding some flavour to less exciting meals.
Make Your Own Chocolate Bars
If you find you a get a hankering for chocolate, try making it yourself. There is a huge difference between cocoa and cacao, so making the conscious decision to use better ingredients will improve your health. Cacao powder is packed with nutrients and tastes just as good as cocoa.
We love making our own truffles. They only take a few simple ingredients such as coconut oil, cacao powder and sea salt.
Hot or Cold Smoking Food to Add Flavour
Hot or cold smoking your meat and fish is a clever way to avoid using cooking oils, while packing in bags of flavour too! When you use your natural gas smoker, you have two options: hot smoking or cold smoking. Hot smoking adds flavour while cooking your food; cold smoking adds flavour by preserving it, like smoked salmon.
Use More Vegetables in Your Meals
On top of simply eating more vegetables, you can sneak extra vegetables into your meals to make them healthier. You can make fries out of sweet potatoes, fried rice out of cauliflower, or spaghetti out of courgette. Zucchini noodles or "zoodles" are also a great way to cut down on calories and load up on vegetables.
How about making a pizza base out of cauliflower? Or what about these cauliflower popcorn bites, they taste just like KFC!
I also like keeping frozen peas on hand to toss into pastas, casseroles and soups. And baby carrots make a quick and easy snack or side dish for any meal.
Get Ready to Spice Up Your Life
You can add some really punchy flavours by creating your own spice mixes. You can use these to season your dishes, and you can even use them to marinade meat in (by combining with a little oil).
It's super easy to make your own curry powder for a tasty chicken, lamb or vegetarian curry or your own Mexican inspired seasoning for tacos and fajitas. The bonus is that these DIY spice mixes don't have preservatives or other chemicals that store-bought mixes might.
Planning a taco night but don't have a taco kit on hand? That's not a problem when you make your own taco seasoning mix. You likely have all the ingredients for taco seasoning in your cupboard.
Don't Step Away from French Fries
The next time you want fries, try baking them instead of deep frying them litres of oil. When at home, toss your sweet potato wedges in a bag with olive oil and semolina. This coating with ensure you get a crispy oven chip every time. You can also try using a healthy oil like coconut to help reduce your cholesterol levels.
You Scream, I Scream for Healthy Ice Cream
Who doesn't love ice cream? Avoiding ice cream is very hard to do and you don't have to cut it out of your diet completely. There are a few alternatives still as delicious. Frozen yogurt offers a good source of probiotics and protein without the sugar hit.
You can also try freezing a banana, blending it and adding some delicious toppings. You will be surprised how similar to ice cream the consistency and taste of banana ice cream is.
Adding flavour doesn't have to be too tricky. Once you've done it a few times, it will become a habit. So next time instead of reaching for the pre-made salad dressing loaded with sugar, you will be whipping up your own.
What healthy but delicious swaps have you tried in your cooking?
Brittnay makes her home in Melbourne, Australia. She likes keeping her family healthy and exploring Australia in her campervan. She's also a long-term house sitter. Drop by her blog, The Nut Butter Hub, for more tasty recipes and travel stories.