Are you looking for fun ways to help your children learn about their faith and develop a deeper relationship with God? Then this list is for you! I'm constantly on the lookout for great faith resources for kids. Over the years, I've reviewed and used many books, websites, Bibles, and more with my daughters. This is my list of fun faith resources for kids—let me know which ones you've used and if there's any I should add!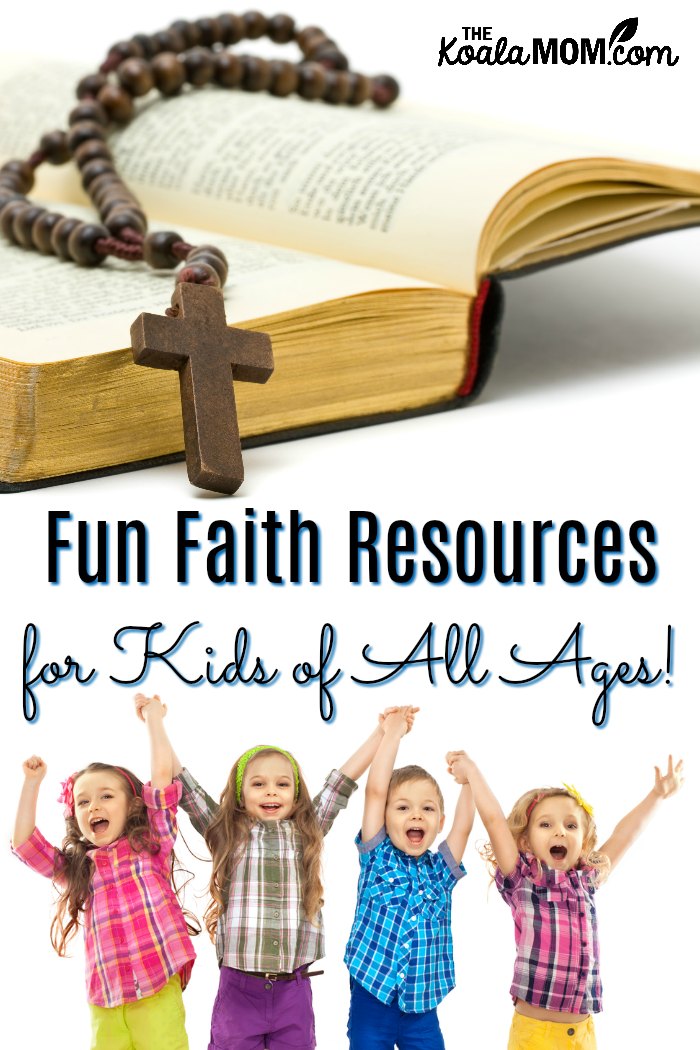 Websites & Apps
Grow Kids Website: children's ministry curriculum
Children's church curriculum from Grow Kids is not just a curriculum giving talking points your kids' ministry, it is a well-practiced package of events, teaching staff, videos, discipleship, and much more to help your kids grow spiritually in a fun and interactive way as well as to help you stay disciplined and consistent on topics need to be discussed. The curriculum are easily adaptable to your own needs and you are free to change them based on your child's interest and pace.

Kids of Integrity Website: Tools for Growing Godly Character
Kids of Integrity is is a set of free, downloadable lesson plans that help parents instill Christ-honouring character traits in their kids. The questions and activities presented are designed for children ages 3-10. Parents can browse lessons on virtues such as acceptance, faithfulness, generosity, self-control and more. Each lesson includes a parents' prayer, ideas to help your children pray, a blessing, memory verses, craft, Bible stories, hands-on option, and creative discipline ideas.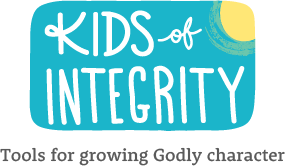 This website is a free faith resources for parents created by Focus on the Family. Each lesson contains links to extra resources, including books and DVDs that may help you learn more about the chosen topic.
Odyssey Adventure Club
I grew up listening to Adventures in Odyssey, a fun series of audio dramas for kids produced by Focus on the Family. Now, my girls love listening to the adventures of Whit, Connie, Eugene, Tom, and others in Odyssey. All the Adventures in Odyssey are available on demand through the Odyssey Adventure Club app. Children can also read daily devotions, interact with hands-on activities and view video documentaries featuring a behind-the-scenes look into the production of the Adventures in Odyssey stories.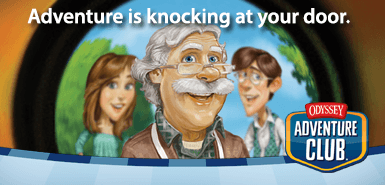 Little Saints Adventures App
Little Saint Adventures provides interactive faith-based education for children ages 3-8 (although my ten-year-old also enjoys the app!). A kids' app pairs with a parent app so you can see what your childre is learning, and apply it to your daily lives.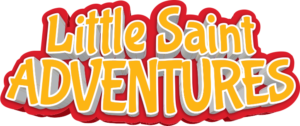 Children can explore Francis' Forest, Nazareth Village, Sailing in Galilee, My Parish Family, and Shamrock Isle. More places to explore will be coming to the app soon. Children learn more about the Bible, sacraments, and saints in a fun way that helps them remember what they learn. Parents can see what kids are learning using the parental app, and can also print a curriculum PDF.
The app is available both in the iStore and on Google Play. Francis Forest is free for kids to explore if you wish to try the app. Membership (with access to all worlds and activities) is $3.99 / month or $49.97 for lifetime access. There are also gift options available.
Formed.org
We've heard about this Catholic on demand service for years, and finally subscribed recently. There's a wealth of resources here for Catholics, from ebooks to movies to audiobooks. The kids' section includes Cat Chat videos as well as saint stories. You can sign up for a free trial, register a group (such as a church or homeschool organization), or enter a code from your parish to get access.
Movies & DVDs
Treasure Toons DVD series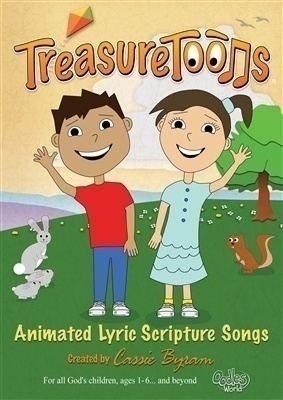 TreasureToons is an exciting DVD series that helps kids memorize Scripture by singing and having fun. Created by actress Cassie Byram, TreasureToons is 55 minutes of entertaining musical animation including Sing-a-Long versions and other bonus material. Plant the Word of God into young hearts and minds with music and fun animation. TreasureToons will have your kids laughing and learning scripture in no time… for a lifetime.
TreasureToons is a family endeavor, inspired by Byram's Lifetime Scripture Songs album, "Wonderfully Made." The series is produced in collaboration with her husband, Amick Byram (Grammy and Emmy nominated singing/actor) and their musically talented adult sons. Together, the Byram 's have crafted a series of colorful lyric videos filled with memorable songs, friendly characters and an animated world that children will want to explore over and over again.
"My main goal is to add value to people's lives," Byram shares. "I want to help children know how loved they are by God while teaching them to love God and others by introducing them to Scripture in a fun and easy way. The Scripture songs I've written, along with the TreasureToons project, are my way of blending faith and career through animation. One of the greatest gifts for me personally was collaborating on these projects with my sons and my husband."
Torchlighters: Heroes of the Faith DVDs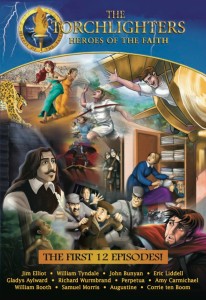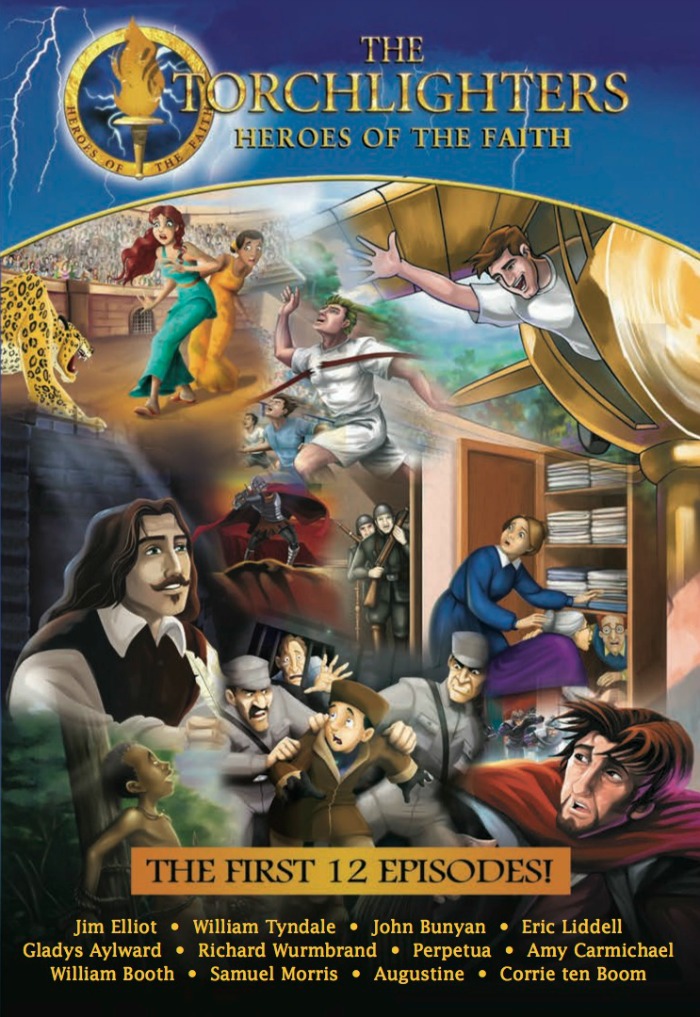 Torchlighters: Heroes of the Faith DVDs present the stories of thirteen great Christians, from St. Perpetua in the third century to Eric Liddell in the twentieth century. The stories don't attempt to tell the entire hero's story, but rather focus on specific, key incidents in their lives. Each DVD includes a 30-minute animated story, four-lesson curriculum in PDF, feature-length documentary of the hero, and English and Spanish languages and subtitles.
The Torchlighters series began when creator Bill Curtis was reading biographies of great Christian heroes to his 10-year-old daughter. After finishing a chapter about missionary Gladys Aylward, she looked up at her dad and said, "I want to be a missionary when I grow up." Realizing how clearly the power of this story moved his own child's heart, the Torchlighters Heroes of the Faith animated series for children was conceived.
The Torchlighters series includes two stories about Catholic saints (St. Augustine and St. Perpetua) but the other heroes of the faith are Protestant.
Colouring & Writing Activities
To Hear His Voice: A Mass Journal for Catholic Kids
Lily started using this Mass Journal in September. I love the way this little book has helped her pay attention during Mass. She frequently writes or doodles during Mass anyway, and now To Hear His Voice is helping her to focus her scribbles in a practical way. Created by Catholic mom blogger Ginny Kochis for her own gifted, creative children, To Hear His Voice makes the Mass accessible for every child while encouraging their understanding of Church teaching.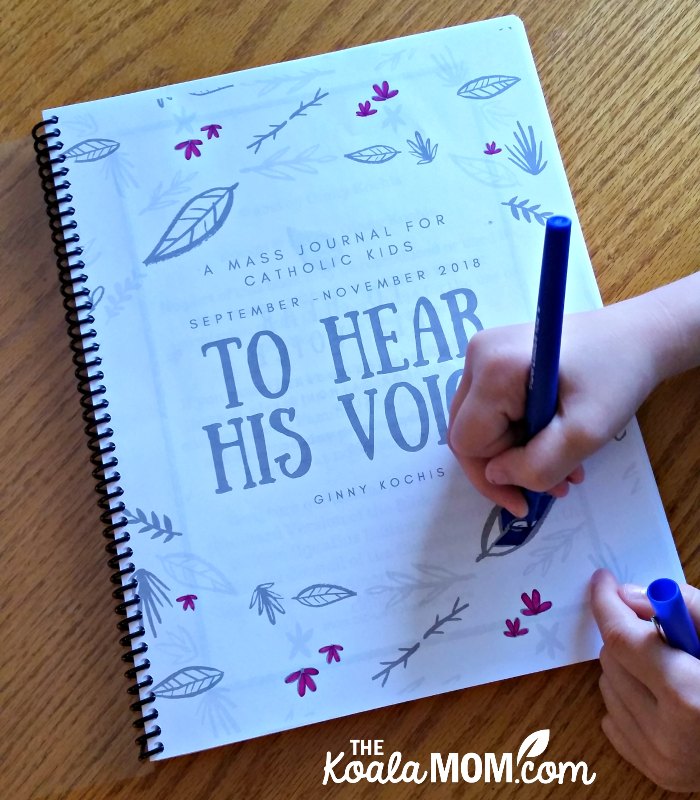 Adam's Animals: Fun Facts about God's Creation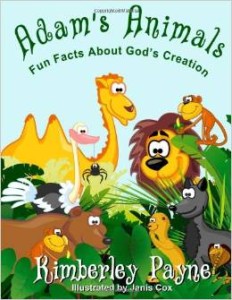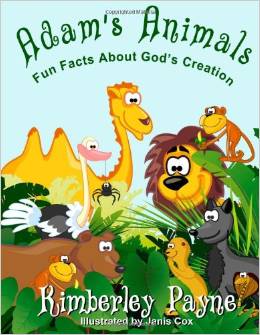 Adam's Animals: Fun Facts About God's Creation is a cool activity book that teaches children about animals mentioned in the Bible. From ants to camels, children will learn more about each of the animals and their faith. This book features over 40 animals mentioned in the Bible, including little-known facts about each. Each page includes a colouring picture and word search along with facts about the animal and Bible verses mentioning the animal.
Happy Saints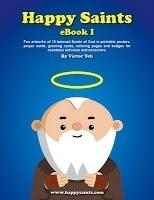 The Happy Saints ebooks are one of our favourite saint resources. These adorable drawings of saints are available as prayer cards, posters, colouring pages, greeting cards and more. They are perfect for All Saints' Day activities, everday saint lessons, homeschool lessons, catechism classes, special occasions, etc. Happy Saints eBook I contains fun artworks of 15 saints, including St. Alphonsus Liguori, St. Augustine, St. Francis of Assissi, St. Fancis Xavier, St. Ignatius of Loyola, Blessed Pope John Paul II, Saint Teresa of Calcutta, and St. Therese of Lisieux.
Artist Victor Teh says, "Meet the Happy Saints!  Here are 15 of the happiest people who ever lived.  They were not rich nor always comfortable.  They faced problems, sickness, suffering and even attacks from people.  Yet, in their hearts, they were filled with joy, peace, and love.  They knew that God alone was enough to keep them happy."
Canadian Catholic Saints & Blesseds Kids Activities Pack
I've made a FREE printable Canadian Catholic Saints Kids Activities Pack to help you teach your children about these holy men and women! This includes 8 Bingo cards with 30 Canadian saints' and blesseds' names, crossword puzzles and word searches, saint matching and sorting games, and a saint profile sheet. These activities are intended for kids about Grades 2+ (or children who can read and write). This Kids Activities Pack would be great for catechism classes, homeschool lessons, or a Canadian All Saints Day party.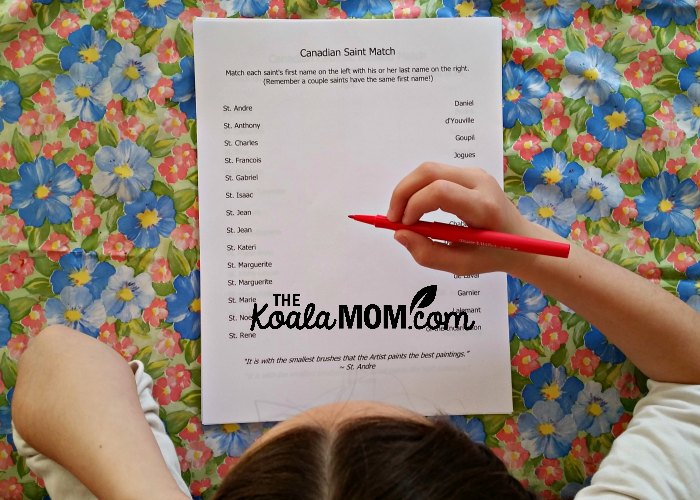 Holy Heroes Colouring Books
Holy Heroes is one of our favourite Catholic stores. We have quite a few of their colouring books, such as those about Jesus' Passion and His Road to Calvary. Each year, they host a free online Advent Adventure and Lenten Adventure. You can buy the accompanying workbooks for these Adventures, which are a great way to help kids get the most out of the season.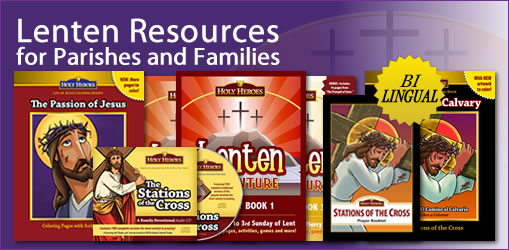 Books & Audiobooks
Gospel Time Trekkers series
The Gospel Time Trekkers is a series of novels about three siblings who travel back to Jesus' time. They experience first-hand the events of the Gospels, from Jesus' birth to His Passion. Sister Maria Grace Dateno writes an action-packed, Biblically accurate story. I enjoyed the siblings' interactions with each other and the descriptions of Biblical places and cultures. The novels are geared toward early readers (ages 6 to 9). The books have short chapters and beautiful black-and-white illustrations to accompany the stories.

Brinkman Adventures (Audiobooks)
Brinkman Adventures is an audio drama series about a big Christian family and modern-day Christian heroes. Each twenty-six minute episode contains a Biblical theme, lesson, and compelling drama that will keep you on the edge of your seat. The episodes in Season 6 ranged from daring escapades during World War II to modern missionaries spreading hope in war-torn Burma. All the girls, from 5-year-old Jade to 10-year-old Sunshine, have enjoyed listening.

Glory Stories from Holy Heroes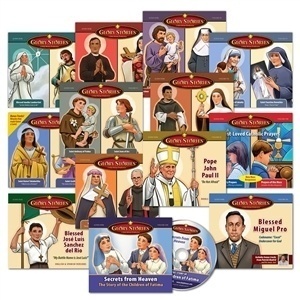 Glory Stories are the stories of great men and women of faith, dramatized for kids. Each story has a stellar cast of actors and sound effects to help kids picture what's happening. Most of the stories are about 20 minutes long (perfect for listening in the van on the way to activities!). Secrets from Heaven, Pope John Paul II, and St. Elizabeth Ann Seton are all "double episodes."
We have the entire collection of 14 saints, from St. Cecilia to Mother Theresa, and the girls love listening to them. Because of these stories, both Lily and Jade have dressed up as Bl. Immelda for All Saints Day. I was impressed at how much Jade remembered from the story to tell everyone about her saint this year!
Shhh… God Is in the Silence (picture book)
Shhh… God Is in the Silence is a picture book that helps children learn about mental prayer. This beautiful book encourages children to take a moment, quiet their minds, and look around for signs of God in the every day. With repetitive, soothing words written by Fiona Basile and warm illustrations by Alice Mount, children are invited into a space of quiet to meditate and connect with the Divine.
Trailblazers Biographies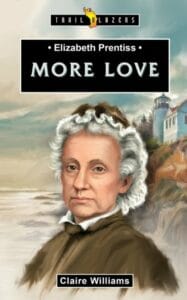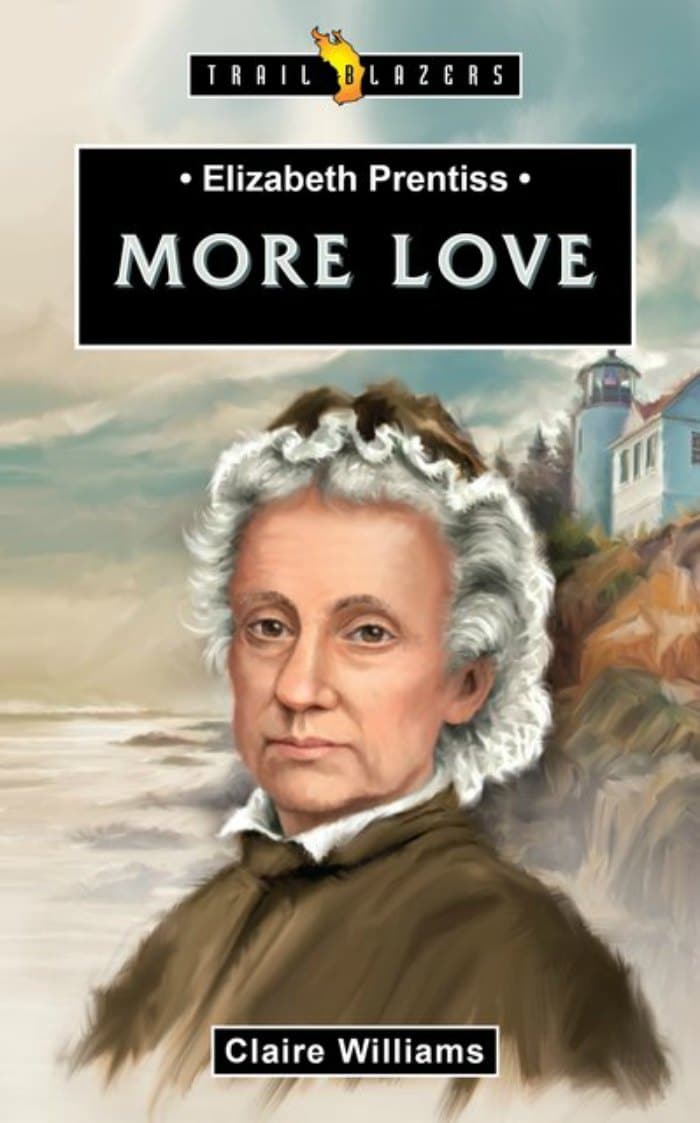 Elizabeth Prentiss: More Love is part of the Trailblazers series from Christian Focus Publications. This series includes over 50 biographies of Christians throughout history, including some modern-day heroes and heroines.
Each book has extra features—e.g., a timeline of Elizabeth's life and a selection of 'Thinking Further Topics' for children to think through on their own or discuss with an adult. They include challenges to put what's been learned into action.
The Trailblazers books are intended for children ages 9-14 or as read-alouds for younger children.
Bibles for Preschoolers, Kids & Tweens
The Action Storybook Bible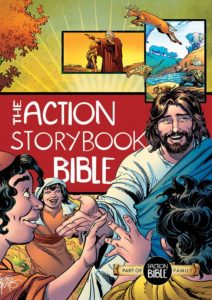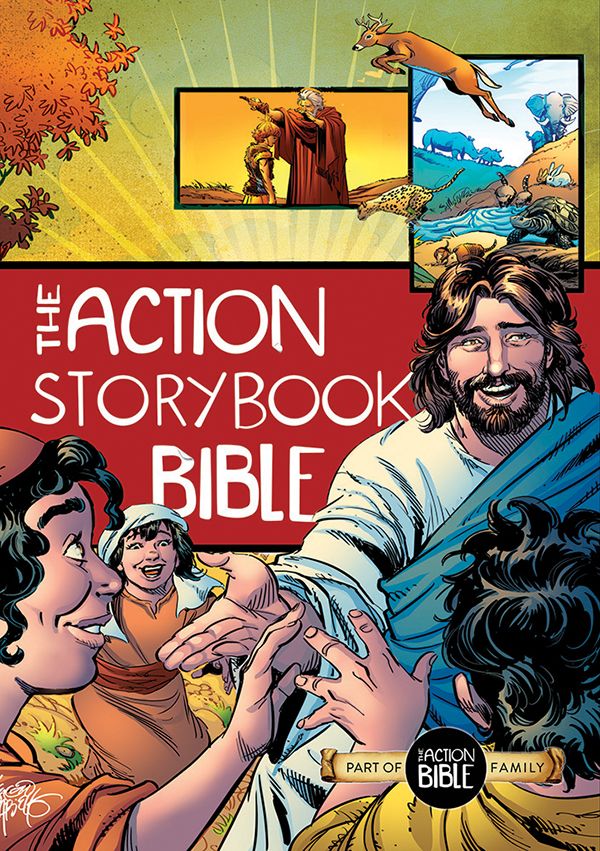 Discover your family's place in God's incredible story and put your faith into action together with The Action Storybook Bible. Children ages 8 and under can explore 15 episodes highlighting key milestones in God's story. More than 350 brand-new illustrations will captivate your family and help you recognize how God is moving through each story.
Like a graphic novel, The Action Storybook Bible makes the Bible accessible for kids by putting favourite Bible stories into pictures. It's a bridge between the simple storybooks we give to our toddlers, and the tissue-paper-paged Bibles we read ourselves.
Lily read The Action Storybook Bible aloud to Jade over the course of several weeks. I loved listening to the stories as they read together. How many children ages 4 or 7 can say they've read the Bible cover to cover? Sure, it's a shortened condensed version of the Bible, but it covered the important stories. Both of the girls thoroughly enjoyed the stories and often talked about what they'd read later.
Treasury of Bible Stories: Rhythmical Rhymes of Biblical Times
Treasury of Bible Stories: Rhythmical Rhymes of Biblical Times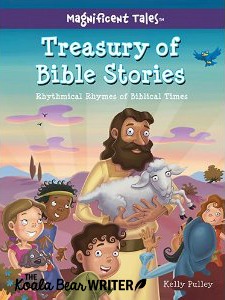 is a fun kids' Bible that sets Bible stories to rhyme. The stories include detailed, cute pictures that held the girls' attention while I was reading. In fact, I wanted to stop on each page to look at the pictures myself! Treasury of Bible Stories is broken into easy chapters which covers various stories of the Bible. Intended for children ages 4 – 8, this Bible is fun to read aloud. I enjoy a good rhyming story and appreciated the way that these stories retold familiar stories to make them understandable for kids. The stories continually pointed to God and the lessons beneath the stories.
Hands-on Activities
The Mass Box
The Mass Box is a subscription box for Catholic kids. Each monthly box includes a craft for each Sunday of the month, along with a magazine-style booklet that features the Sunday readings and discussions questions and activities about those readings. Kids loves getting mail, so receiving this box every month is super exciting. The Mass Box is geared for children ages 4-8.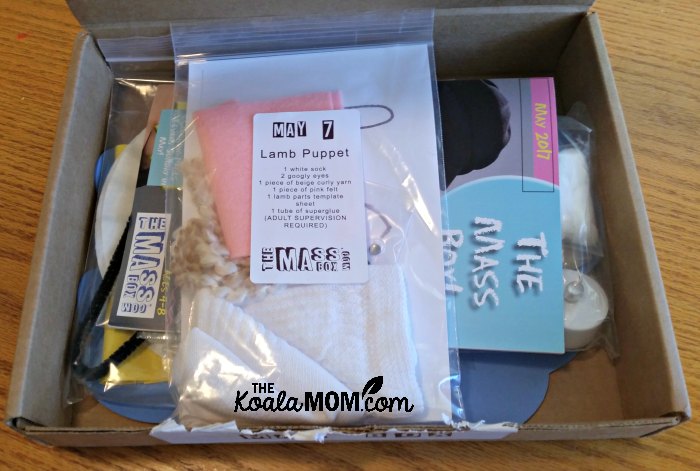 Dolls From Heaven
Dolls From Heaven are 18-inch dolls dressed as saints. Sunshine and Lily have St. Therese of Lisieux and St. Joan of Arc, the first two dolls in the collection. These dolls have cloth bodies and moveable, vinyl heads and limbs. St. Therese has slightly darker skin, lovely brown curls, and brown eyes. St. Joan has pale skin, straight blonde hair, and blue eyes. Their clothing—a habit for St. Therese and armour for St. Joan—is absolutely stunning in its attention to detail.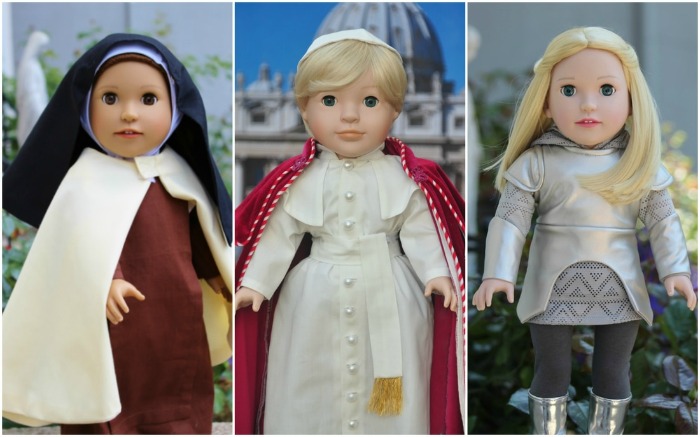 The girls love showing their dolls off to their friends and frequently play dolls together. I love the way these toys have inspired their faith, and their knowledge of these saints. The Dolls From Heaven collection also includes a Pope St. John Paul II doll and their newest doll, Mary of Nazareth.
DIY Rosary
One fun activity we've done several times now is to make our own rosaries. This can be a simple project with big beads and string for smaller children, or a more intricate project with fancier beads and wire for tweens or teens. Rosary supplies can be found at your local church supply store, many bead stores, or online at shops such as Design My Rosary.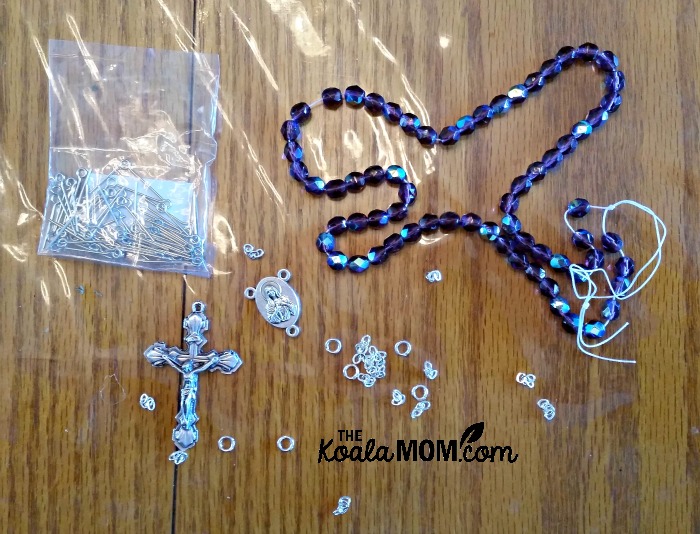 Prayer Cards & Bookmarks
For my email subscribers, I've made a FREE printable PDF with prayer cards, bookmarks and lunchbox notes for students! This Patron Saints of Students set includes 12 square lunchbox notes with quotes by St. Elizabeth Anne Seton, 14 larger black & white notes (which could also be used to make notecards) with quotes by St. Elizabeth Anne Seton, a St. Gemma prayer card, and a St. Thomas Aquinas bookmark. These quotes are sure to inspire your little students, whether they homeschool or attend private or public school.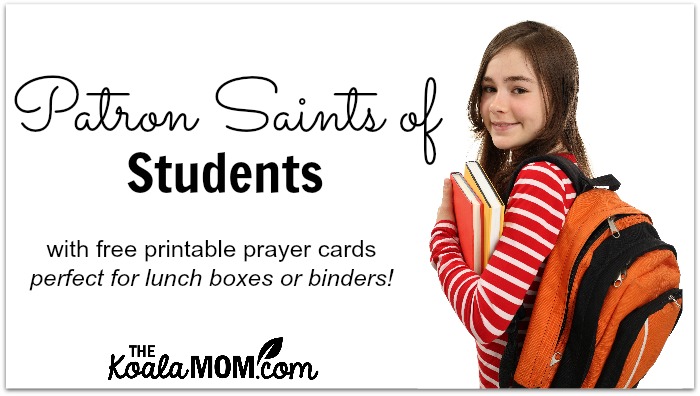 What fun faith resources for kids have you found and used?