Ever since a doll catalogue arrived in our home, Sunshine and Lily have been talking about dolls. They poured over the catalogue, picking the doll they wanted. They made lists of doll accessories and prices. They counted and recounted their birthday and Christmas money.
At first, my husband and I listened and waited to see if this was a passing fad or lasting interest. Even after the doll catalogue mysteriously disappeared, the girls continued to talk about "their" dolls. At Christmas, they hoped to find a doll under the tree. After Christmas, Lily expressed her disappointment at not getting the one thing she really wanted. A doll, I realized, had really captured their interest.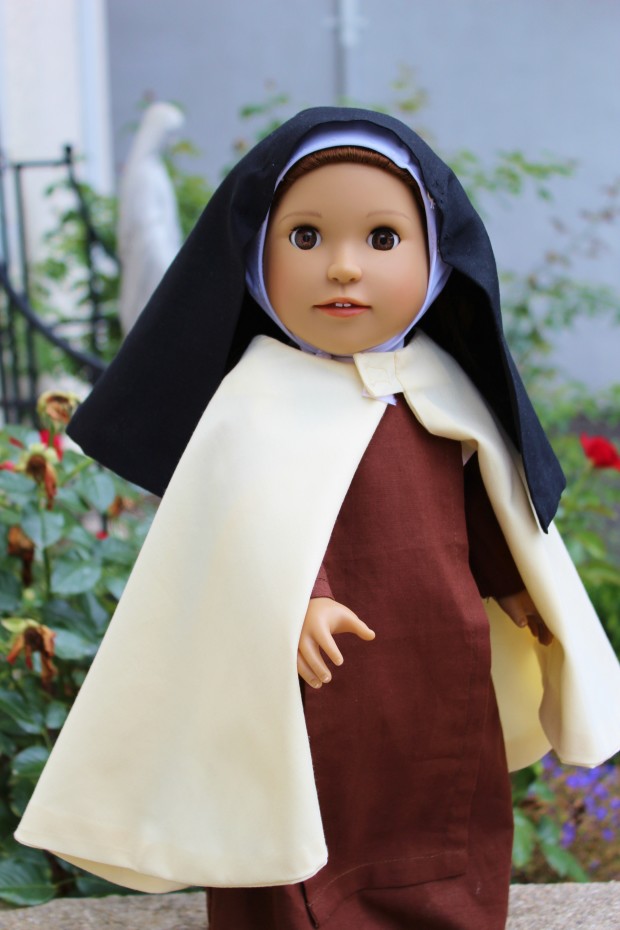 Then my husband (ever fond of finding deals) began pointing out other dolls. They browsed dolls at this store for this price, with these accessories, and compared them to dolls at that store, with different accessories. Sunshine, ever practical, began to add up all the extra things she could get if the doll she wanted cost less. Lily clung to her love for the first doll who had caught her attention.
From my own childhood experience, and stories like Carolina's Courage and Frances Hodgson Burnett's A Little Princess, I could understand the importance of a special doll in a little girl's life. I chatted with mom friends about what dolls their daughters played with, and what dolls they'd recommend. Then I remembered Dolls from Heaven, which I'd heard about during their Kickstarter campaign. I quickly dropped by the website again and knew I'd found the girls' dolls.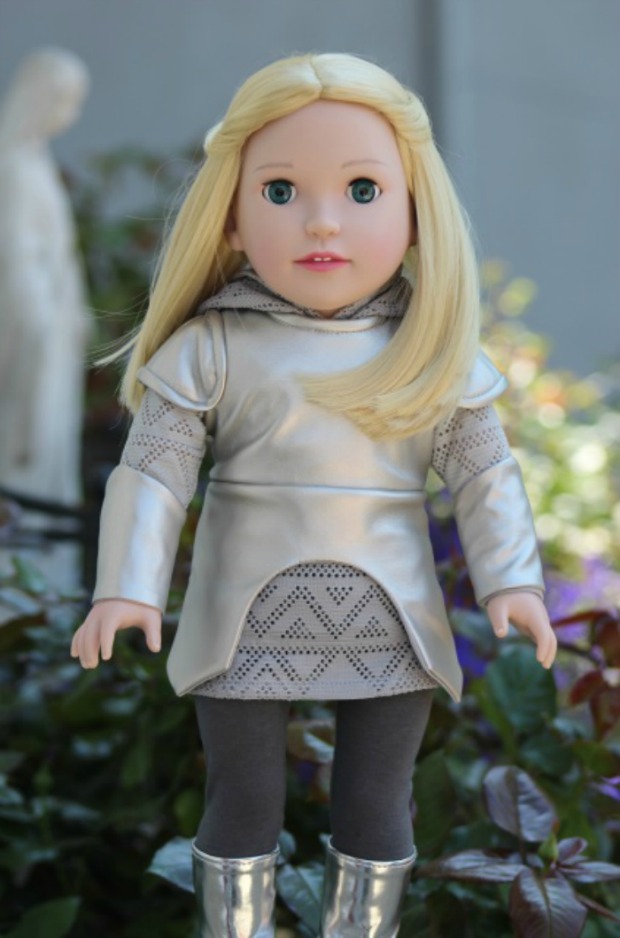 Dolls from Heaven has two saint dolls in their store: St. Therese of Lisieux and St. Joan of Arc. St. Therese and St. Joan are two of the girls' favourite saints, thanks to the Holy Heroes Glory Stories. I consulted with my husband about the dolls, pooled the girls' birthday and Christmas money and made up the extra for what they needed, and ordered the saint dolls. Then I snuck the giant box into my room when it arrived, and we awaited the perfect time to present the girls' with their new dolls!
We have rarely bought our daughters dolls. There are a lot of dolls in today's toy stores that promote values I don't want in my home. There are other dolls who are based upon historical figures or encourage girls to learn about positive values, yet these are the first saint dolls I've seen. Because my girls are such fans of saint stories, I know they would love playing with these dolls.
"Saints are our role models, they teach us how to love and follow Jesus. Through their holy example, we all can learn from them, especially children. Our first doll is Saint Therese, who has inspired millions of people through her 'Little Way.'" ~ The Kiczek family
We decided to give the girls their dolls at Easter, though we haven't given Easter presents in the past. It was a good date halfway between their birthdays (since Sunshine's birthday was past, and it wouldn't be right to give her a big present for Lily's birthday). Jade has been less interested in a doll than her older sisters, so we found another present for her. (I'll be watching the Dolls from Heaven website to get her a saint doll in a few years!)
The St. Therese doll has glistening brown eyes that open and close, curly brown hair, a cloth body, and a movable, vinyl head and limbs. She comes with a Carmelite habit and paperback book about herself. A Sunday best outfit is also available, as well as a rosary, mantle, and pictures.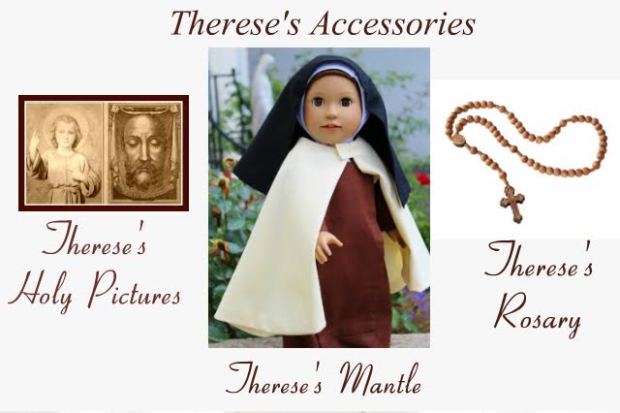 The Kiczeks say, "Our goal is to inspire children throughout the world to become saints. The Dolls From Heaven plan is to introduce a series of saint dolls, whose story will encourage children to follow Jesus. Saints, like Saint John Paul II, Saint Bernadette, Saint Patrick, Saint Joan of Arc, and many more."
Dolls from Heaven also offers a John of Arc doll and a Pope Saint John Paul II doll, with more dolls planned. I love the fact that they have dolls for both boys and girls. We know several families where younger brothers like playing dolls with their big sisters (of course!).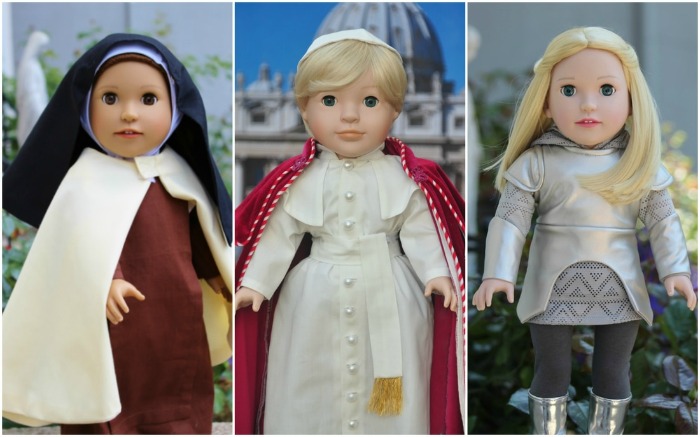 To shop the dolls or their accessories, drop by the Dolls from Heaven website. You can also find them on Facebook, Twitter and Pinterest.
The girls' faces lit up when they unwrapped their beautiful new saint dolls. They each instantly recognized the saints. I gave St. Therese to Sunshine, because they both share an interest in drama (St. Therese wrote and directed a play about St. Joan of Arc). Lily is my busy, active daughter, always running or bouncing, and so St. Joan's character of a soldier seemed to fit her.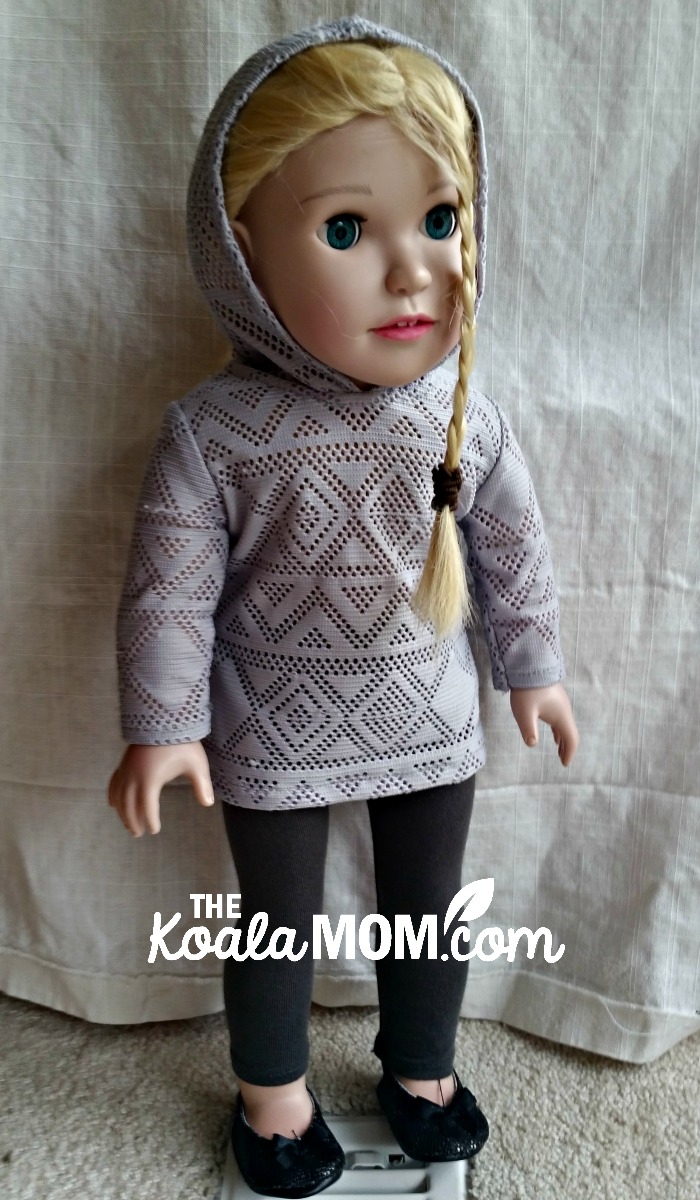 Both saint dolls have cloth bodies and moveable, vinyl heads and limbs. St. Therese has slightly darker skin, lovely brown curls, and brown eyes. St. Joan has pale skin, straight blonde hair, and blue eyes. Their clothing—a habit for St. Therese and armour for St. Joan—is absolutely stunning in its attention to detail. The girls spent quite a bit of time oohing and aahing over the dolls' clothing, and comparing outfits, and dressing and undressing their dolls.
The dolls come with a paperback book about the saint, as well as some accessories (which I haven't given the girls' yet—shhhh!). St. Therese also has a First Communion gown and a Sunday best gown, which is also sitting in my closet waiting for Christmas. Having seen the dolls' everyday outfits, I can't wait to pull out the dresses for the dolls and see the girls' faces as they dress their dolls up for special occasions.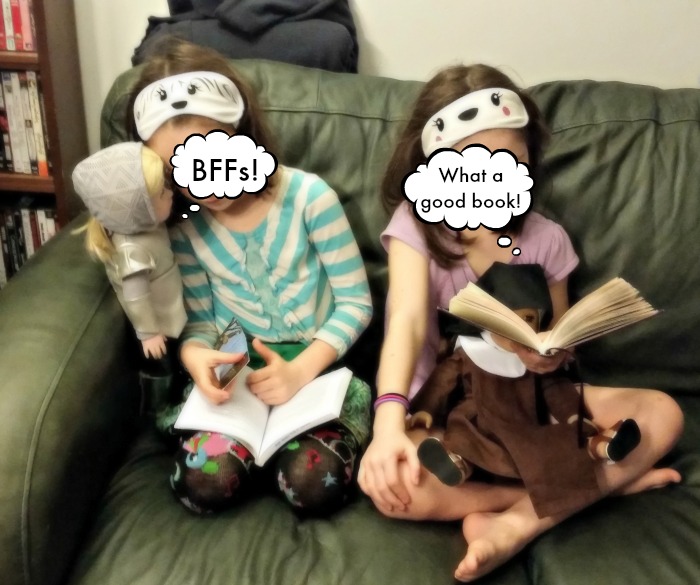 The first night after getting their saint dolls, the girls snuggled up on the couch with their books and their new little friends. I smiled as I thought of the imaginary conversations they could be having over their books. Since then, the dolls have retained places of honour on the girls' beds. St. Therese and St. Joan have been shown off to visitors, and frequently I find Sunshine and Lily playing dolls together.
I'm excited about the special relationship the girls are forming, not only with their dolls but also with the saints whom these dolls represent. Out of all the dolls the girls have considered in their search for their doll, these dolls best fit that "extra special" quality that I wanted for them.
I received a discount from Dolls from Heaven when I bought St. Therese and St. Joan and all their accessories. All opinions expressed are my own.