'Tis the season for carols, cards, cookies—and shopping. My girls are getting to ages where they plan their Christmas wish lists year-round. I also find myself watching them and noting their interests, trying to match their gifts with what they really play with and spend time doing. So I've compiled the Ultimate Kids Christmas Gift Guide this year, with fun and practical ideas for kids ages 0 to 12.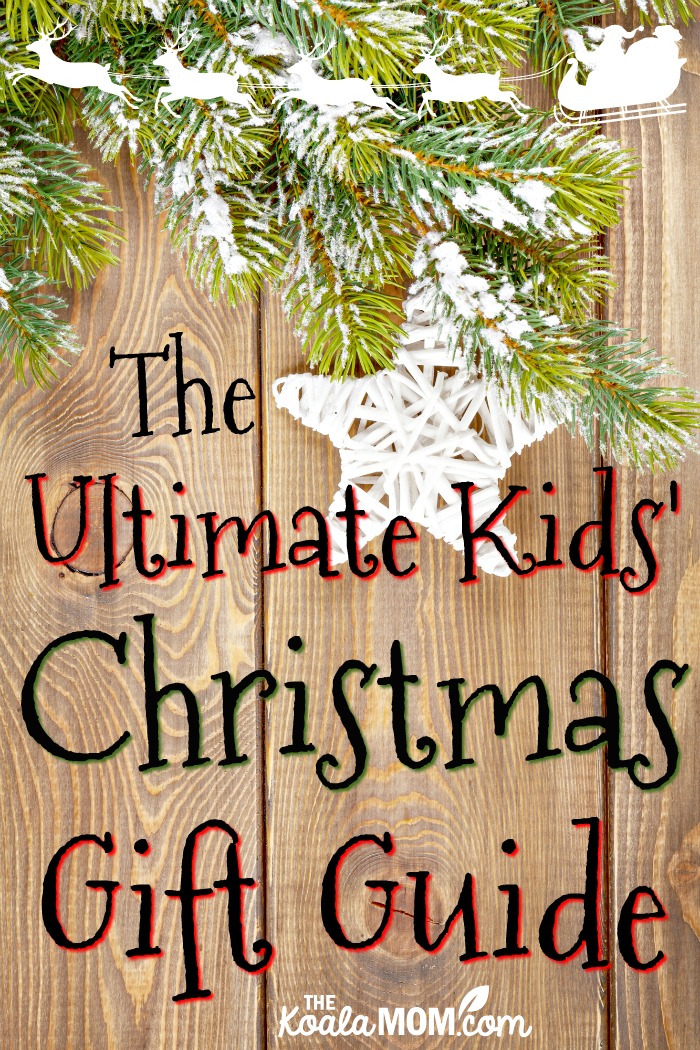 All items in my Kids' Christmas Gift Guide are sponsored or affiliate links, but all opinions expressed remain my own. I've vetted every item in the Gift Guide and only promote gifts which I'd get (or have gotten) for my own family.

Wool Booties
Each of our girls has gotten a pair of shoes as a baby. These have been treasured gifts—one pair has even been worn by all four girls!
These Pacific Northwest Wool Booties from Uncommon Goods are soft and stylish, and perfect for the upcoming cooler months. Trimmed with ultrasuede accents, they're easy to slip on and off little feet. Choose from two unisex patterns for babies up to one year old.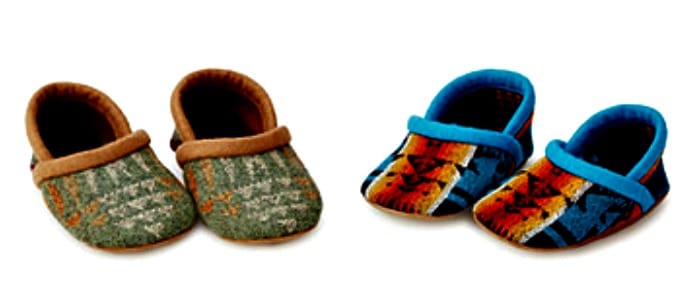 Rosary Ring Chew
RosaryRingChews are a sized-up silicone version of a rosary ring. They are perfect for little hands to hold and a great way to introduce our little ones to an important part of our Catholic Faith while being soft and soothing to teething gums. These teethers are 4.5 inches in length and have a 3.5 inch diameter. Each RosaryRingChew is made of 100% Food Grade Silicone and is BPA and lead free.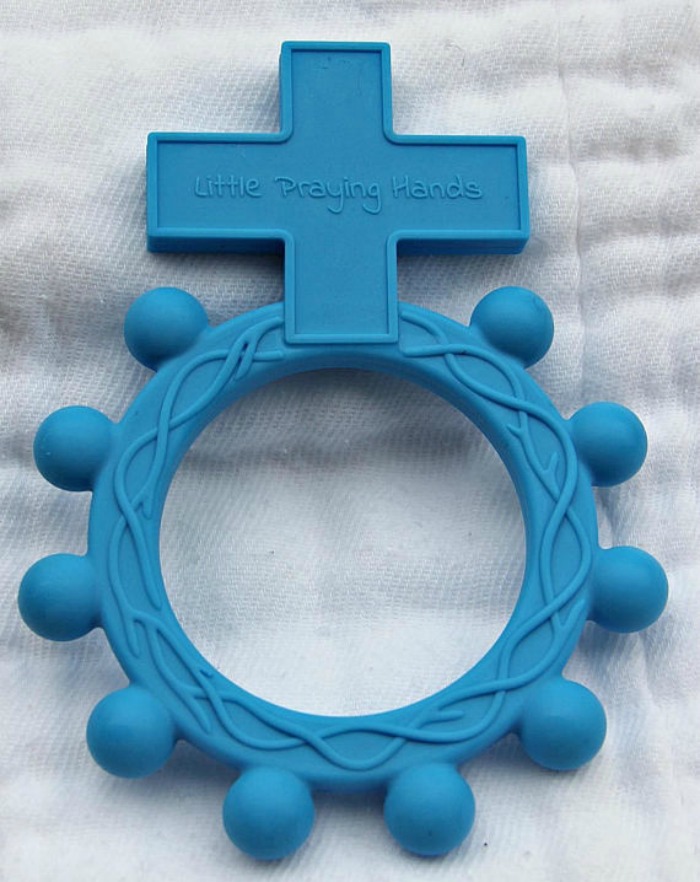 Baby Hooded Towel Set
Our baby hooded towel has now dried off every baby in our family, from Sunshine down to Joey. This towel is, hands down, my favourite baby towel. We've had other hooded towels that just aren't as thick or soft. I love pulling my babies from the tub, wrapping them up in this super absorbent microfiber towel, and snuggling them close for a few minutes. Then they're dry and ready for their jammies!
This towel comes with a washcloth and has Norwex's signature anti-bacterial silver woven in it. It's available in a gender neutral soft green. Pair it with the 4-in-1 Kids Wash for more bath time fun!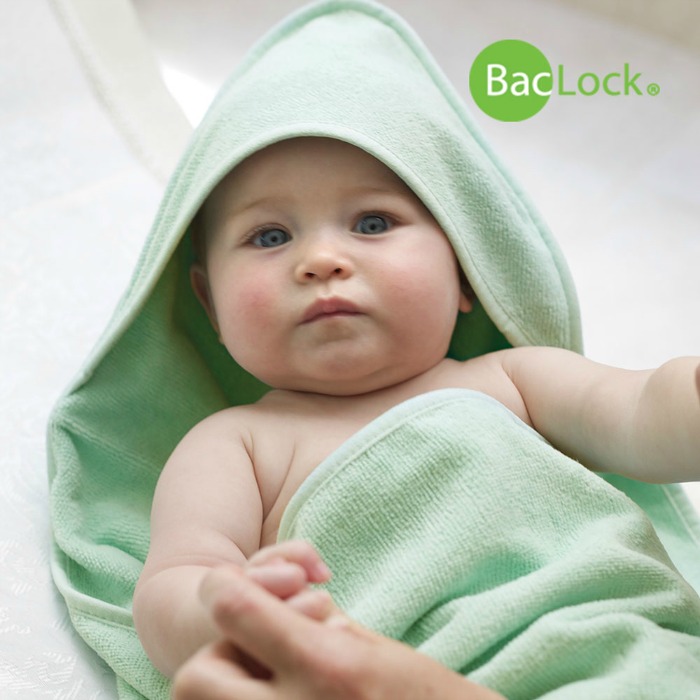 Twinkle and Soothe Owl Projector
Pearl saw a picture of the Twinkle & Soothe Owl Projector by VTech® on my computer and fell in love. She kept begging me to show her the owl. When it arrived, she was over-the-moon delighted! She carries her owl around from room to room. At bedtime, she snuggles into her sleep sack and watches the owls go around and around on her ceiling.
The Owl Projector helped me transition her to falling asleep on her own, instead of rocking to sleep. Usually, she's fast asleep by the time the 30-minute timer turns the owl off.
BUY NOW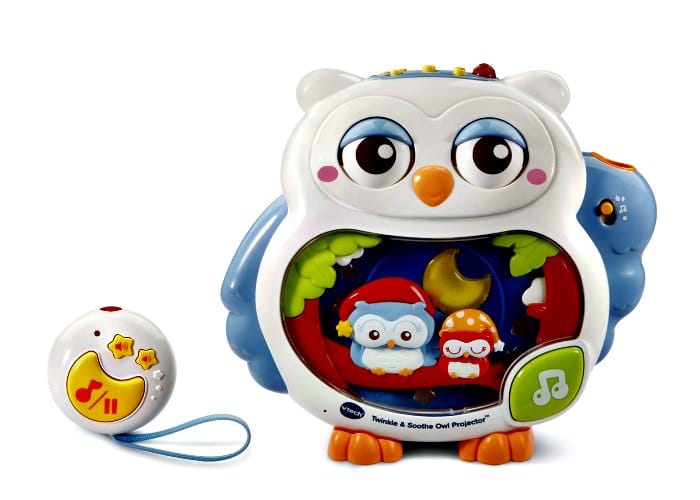 Personalized Baby Photo Album
Our girls love flipping through their baby albums, telling stories about what they did as babies and asking questions about who visited them. This sturdy photo album from Uncommon Goods is the perfect way to capture baby's special moments. The laser-engraved, wooden cover comes personalized with the child's name (up to 10 characters) and (optional) date of birth—or just "baby" if details are still a mystery. Each page also has a small area for writing captions, dates and other special notes. Holds up to 40 photos.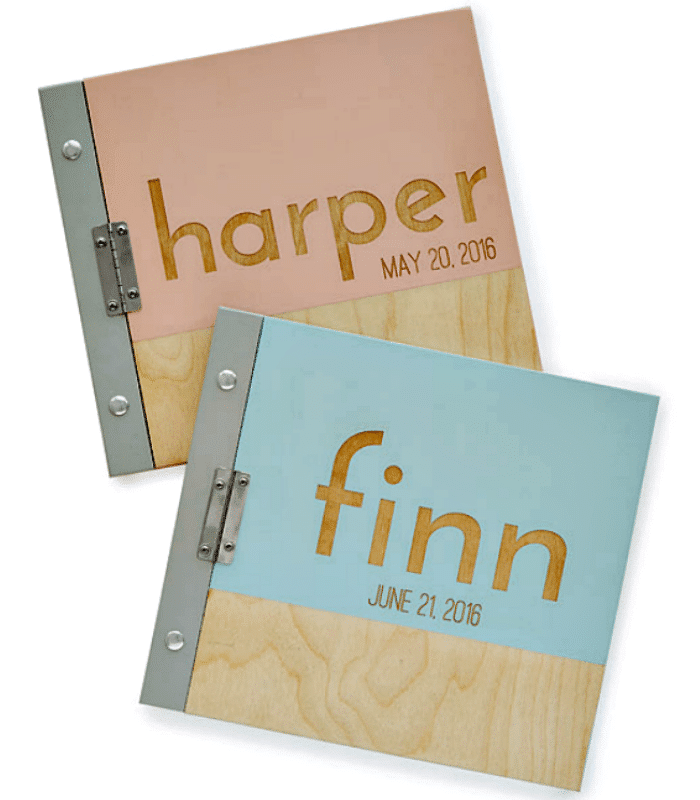 Sleep Sack
I discovered sleep sacks with Pearl and now I'm in love with them! This nifty baby blanket / jammies ensures that she doesn't roll out of her blankets, helping her get a better night's sleep. Sleep sacks are also safer than blankets, as baby can't get buried under the blanket. Sleep sacks come in different weights (cotton for summer, fleece for winter) and sizes (get bigger sacks as your baby grows).
Pearl loves snuggling in her sleep sack at bedtime and has even mastered walking in her sack when she wakes up in the morning.
BUY NOW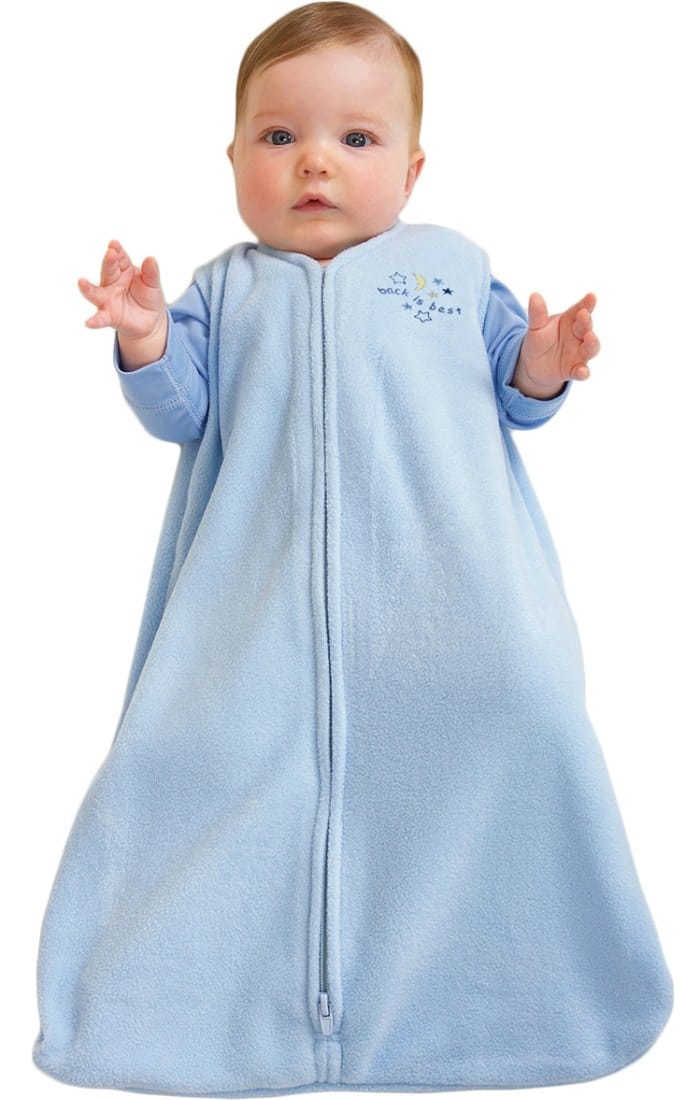 "At Christmas, I am always struck by how the spirit of togetherness lies also at the heart of the Christmas story. A young mother and a dutiful father with their baby were joined by poor shepherds and visitors from afar. They came with their gifts to worship the Christ child." ~ Queen Elizabeth II

Noah's Ark Finger Puppet Set
This adorable set of 9 finger puppets and their carrying case are all made of felt. My girls love puppets, which get them away from the TV and encourage imaginative play. Finger puppets are also great for long car rides or plane rides or anywhere you need an entertaining activity. (Display stand not included.)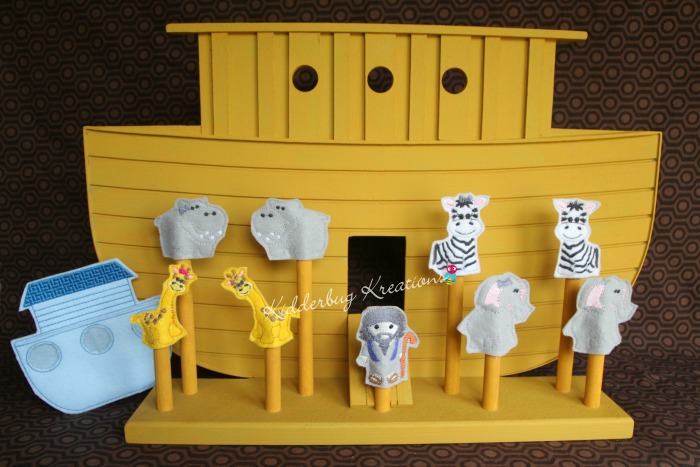 Runner Bike
All of our girls have learned to ride a bike by starting with a pink "runner bike" passed on to us by a friend. As Jade transitioned to a pedal bike this summer, Pearl was already eyeing the runner bike! Perfect for toddlers as soon as they can sit on the seat and touch the ground (ages two or three) until they learn to ride a bike (ummm… between four and six), this bike is sure to provide hours of fun!
BUY NOW
Pet to Dry
Help your toddlers remember to wash their hands with this adorable, anti-bacterial hand towel! Super cute and super soft, the pet to dry comes in four different animals (bear, kitten, pig and tiger). My girls love drying their hands on our pink pig. I love knowing that even if they didn't scrub as much as they should have, or use enough soap, any bacteria stops with the towel! My friends like this towel because it has a string or Velcro tab at the top, so you can attach it to the towel bar and the towel is more likely to stay in the bathroom.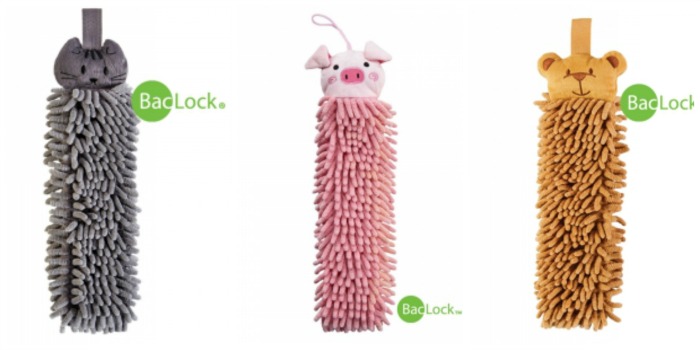 Stacking Owls
One of the best ways to figure out what toys your kids like is to see what they play with at their friends' homes. Both Jade and Pearl love playing with these adorable stacking owls when we are visiting friends of ours. With multiple ways to connect, these chunky wood figures can be stacked upright, upside down or even sideways. They can even be balanced on the included parallel bars.
The chunky design helps with early success by younger stackers. The owls are numbered 1-12 on one side for sequential stacking or simple number fun. Activity guide includes multiple ways to play. This set includes 12 wood owl figures, 2 wood balance bars, and an activity guide.
Clay Play Set
Modeling clay and play dough are huge hits in our house, with all the girls from Sunshine down to Pearl. This toddler-friendly clay play set includes four tubs of clay, two scissors, two rollers, two cutters, and more. Give your child hours of creative fun when they start molding, cutting, rolling, and carving with all the exciting tools. Colorful, fun, and endlessly versatile, the Cut, Sculpt & Roll Clay Play Set takes clay sculpting to a whole new level of creative excitement.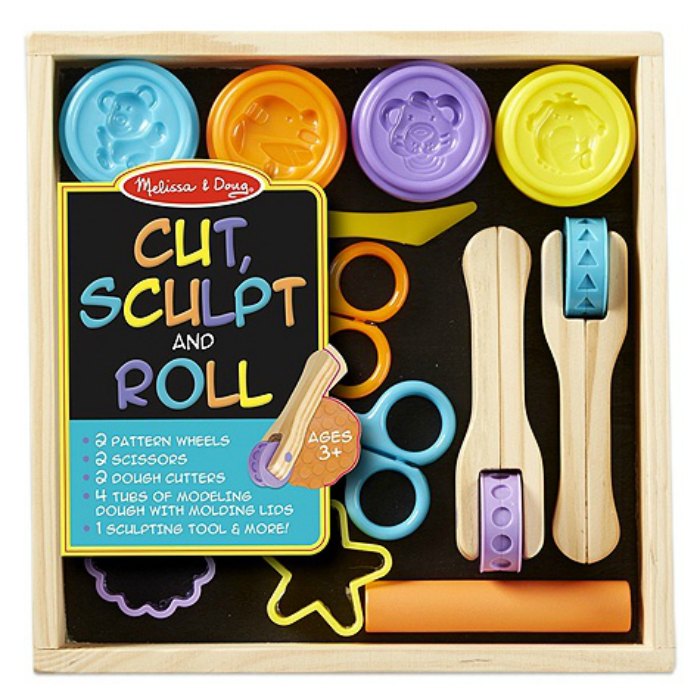 Go! Go! Smart Friends® Shimmering Seashell Castle™
Explore an underwater world with Go! Go! Smart Friends® Shimmering Seashell Castle™ by VTech®. This splashtastic castle features discovery, adventure and Pearl the mermaid! My Pearl loves playing with the sandcastle, dance with the mermaid Pearl and her sea friends, the seahorse and dolphin. She can place Pearl on any of the three MagicPoint® locations to hear playful phrases and sounds.
This playset has been a hit with many of Pearl's friends as well (both boys and girls). And now that baby Joey is old enough to start exploring and playing, he loves checking it out! This fun toy set encourages imaginative play for toddlers.
BUY NOW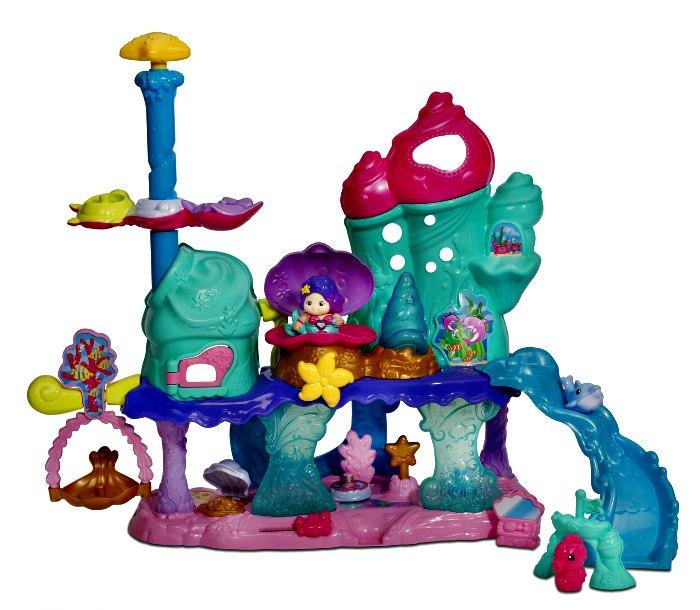 Mindscope Light Up LED GLOW PAD with Glow Markers
Currently, two of my four girls love doodling. They doodle on paper, white boards, note books, easels, work books… If you also have a doodler in your house, he or she would love this Mindscope Light LED Glow Pad. It comes with four neon markers (yellow, green, orange & pink) and a cloth eraser. Your child can also display their artwork with the easel back or suction cups. The Glow Pad has 8 LED Light modes and brings your child's drawings to life with the ANIMATOR mode. (Requires 3 AAA batteries—add them to your child's stocking!)

MegaBlocks
We were given two sets of MegaBlocks just before Jade was born and they are honestly the best toy we've ever had. I don't think I'll get rid of them until the girls move out of the house (and maybe then I'll save them for the grandkids).
The girls pull them out to play with regularly and they all enjoy playing with them, from Sunshine (age 10) down to Joey (turning 1). The older girls build forts and castles to play in, while Pearl just loves stacking blocks together and Joey chews on them. I don't have to worry about tiny parts with the baby around and the girls can unleash their creativity for hours on end. (Plus, you can start with a small set and add more MegaBlocks for later birthdays and Christmases!)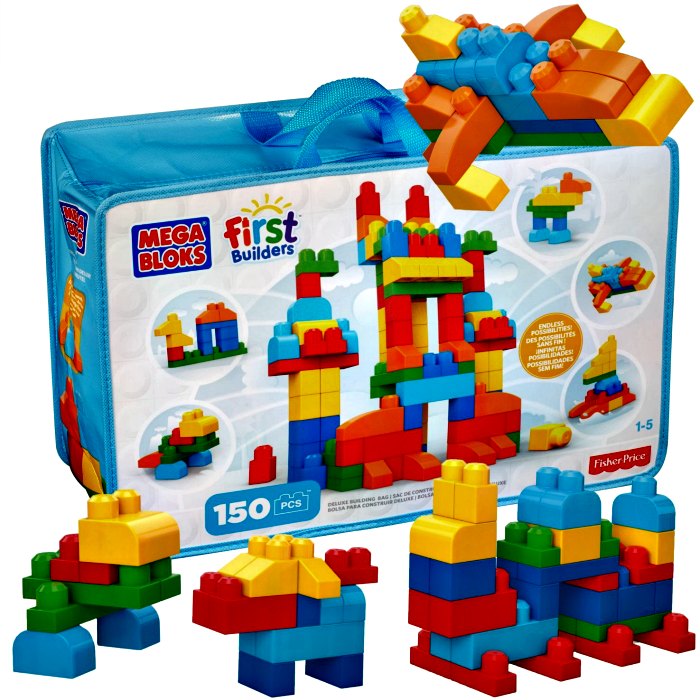 Clubhouse Jr. Magazine
In a world of electronics, anything exciting arriving in the mail is becoming rare. Watch your toddler's eyes light up each month when a magazine arrives just for them!!! Clubhouse Jr. is a faith-filled magazine for kids 3-7. It includes recipes, crafts, colouring, stories and more. Jade loves getting her magazine every month and often flips through old magazines while waiting for a new one to arrive.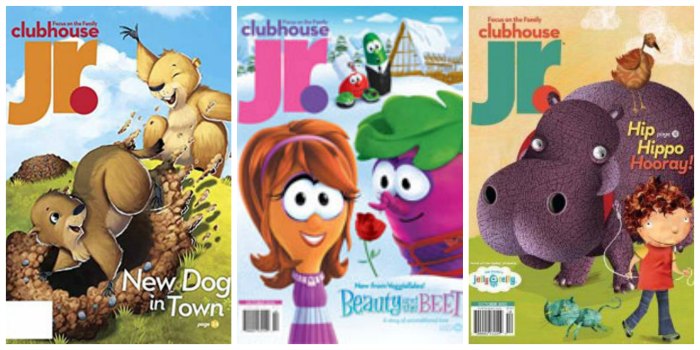 "God never gives someone a gift they are not capable of receiving. If he gives us the gift of Christmas, it is because we all have the ability to understand and receive it." ~ Pope Francis

Personalized Books from Wonderbly
Put YOUR child in the story with Wonderbly's amazing personalized books! My Golden Ticket takes your child on their own, unique adventure through Willy Wonka's Chocolate Factory. Kingdom of You gives your child three wishes for their very own kingdom. And Lost My Name features a fun adventure based on your child's name.
My girls love reading about themselves and seeing their own names in the story. These are Pearl's favourite books right now, whether she's reading about herself or one of her sisters! Each book is easy to personalize for children ages 3 – 10. The books can also be ordered with extras like gift wrap or special scents to help the magic continue!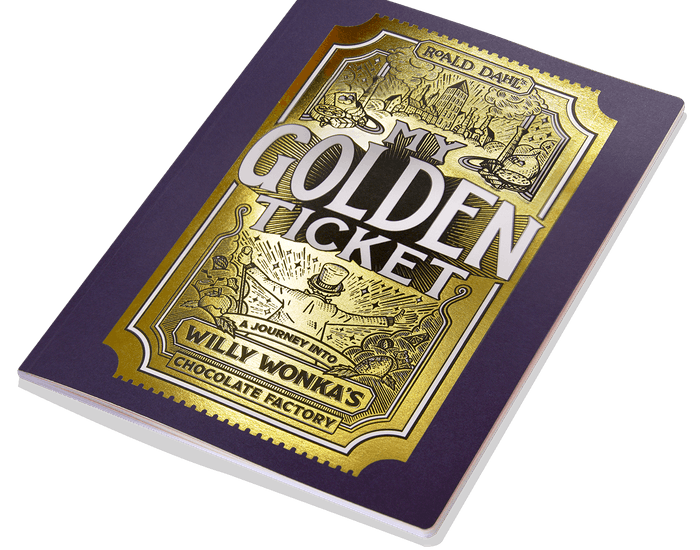 Fort Boards
My girls regularly transform our chairs and blankets into forts. They can't wait for the snow to come so they can built snow forts. This set of fort boards would (a) save my blankets and (b) prevent the disappointment when the snow doesn't arrive!
Other building toys let kids build in inches but Fort Boards lets them build in feet! With this, little learners gain lessons in engineering, spatial reasoning, geometry and more. This set includes 22 boards that give kids 10 square feet of fort building surface.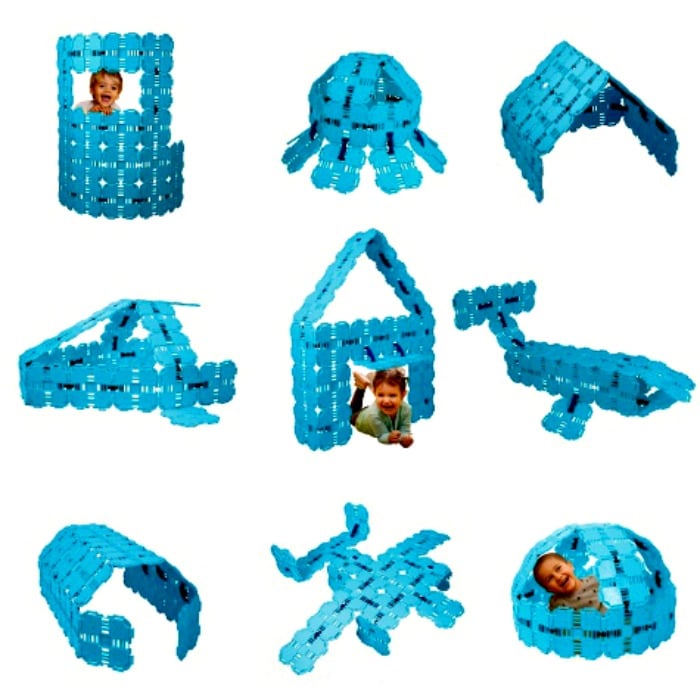 Hoot Owl Hoot
Our girls love board games. Hoot Owl Hoot is a game that the older three (ages 4 to 9) can play together. They have fun getting their baby owls back to the nest before the sun rises. I like the fact that this board game encourages co-operation rather than competition, so they are less likely to get mad at each other while playing.
Hoot Owl Hoot is easy to learn as it requires no reading. It teaches children about taking turns, drawing cards, choosing which cards to play, and working together.

Duvet and Pillowcase Set
In their dreams, your child can be anything they want—even a mermaid or a dinosaur! Bedtimes become even more magical with this whimsical duvet and pillowcase set. Choose from four fun designs: Princess, Mermaid, Dinosaur, or Astronaut.

Portable CD Player
My girls love listening to music. One of Sunshine's constant requests this year has been for a CD player for her room (don't tell her it will be under the tree!). With five kids in the house, it can get noisy (so I don't always like extra noise such as music) and not everyone here likes the same music.
A small, simple portable CD player gives your child the freedom to explore their own music tastes as they play or study. Our girls also like listening to bedtime stories to settle down at night.
Tip: tuck a few CDs into your child's stocking to go with their new CD player!
Violin Starter Set
Give your child the gift of music with this violin starter set! This set includes a quality violin with bow (available in 3 sizes: 1/8, 1/4th or a full 4/4 violin), carrying case, rosin, and cloth.
Sunshine (age 10) is currently playing a 1/4 size violin. She's been playing for almost 4 years now (since Grade 1). She asked us for a violin for about a year before she started lessons, but I put it off because I didn't know a teacher. I wish I had seen this set back then!
Tea Tote Set
My girls have two kids' tea sets and love pulling them out for afternoon tea! This Lil' Tea Tote Set is made of high quality porcelain and decorated with beautiful flower designs. The tote makes it easy to store the tea set or take it to a friend's house for a tea party. The tea set includes 17 pieces (tea pot with lid, sugar bowl with lid, cream pitcher, 4 tea cups, 4 plates, 4 teaspoons, compact carrying tote), which are dishwasher safe (bonus!!!).
Tip: Add a few bags of their favourite tea to their stockings (my girls like fruity teas).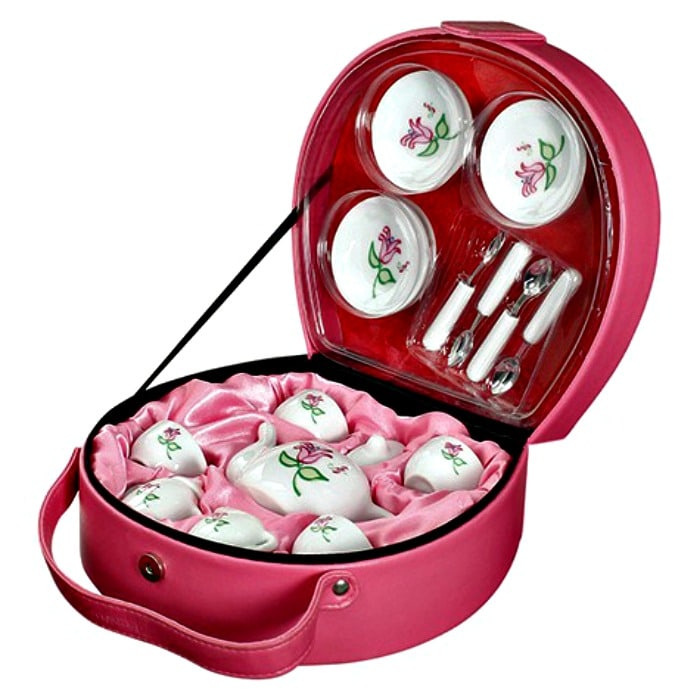 Lessons and Passes
A great gift idea for children (of all ages) is lessons and passes. Our girls have done most of their lessons through local recreation centres, but you can also look at other lesson providers (many of which offer gift cards). Wrap up a note with a picture about the lesson, or give your child something to accompany their lesson—for example, a pair of skates
along with skating lessons.
You can also get your child passes to local attractions such as zoos, aquariums or science centres (many passes pay themselves off after just 2 visits). Passes are a great gift idea for extended family members, especially if they live close enough to take the child to the attraction. Include a brochure or small toy from the attraction's gift store with your child's pass to give them something "more" to unwrap on Christmas Day.
"Mankind is a great, an immense family… This is proved by what we feel in our hearts at Christmas." ~ Pope John XXIII

How to Be a Hero: Train with the Saints
What if your child could be a superhero with superpowers? How to Be a Hero: Train with the Saints
explores the superpowers of the saints (better known as virtues). With stories illustrating cardinal, theological, and little virtues, this comprehensive Catholic virtue training will help children ages 9 to 11 build strong faith to last a lifetime.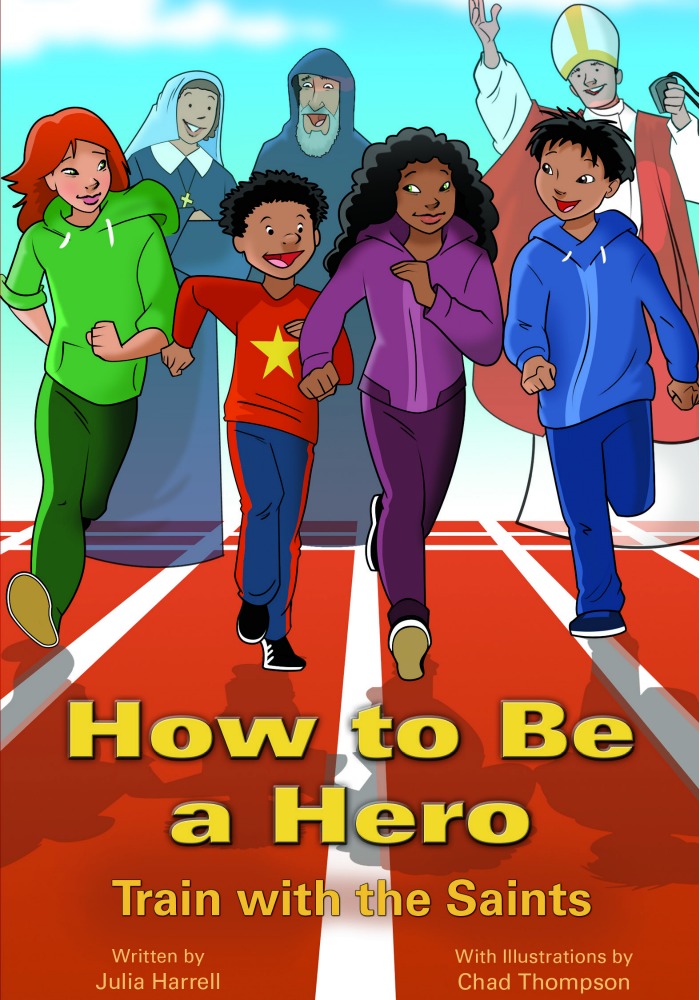 Big Bag of Science
Keep your little scientist busy during the Christmas holidays with this giant science kit! More than 70 unique, fun, hands-on science activities guarantee hours and hours of science fun. Your child can set up his or her own science lab. They will amaze friends and family with such activities as making water disappear, having a liquid flow uphill, making a 30′ soda geyser, growing fake snow instantly, balancing 6 nails on the head of one nail – and much, much more.
The Big Bag of Science covers the three areas of science (Physical, Earth and Life) as well as activities in Chemistry, Physics, Magnetism, Weather, Biology, Geology and Flight. The re-usable zipper bag is great for storing all components when it's time to put your lab away.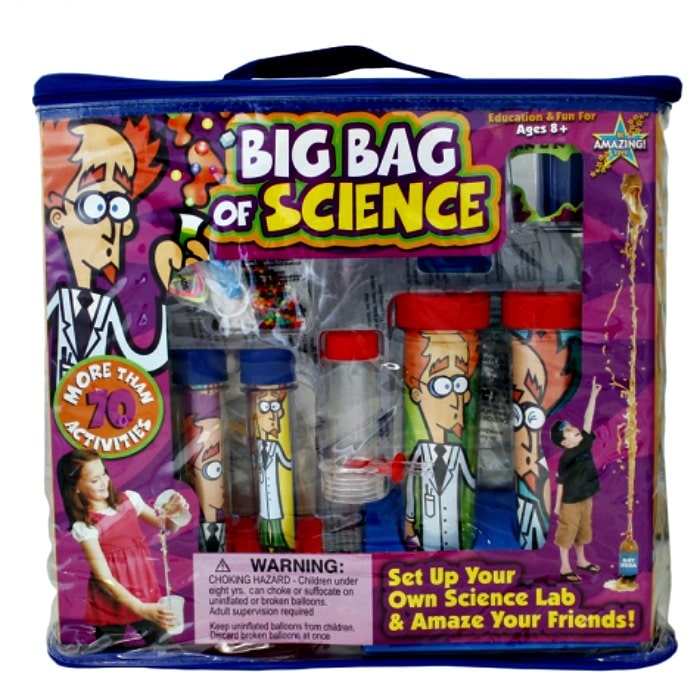 Clubhouse Magazine
Sunshine loves checking the mail and always asks, "Is there anything for me?" Magazine days are one of the most exciting days in the month. Clubhouse is a faith-filled magazine for kids 8-12. It includes recipes, crafts, stories and more. And if your child is anything like Sunshine, don't even think about throwing "old" magazine in the recycling.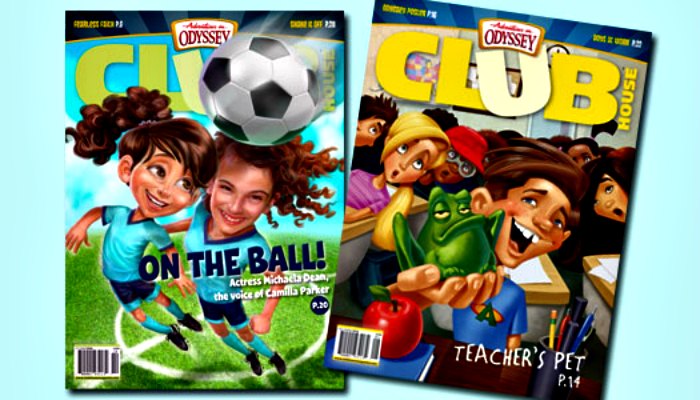 Fluffy Towel
Towels are a big deal in our house. Each of the girls has their favourite towel to wrap up in after a bath. By far the most coveted towel is Jade's fluffy blue Norwex towel—and I can understand why! This is the biggest, softest towel a kid could wish for. It makes stepping out of the warm tub into the cold bathroom so much easier.
Available in purple or blue, this towel includes Norwex's signature BacLock®* antibacterial agent to help inhibit bacterial odor, mold and/or mildew growth within the towel. It has a loop for hanging and dries quickly (handy if you're at the pool with a child who gets in and out frequently, or if you need to dry more than one kid in the same towel). Pair it with the 4-in-1 Kids Wash for more bath time fun!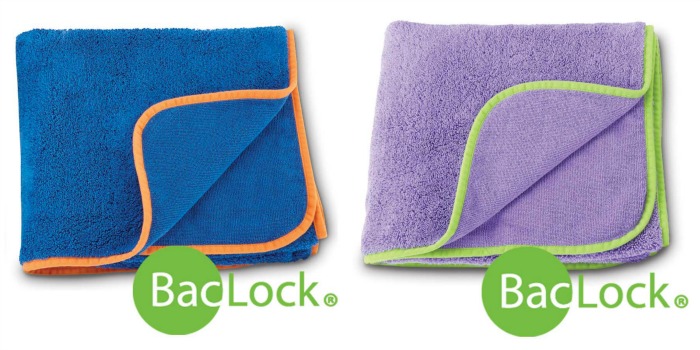 Personalized Stationary
Encourage kids to keep up relationships with long-distance friends and relatives by giving them their very own stationary! Sunshine and Lily love pulling out their personalized stationary to write their penpals and grandparents. Customize the stationary with your child's name and favourite interests.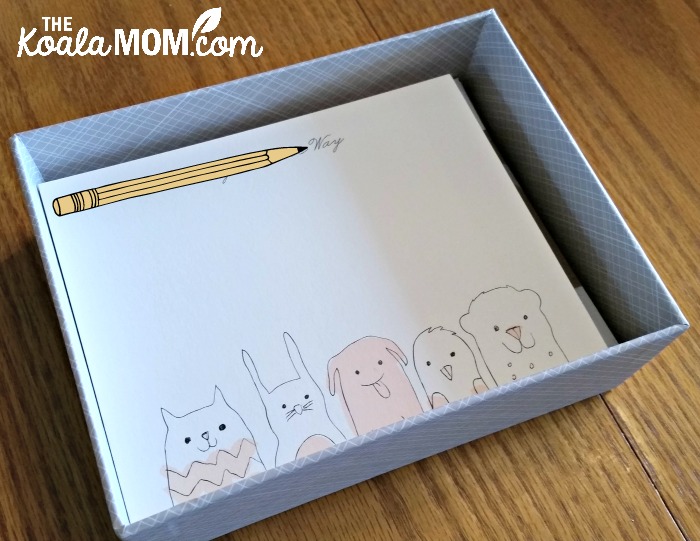 Kids' Sewing Kit
Sunshine loves being creative and making little things for herself and her friends. One of her favourite Christmas gifts a few years ago was a beginner's sewing kit. This kit includes embroidery floss, felt shapes, stuffing, fabric, straight pins and needles, ric rac and ribbon, buttons, scissors, an easy instruction booklet, and more! Whether you can sew or not, your daughter will have as much fun as Sunshine does in being creative with a needle and thread.
 Trailblazer Books by Dave & Neta Jackson
I read the Trailblazer books by Dave & Neta Jackson as a tween and now Sunshine and Lily are tearing through them. Filled with adventure, these books feature great heroes of the past, such as William and Catherine Booth, Amy Carmichael, Hudson Taylor, Mary Slessor, David Livingstone, and more. The Trailblazers span the world and will appeal to boys and girls alike with action-packed stories about interesting people.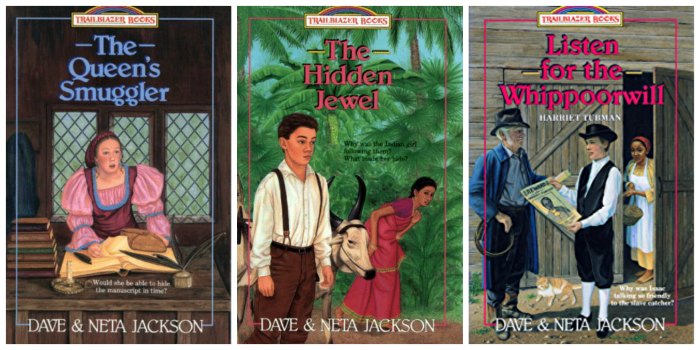 "We desire to be able to welcome Jesus at Christmas time, not in a cold manger of our heart, but in a heart full of love and humility, in a heart so pure, so immaculate, so warm with love for one another." ~ Saint Theresa of Calcutta

Smarkers
A few weeks ago, Lily made a comment about wanting "new colouring things" in her stocking this year. I was surprised that she'd remember the little markers and crayons I tucked into their stockings last year, but apparently it was a hit. These scented markers come in six cool colours, each with a cool scent to inspire your child's artistic creativity (or hunger cravings).
Wild Sketch Pad Bundle
My girls all love sketching and writing in little notebooks. Their notebooks are great for Mass, road trips, and just doodling around the house.
"Then the Grinch thought of something he hadn't before! What if Christmas, he thought, doesn't come from a store. What if Christmas… perhaps… means a little bit more!" ~ Dr. Seuss, How the Grinch Stole Christmas!