When I was a child (probably under 10), my aunt gave me a set of stationary. It included a pad of lined, flower-printed paper, heart-shaped notepaper, envelopes, and pens. I soon filled the lined paper with letters and sent them off to my aunt and grandma in the matching envelopes. The heart-shaped notes lasted longer. To this day, I remember the special feeling of having my own, pretty paper on which to write letters. That's the feeling I wanted to capture for Sunshine and Lily when I ordered personalized stationary for them from Minted.com
.
(This post contains affiliate links; as an Amazon Associate, I earn from qualifying purchases.)
I'm always encouraging them to write letters—in part to connect with friends and family members who are now scattered across two provinces, and in part to encourage them to learn to read, write and spell well.
Sunshine, finishing Grade 2, has always been a bit of a reluctant writer. Even now, she often asks me to spell anything she needs to write. We try to do daily dictation exercises as part of our school routine. Some of these go into her homeschool notebook and some are letters sent away.
Lily, finishing Grade 1, is already showing that she's gotten the writing bug like me. She often writes little notes, either to her friends, teachers, or to my husband and I. Her letters for occasions such as birthdays or Mother's Day often make me laugh.
For example, last weekend I was treated to a late Mother's Day tea, along with other moms, while our children were at their monthly kids' club at church. The kids each made a card and decorated a mug for their moms. Lily drew a picture of me and her on her card and inside wrote,
"Dear Mommy I love you I hope you so had a good time at your thing."
Minted.com has been my go-to for birth announcements and Christmas cards, and they also have an adorable collection of kids' stationary. For Lily, I picked the Peanut Gallery stationery because the little animals made me think of Lily's drawings. She's had a lot of fun writing notes with her new notecards, though she usually writes on the back because she doesn't want to cover up the animals.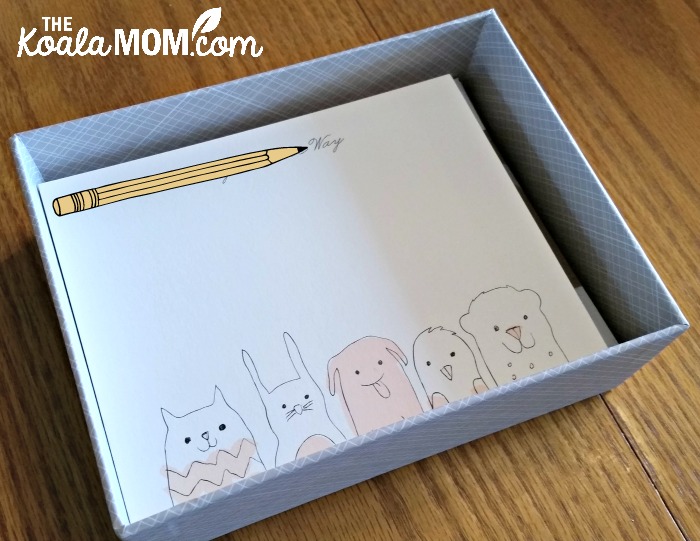 For Sunshine, I picked the Sweet Hello personalized stationary. The girls all love balloons and I knew Sunshine would like the little girl in the dress. For both cards, I was able to customize the colours, which was fun. Sunshine's card was available in green, pink or blue and Lily's card in four different colours. I could have also changed the font for their names, but I liked what came with the cards so I left it.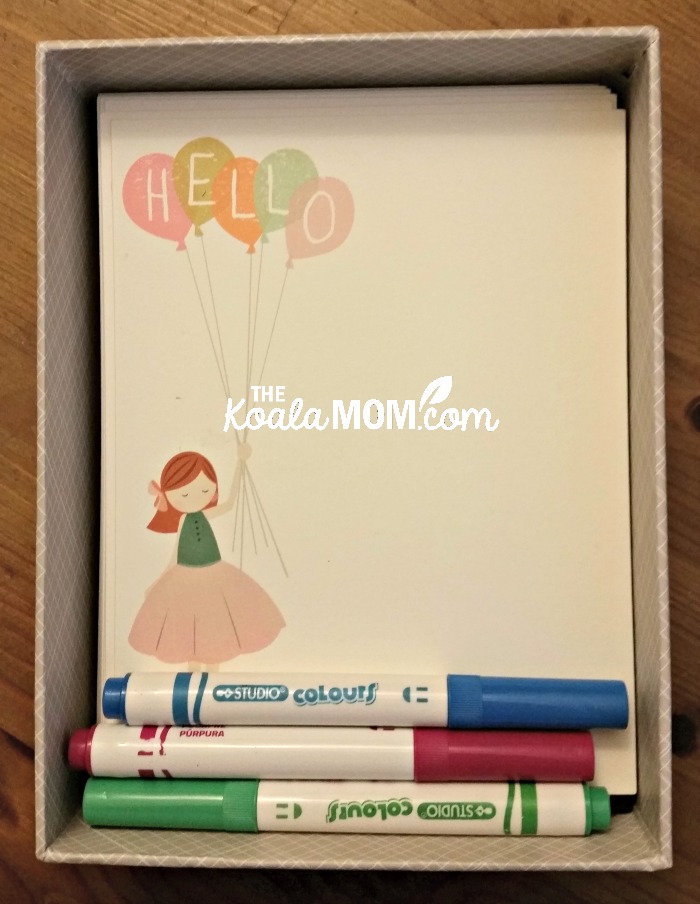 The girls' personalized stationary arrived in sturdy, beautiful boxes. Both girls promptly wrote their initials on their boxes to tell them apart. Sunshine keeps some markers in her box with her cards. Sunshine likes sending letters to various little friends, while Lily often writes to my dad (and gets cute letters back from him about dinosaurs and Sasquatches).
Minted children's stationery
would be a great birthday or Christmas present for any child. Add a fancy pen or some markers and some stamps and your child is ready to write. There's also thank you cards available for children—a great hint about what they should do after the festivities are over!
Do your children enjoy writing? Do you think they'd have fun with some personalized stationary?
I received these products courtesy of Minted.com for the purposes of this review; all opinions expressed are my own. This post contains affiliate links; as an Amazon Associate, I earn from qualifying purchases.