Birthdays are a big deal in our house (just as they probably are in your house). Children love celebrating one day when they are special and the centre of attention (slightly more so that on other days, at least). It would be a disaster to have their birthday not happen… or disappear… as it does in The Birthday Thief, a fun personalized book
from Wonderbly.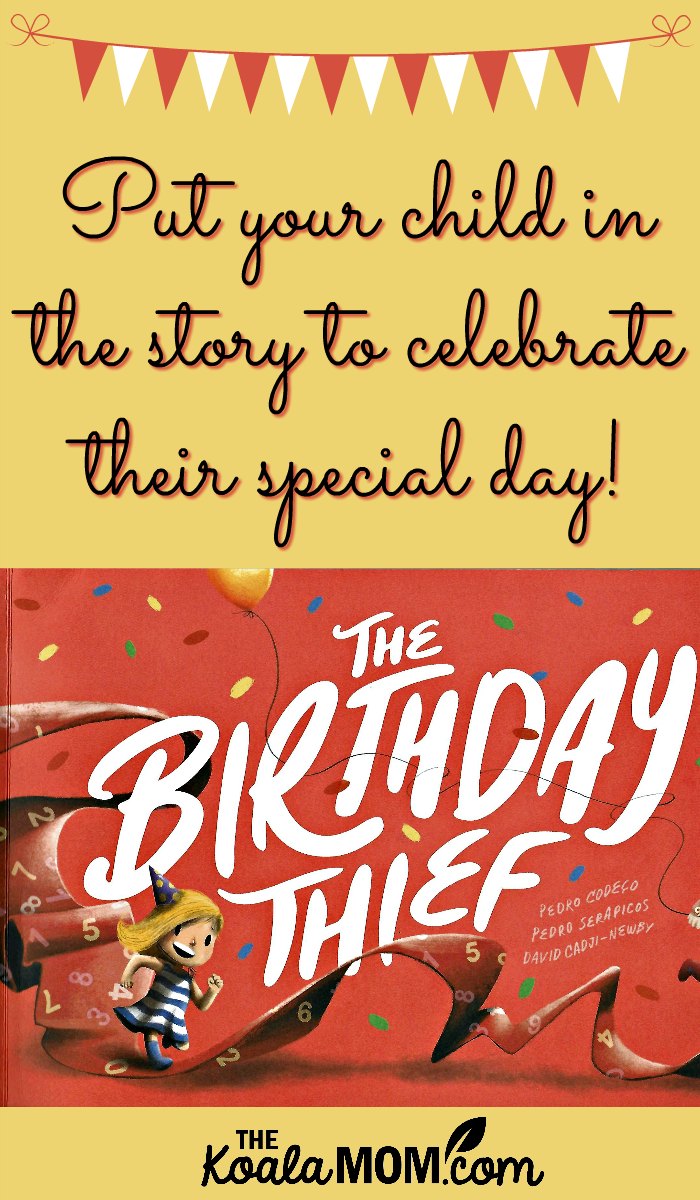 In our house, Sunshine (my oldest) starts planning her next birthday party as soon as the previous party has ended. Her birthday is first in the year, which means we're both full of fresh energy and ideas for party planning. Lily has to wait three months for her birthday in May, and by then I've given up any attempts at cake making and have run out of party ideas. Her birthday isn't quite stolen, but I thought she could identify with the little girl in The Birthday Thief anyway.
In the story, the main character (YOUR child!!!) is ready to celebrate her (or his) party and just waiting for her friends to arrive when POOF!—it all disappears! A trail of wrapping paper leads into the nearby clock, where the birthday child finds a wonderful new world! Here she meets the thirty-one Moon Makers, who help point her further along the trail of the wrapping paper… to the Royal Park, where the child's birthday month helps find the next clue. Finally, a wizard lights birthday candles for your child's birth year to light the way to the Birthday Thief!!!
Along the way, each of the characters who helps the child tells her (or him):
Birthdays are important,
but the other days are too.
They're what make us older…
but you know all that, don't you?
As with all the other Wonderbly books, I had fun personalizing this book for Lily and Pearl. I was able to customize their avatars so each of them looks a bit different in their book. Then, because their birthdays fall on different days in different months, they each met different characters in their books. Lily was helped by Professor May, while Pearl got a clue from Prince November.
Pearl, of course, doesn't know what birthdays are yet. She'll turn two this November, but her older sisters are more excited about that event than she is. Right now, she loves the bright pictures in the book, as she likes to sit with her sisters and flip through stories just like they are. Because their birthdays fall in the spring, and hers in the fall, I'm sure she'll be even more impatient than Lily for her birthday party to come around.

This book
would make a great birthday present for any child ages 3 to 10, but they also celebrate the days between birthdays. I love the way that children are reminded throughout the story that all the days of our lives are important. It can be easy to focus on memorable days, like birthdays or Christmas or summer holidays, and to get impatient with the everyday, normal days. Yet those days have their own special memories too… as children learn in The Birthday Thief.
Drop by the Wonderbly website
to check out their whole selection of books and personalize one for your child today!
I received two copies of The Birthday Thief for the purposes of this review; all opinions expressed are my own. This post contains affiliate links; as an Amazon Associate, I earn from qualifying purchases.