Birthday parties are a big deal for little girls—at least they are for our girls. Sunshine and Lily talk about what they want to do for their parties for months before their actual birthday arrives. I have fun seeing what their interests are each year and how that's reflected in their parties. If you also have daughters with birthdays coming up, here are some girls birthday party ideas for you.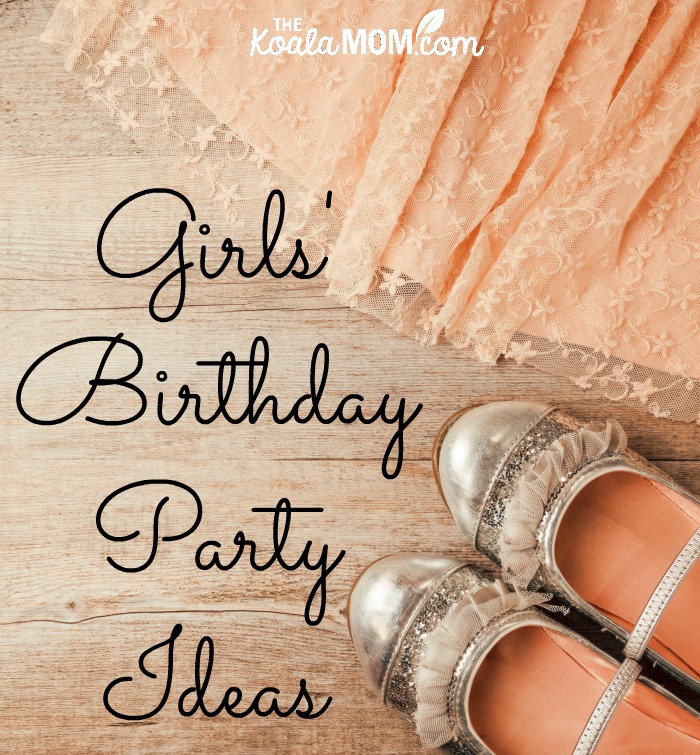 Themed Girls Birthday Party Ideas
Step-by-Step LEGO-themed Birthday Party Planning—A LEGO themed birthday party is the perfect way to celebrate the LEGO enthusiast in your life.  You can build a great foundation for your building brick inspired party in just a few easy steps.
Plan a Tangled Birthday Party—This was the first themed party I threw for the girls, and it was a lot of fun. We still have the tiaras and long braids that we made for the girls to wear at that party.
A Fairy Princess Birthday Party—For a younger princess, this is a great idea that's simple yet so much fun.
Host a Book-themed Birthday Party—Brenda shares her tips for using your child's favourite book as inspiration for their birthday party (with examples from Encyclopedia Brown).
DIY Spa-Themed Party for Kids—This was one of Sunshine's ideas for her party this year, because she loves doing spas. Crystal shares just how to put it all together.
Jake and the Never Land Pirates Party for Girls—This is probably the biggest party we've ever thrown; thankfully, most of it happened outside!
LaLaLoopsy Birthday Party—If your girls are big LaLaLoopsy fans like Heather's, check out her ideas for a LaLaLoopsy party. I love her idea for an easy yet still themed cake.
Frozen Birthday Party Ideas—Our girls are still huge Frozen fans. If yours are too, here's a few ideas for throwing an icy party (perfect for winter birthdays like Sunshine's—maybe host it at your local skating rink?).
Step Right Up: Big Top Tips for Planning a Circus Birthday Party—If you're hoping to plan a circus party worthy of the Big Top, you've come to the right place. We're sharing our best circus party ideas for one show-stopping celebration!
5-Year-old Princess Birthday Party—Heather throws an intimate, fancy party for her daughter's fifth birthday. It could easily be adapted to fit your daughter's current favourite princess.
The 3-year-old Pinkalicious Birthday Party—For the girl who loves pink, why not throw a Pinkalicious party? Decorating pink cupcakes looks like so much fun.
Out-of-the-House Girls Birthday Party Ideas
Trampoline Park Birthday—let your active daughter bounce herself into her next party! Trampoline parks are a fun place to play and will have your guests jumping for joy.
Birthday Party in the Park—We threw a Brave-themed party for Lily at our local park last year. The girls had tons of fun playing there, but make sure you take everything you need when you head to the park!
Pool Party—for the girl who loves the water (and maybe aspires to be a mermaid?), try a pool party! Your guests will have a splashing good time.
A Princess Garden Party—During the summer, outdoor parties are a ton of fun! Chantelle shares great ideas for invitations, games, decor and more.
Gymbus Birthday Party—Fun Gymbus brings the party games to you! All you need to plan is the food to eat before or after the bus arrives to entertain the kids.
Haven't found the right party idea yet? Check out more kids theme ideas here.
What are your favourite girls birthday party ideas?