In our house, peanut butter is a food group. I buy it on sale, by the kilogram jar, and keep it stocked up two or three deep in the cupboard. Nothing fixes a hangry kid right before dinner like a spoonful of peanut butter. My husband often comes home from the grocery store with a Reese (or two or three) for me. So when it comes to National Peanut Butter Lover's Day, I say… pass the peanut butter.
Here's a list of recipes to delight the taste buds of peanut butter lovers everywhere.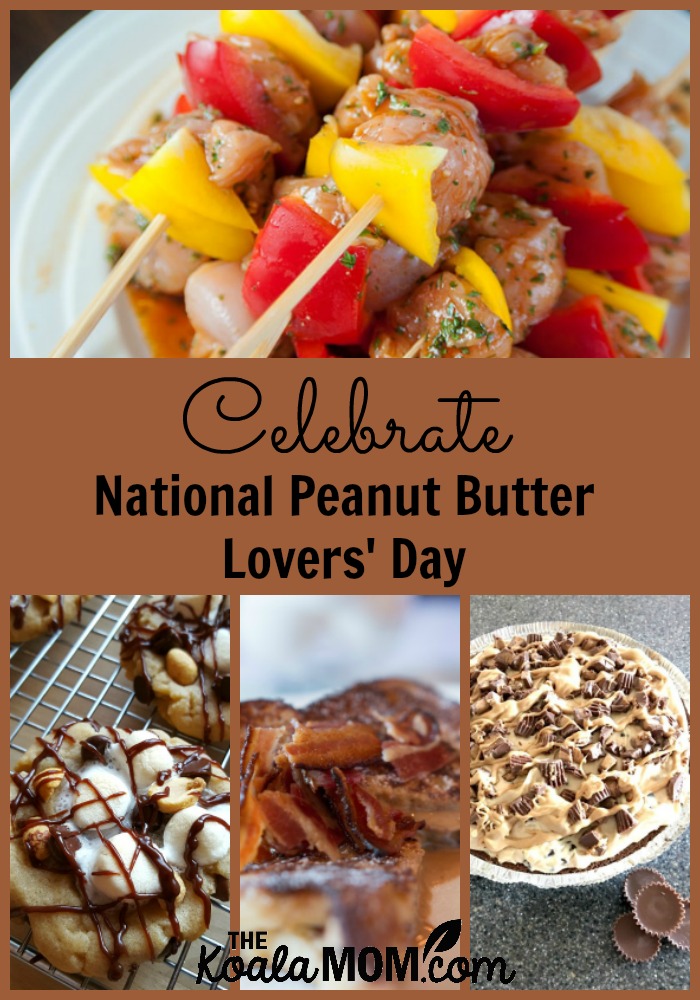 Peanut Butter Drinks, Hot & Cold
Peanut Butter Hot Chocolate (mmmm, perfect for these cool spring days!)
Dark Chocolate Peanut Butter Banana Smoothie Recipe (a smoothie that tastes like dessert!)
Banana Vanilla Peanut Butter Smoothie (great way to use brown bananas)
Peanut Desserts & Sweets
Peanut Butter Cup Pie Recipe (a quick and easy dessert the whole family will love!)
Sunshine's No-Bake Chocolate Peanut Butter Cups (my 11-year-old daughter came up with this recipe!)
Peanut Butter Chocolate Mug Cake (need a treat quick? Make this in your microwave!)
Peanut Butter Maple Cookies (perfect for little helpers to help make)
Shreddies No-Bake Peanut Butter Treats (an easy peasy homemade treat)
Peanut Butter Donuts (better double the recipe)
No-Bake Peanut Butter Drops (easy peasy lemon squeezy, as my daughters would say)
Chocolate Peanut Butter Bars with Cinnamon Hearts (a gluten-free decadent treat)
Peanut Butter Chocolate Cookies Recipe (soft and chewy cookies full of peanut butter goodness!)
Peanut Butter Pie (rich and scrumptious!)
Peanut Butter and Jam Bars (like a sandwich, but it's dessert)
Ultimate Peanut Butter Cookie Recipe (super easy and gluten-free!)
Fudge-Filled Peanut Butter Cookie Tarts (just WOW)
Rocky Road Cookies with Peanut Butter (pair two amazing things and it's—AMAZING!)
No-Bake Chocolate Peanut Butter Bars (delicious and easy to make)
Peanut Butter Cookie Balls (just 3 ingredients)
Peanut Butter Chocolate Chip Cheesecake Cookie Cups (cookie meets cheesecake love)
Snacks & Lighter Fare
White Chocolate Peanut Butter Popcorn (a fun movie snack with a twist)
Crunchy Chocolate Chip Peanut Butter Snack Bites (perfect blend of treat and protein)
Savoury Foods for Peanut Butter Lovers
Thai Chicken Pizza (the BEST pizza ever)
African Peanut Soup Recipe (a full meal in a bowl)
Saucy Peanut Chicken Quesadillas (great for leftover chicken)
Thai Peanut Sauce Recipe (perfect for salad rolls)
Spicy Chicken Kebabs (colourful and delicious)
Peanut Butter for Breakfast
Chocolate Peanut Butter Granola (start your day with a healthy and sweet treat!)
Peanut Butter Bacon-Stuffed French Toast Recipe (three of my favourite things in one recipe!)
Gluten-Free Peanut Butter Banana Oatmeal Bars (great for on-the-go)
Peanut Butter and Jam Muffins (when you don't have time to make a sandwich…)
Peanut Butter and Honey Granola (great for topping yogurt or smoothies or just munching on)
What are your favourite peanut butter recipes?