As hot summer days approach, I start looking for cookie recipes that I can make without heating up my house.  No-Bake Peanut Butter Drops are quick and easy to make, which also means Sunshine can help.  This recipe came from my husband's junior high home economy class—it's one of few cards in my recipe box that is written in his handwriting.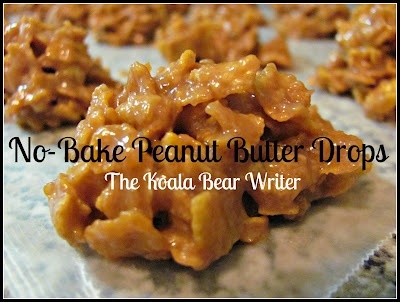 No Bake Peanut Butter Drops
1/2 cup corn syrup (or honey)
1/2 cup brown sugar
1 cup peanut butter
3 cups corn flakes
1.  Put the syrup and sugar in a sauce pan on medium heat.  Mix until sugar is diluted.  Sunshine likes to stir the pot for me at this stage.
2.  Mix in peanut butter thoroughly.
3.  Remove from heat and add corn flakes.  I ask Sunshine to count how many cups we need to add.  Mix until it is all coated.
4.  Drop by teaspoon onto wax paper and let cool (about an hour).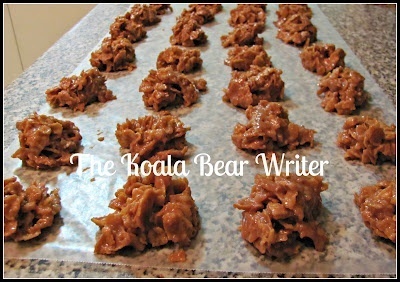 Warning: these cookies are very addicting and don't usually last around our house for very long!  These cookies are also vegan, gluten-free (depending on the brand of corn flakes used), and dairy-free.  If, like me, you can't resist the taste of chocolate with peanut butter, then try:
No-Bake Chocolate Peanut Butter Squares
Follow above recipe for steps 1-3.  Line a square baking pan with tin foil.  Spread the cornflake mixture into the pan and press down gently with a spoon.  Let cool for half an hour.  Melt 1/2 cup chocolate chips and spread over the squares.  Let cool.  To slice squares, lift the edges of the tin foil and place the squares on a cutting board.  Slice with a sharp knife.  Serve and enjoy.