He comes home from work tired and grumpy. Maybe he missed a deadline. Maybe his boss barked at him all day. Maybe he works a physically demanding job that leaves him exhausted at the end of the day. However your husband provides for your family, his job likely involves some sort of stress (maybe more often than not). This Valentine's Day, melt away his stress with a massage.
Don't think a massage has to be long and complicated. A massage can be as simple as a five-minute scalp routine or as long as you want to make it. Learn all the routines and techniques with MELT Couples Massage. Instructor Denis Merkas is a professional massage therapist who developed his Couples Massage Class to impress his wife, Emma.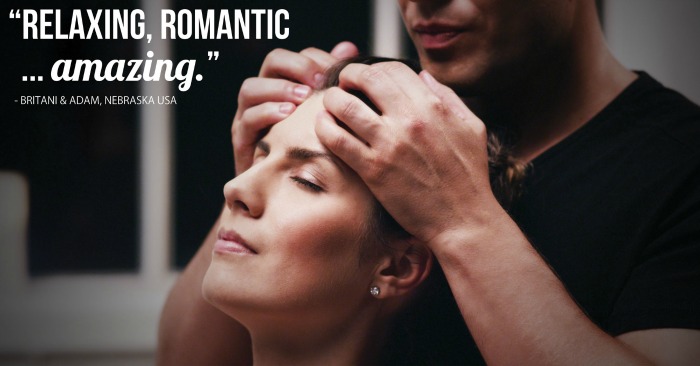 I received compensation for this post but all opinions expressed are my own.
In less than twenty minutes, you can learn a simple massage routine for your husband. If he wants, he can return the favour! You can watch the videos together and follow along. Or you can watch the video on your own and then surprise your husband when he gets home from work (or when the kids are all in bed).
As you get better at massaging, you can learn longer, more in-depth routines. The MELT videos are easy to follow and build upon each other. Move from the basic techniques for a 5-minute back rub to the advanced techniques of a 30-minute massage. Besides helping to smooth away the stress of the day, massages are a great way to connect (with or without words!). If his love language (or yours) is physical touch, then this shouts I LOVE YOU. Plus, learning something new together as a couple is always fun.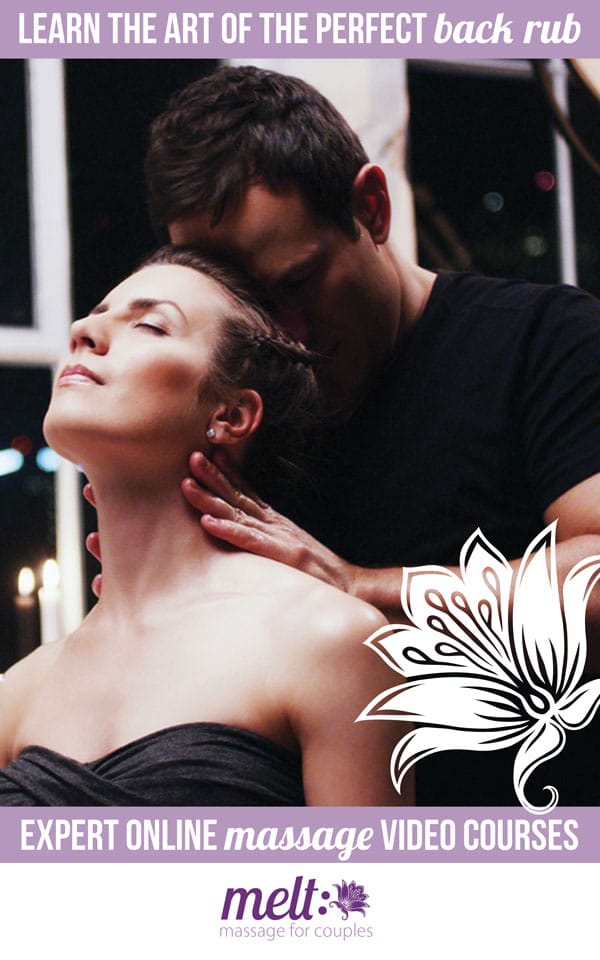 My husband and I have done several of the couples massage classes together. Each video is beautifully shot (steal ideas for your own romantic massage from the background!). There is no nudity involved; every video is PG. My husband has often struggled with tight muscles in his shoulder and neck. Early in our relationship, when I'd try to give him a shoulder rub, I'd end up with sore hands before doing him any good. Thanks to Denis' tips, I've learned how to get at his tight spots without wearing myself out.
I think the best part about these videos is that they are available when you are. You don't have to worry about getting a babysitter to sign up for a course or (if you don't have kids yet) coordinating your schedules to make it to a class on time. Just pick a time, pick a technique to learn, and you're good to go. You can watch the videos on any device.
If you're planning a weekend away for Valentine's Day, take your tablet or smartphone and do a massage. If you can't get away, have a date night at home. Get a bottle of wine, chocolates, flowers, candles, your favourite music—or just turn the lights down low and let your hands do the talking.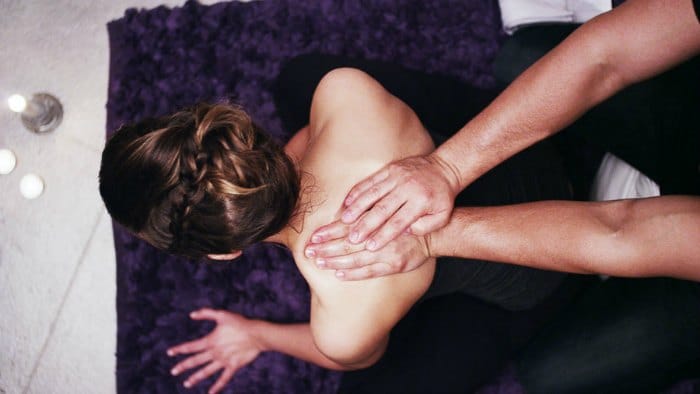 The Melt Video Massage Series Overview:
The Basic Series—This series starts with correcting some of the most common massage mistakes and showing you the foundations of your massage with long, sweeping strokes. You watch the short videos with a technique or tip in each, and it ends with a 5 minute follow-along massage routine.
The Highlights Series—This is where things start to get really good! You learn to look for the sore spots on each other's bodies and how to work them. The neck, shoulders, lower back, arms, head… you'll find places you didn't even know that were sore! After you learn the 9 techniques from this series, there's a 15-minute massage routine to follow along to. Hands still don't hurt!
The Deep Tissue Series—So many people, myself included, love Deep Tissue stuff but it shouldn't be over-emphasized. Denis leaves these tips to the very end for good reason, but they are such good techniques. It ends with an epic 30-minute massage follow along massage routine.
Access to the Melt Couples Massage Class begins at $34.95 for 3-month membership. Simple, beautiful massage techniques that you can learn at home to make your partner melt. (Another bonus—it's easy to surprise your husband for his birthday or Valentine's Day with this gift because you can shop from home and it's not going to arrive in a big package to arouse his suspicions!)
Have you ever tried giving your husband a massage? Or does he like to give you massages?