My husband and I enjoyed a complimentary night at the Oak Bay Beach Hotel last weekend. We had an awesome time there and I'm so excited to share my opinions (always my own) about it.
Date nights have been a bit sparse around here since Pearl's birth. Our babysitters have often been unavailable when we want to go out. I also don't yet feel comfortable leaving Pearl with them. (Four kids is enough of a handful for me, much less a teenager!) Spending time together is very important for hubby and I. Quality time is one of my love languages and I start to feel very disconnected from him when we don't get it.
So last weekend, when we headed to the Island for a baptism, I asked a friend of ours to take the girls for a night and booked us into the Oak Bay Beach Hotel.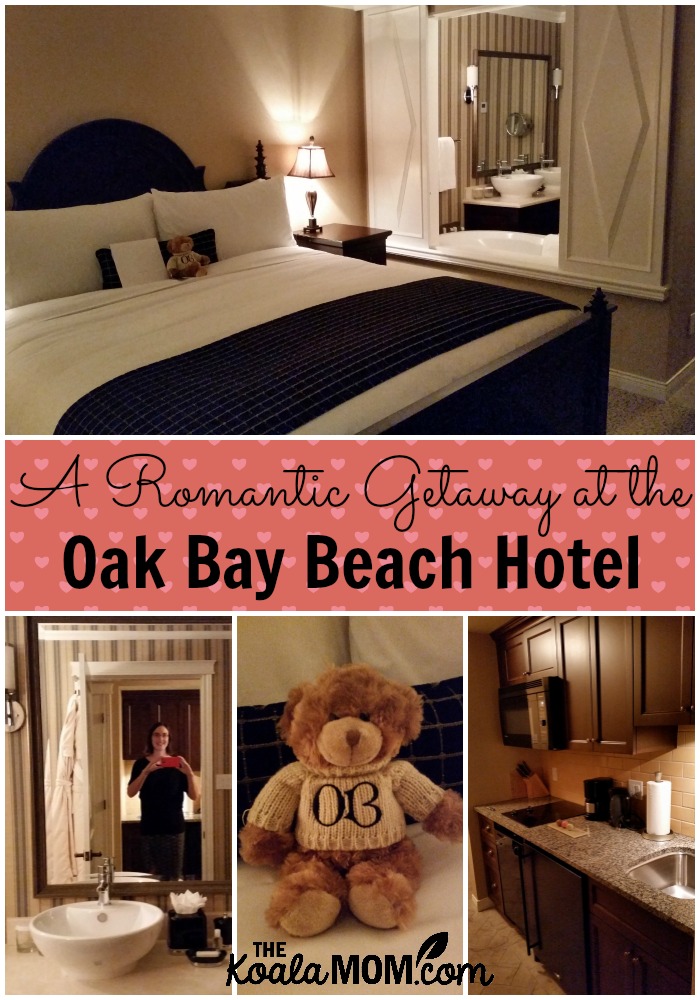 When we lived in Victoria, the Oak Bay Beach Hotel was under construction. We often drove past it and I wondered what it would be like. I didn't realize it wasn't a new hotel—it's a completely rebuilt hotel that sits on the same lot where the previous hotel sat for 80 years. As a history buff, I thought it was neat that the hotel preserved its roots while still providing modern standards of hospitality. It reopened in 2012 as a five-star hotel with 100 rooms and 20 luxury residences.
We arrived at the hotel on Sunday night, just after dinner. I was immediately impressed by the wide open lobby with gorgeous, warm woodwork throughout. Complimentary parking was provided underneath the hotel and we rode the elevator up to our room on the second floor. When I walked in the door, I said, "Wow." The Oak Bay Beach Hotel is by far the nicest place we've ever stayed.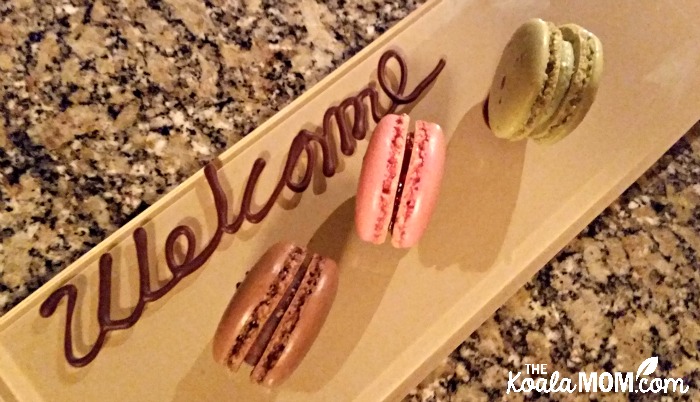 The hotel brochure says their "luxury accomodations offer the perfect combination of classic Manor House-inspired architecture and modern in-suite amenities." I agree completely. From the dark woodwork to the handsome furniture to the spa-like bathroom and the spacious rooms, the entire suite was relaxing and welcoming. It was exactly what we needed after the bustle and stress of the last few months.
The Oak Bay Beach Hotel also provided everything we needed for our stay. When my husband saw the huge tub, he joked, "I'll have to go get you some bath bubbles!" I said, "The hotel's ahead of you." Sitting at the edge of the tub was not just the usual shampoo and conditioner, but also bath milk, body wash, lotion and two bars of soap. Soaking in that big, comfy tub was the perfect way to let the stress of the last week and a busy weekend melt away.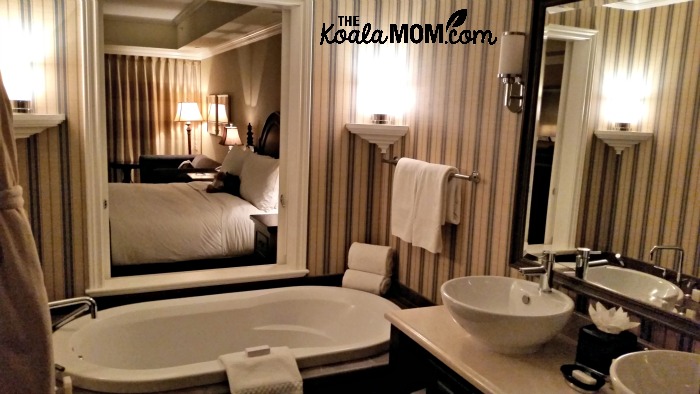 The suite also featured a well-equipped kitchen, complete with a microwave, stove, dishwasher and fridge. We found a corkscrew and wine glasses to go with the bottle of Apothic Red my husband had picked up on the way there. There were plenty of places to sit and enjoy our wine: the big comfy couch beside the bed, the little nook table, or the deck chairs on the balcony overlooking the ocean.
Looking at the menu for the Boathouse Spa & Baths, we wished we'd left the girls with my friend sooner and had time to visit the spa. The Boathouse offers a couples massage and both a facial and pedicure for men. (Hubby has been wanting to go for a pedicure ever since he ran into a bald biker dude with painted toenails at the pool, who told him that pedicures are awesome).
What really impressed me, though, was the products offered specifically for new moms. The "Mommy Love" facial is developed "specifically for the changing skin needs of expectant and new mommies due to the fluctuating hormones." (Postpartum pimples, anyone?) There's also a "Mother Love" package that includes two hours of pampering with a massage and facial. What an awesome idea for a "babymoon" or a gift for a new mom.
Before bed, I wandered down through the scenic garden that overlooks the pools. In getting everyone packed up for our weekend, I forgot our swimsuits. Even at 11 pm, though, each pool had several people sitting in it (they are open 24 hours). A cool breeze wafted off the ocean and steam rose from the heated pools. Turning around, I admired the hotel, rising in the darkness with lights shining from the windows.
In the morning, we were greeted with a gorgeous sunrise over Oak Bay. The clouds hung low but it wasn't raining and even felt warm. I wanted to sit on the balcony and enjoy our coffee together. Unfortunately, I had to get hubby to the office on time.
Our night at the hotel was a much-needed getaway that reminded me of our honeymoon nine years ago. I only wish we could have stayed longer and enjoyed more.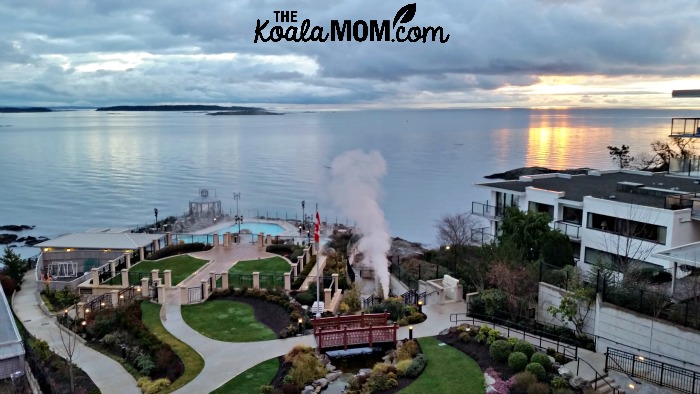 If you are planning a visit to the Oak Bay Beach Hotel, make sure you check out the Boathouse Spa and Baths and also the Dinner Show. On Fridays and Saturdays, the hotel offers a three-course meal followed by a fantastic show. This spring, Double Diamond took audiences through 5 decades of Niel Diamond's musical success. In the fall, the show was "Almost Johnny Cash."
There's plenty to do around Oak Bay while you're staying there. Plan a longer getaway than we did! The hotel can help you arrange various tours, including whale watching and fishing. Golf courses are close. Oak Bay is also an easy, scenic area to cycle. Plus the ocean offers tons of recreation opportunities, from kayaking to hikes on the local islands. For more places to explore during your visit, check out my Vancouver Island page.
If you're a Victoria local, you can still drop by for the spa, shows or restaurants. The Oak Bay Beach Hotel is also home to Kate's Cafe ("a cozy place to enjoy delectable goodies") and The Snug Pub (a "warm, friendly place to chat with friends and simply indulge in the moment over your favourite drink and locally-inspired comfort food"). I love the way the hotel included actual touchstones of the original hotel in both places.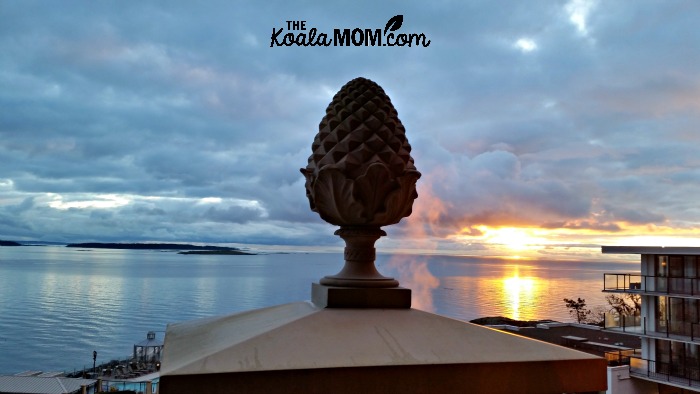 If you're looking for a romantic getaway on the Island, I heartily recommend Oak Bay Beach Hotel. I hope we'll be back soon!
Find out more about the Oak Bay Beach Hotel by visiting their website or connecting with them on Facebook, Twitter, Instagram or YouTube.
My husband and I received a complimentary night at the Oak Bay Beach Hotel for the purposes of this review; all opinions expressed are my own.