This time last year, my husband and I were busy house-hunting. He spent hours on a local real estate website, browsing listings for appropriate places. On weekends, we went to open houses or private viewings with our realtor. Every house we went to see held the anticipation that this could be it—our dream home. When it wasn't, there was always another place to look at. When we weren't looking at houses, we were talking about what we hoped to find. It was an exciting time and it taught me how important it is to dream with your husband.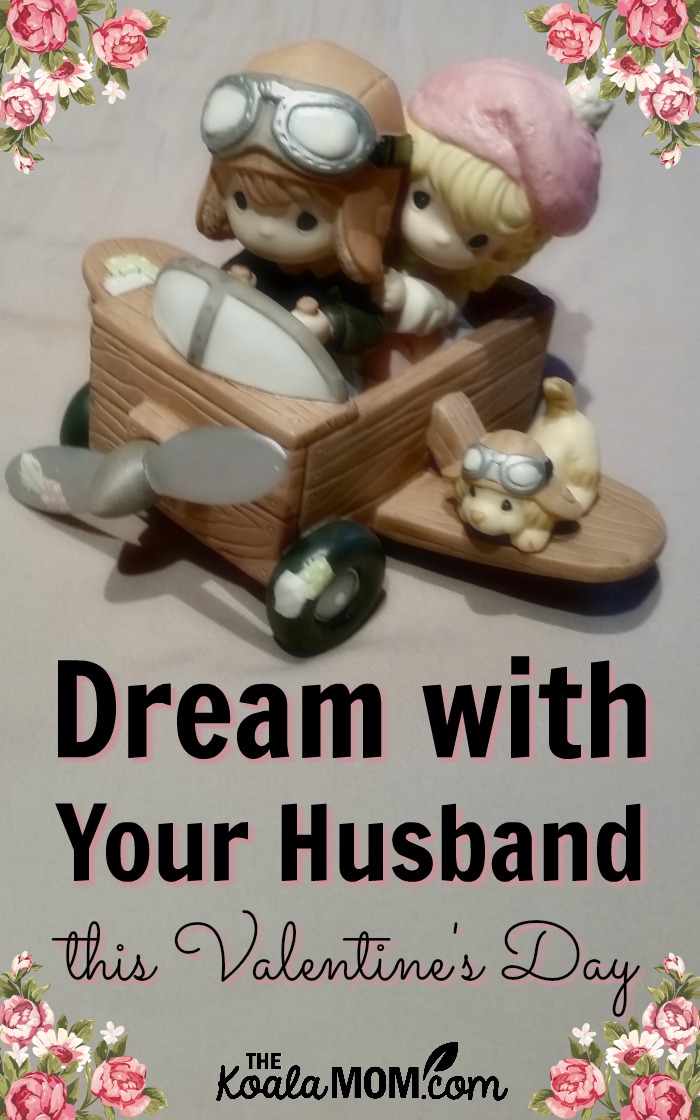 I'm a Precious Moments affiliate and received this figurine in exchange for this review; all opinions expressed are my own. This post contains affiliate links.
Part of the excitement of the early days of a relationship—dating and engagement and even your first year or two together—are the dreams. Everything is new and exciting and you have so many plans to make together. When we were dating, we talked about how many kids we wanted to have. We dreamed about our wedding and honeymoon. As he finished his degree, we planned what sort of job he'd get and where we'd live.
And then… our dreams didn't go exactly as we hoped. Life happened. And we kinda stopped dreaming together. When we returned to school, we lived from one semester to the next. We didn't know what would happen beyond the next four months, so it was hard to dream. Sometimes we talked about "after we graduate," but mostly we tried to get through each day. When graduation finally did happen, it came without any job prospects on the horizon. And so it took us a while to start dreaming again.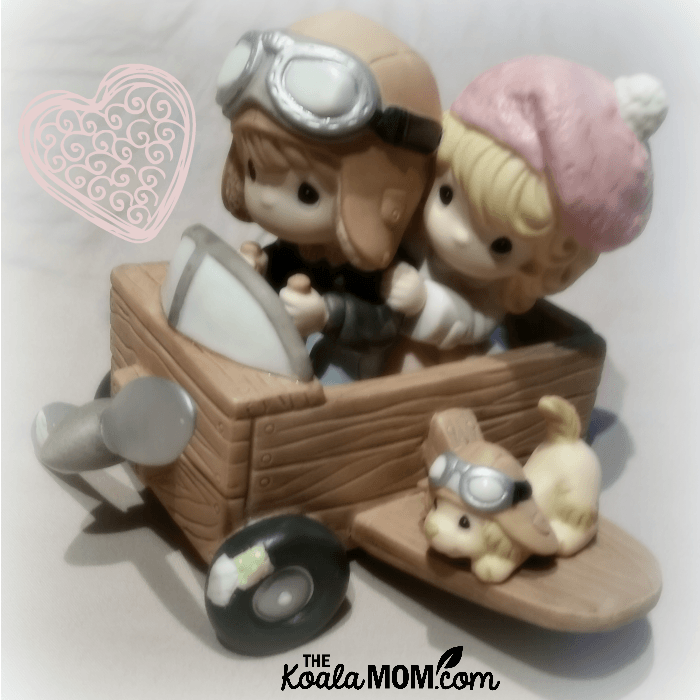 This adorable little figurine from Precious Moments made me think of those dreams we had long ago. In a little handmade airplane for two, this couple is dreaming of taking off for places far away. Maybe they're dreaming of great adventures, new discoveries—or just being together. I love how the puppy captures their excitement, with his tail ready to wag.
Dreaming with my husband encourages us to look beyond the daily grind of life—his stress at work, my piles of laundry and dishes, what the girls need, etc. Buying our house encouraged us to dream about where we'd want to be in five or ten years. Even dreaming about a big vacation encourages us to think about the next year—when is the best time to travel with the girls and where would we want to go that time of year and who might we take with us.
This Valentine's Day, think about how you can dream with your husband. Think back to the dreams you had when you first got married. Plan a date around something you've always talked about doing, and ask him about his dreams now. Share some of your dreams (or how your dreams have changed) with him. Give him something that reminds him of those dreams or encourages you to find some new dreams together.
My Heart Soars When I'm With You is a bisque porcelain figure, expertly hand-painted. It stands about five inches tall (bigger than I expected). This high-flying couple finds love and excitement in each moment and inspires us to do the same. It would make a perfect Valentine's Day or anniversary gift for the special person you dream with.
Drop by the Precious Moments website to view more details of the figurine—or browse their selection of other great Valentine's Day gifts. Save on select gifts and get free shipping on orders over $50.
What do you dream with your husband about? How has dreaming together drawn you closer together?