Ahhhh summer nights… perfect for snuggling on a blanket under the stars with your hubby while watching live musical theatre! Theatre Under the Stars in Stanley Park is the perfect summer date night for theatre lovers. This year's shows are Mamma Mia! and Disney's Newsies.
My husband and I had the chance to attend the opening nights and I was absolutely blown away by both performances!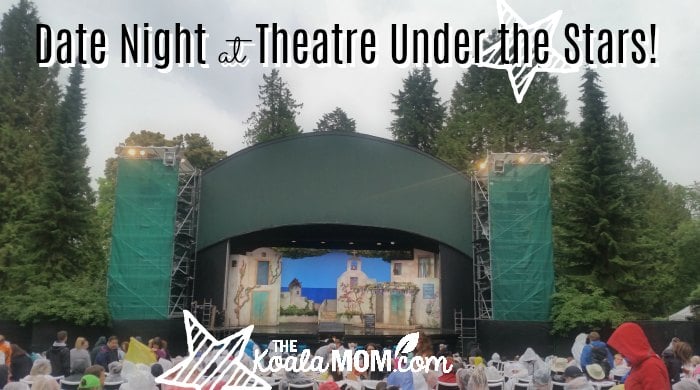 I received two complimentary tickets to both shows for the purposes of this review; all opinions expressed are my own.
Date Night Specials at Theatre Under the Stars
TUTS has a date night special on two Wednesday nights in July. Pick which show you want to see (or see both!) and grab your tickets. Once you're there, hot drinks are BOGO and you can have fun taking photos together in the photo booths. Plus, if you want dinner before the show, you'll get 10% off at Prospect Point.
Tickets cost $30-55 per person depending on where you want to sit.
Can't make those dates? Take your spouse to the show anyway! Here's my tips for having a romance-filled evening under the stars.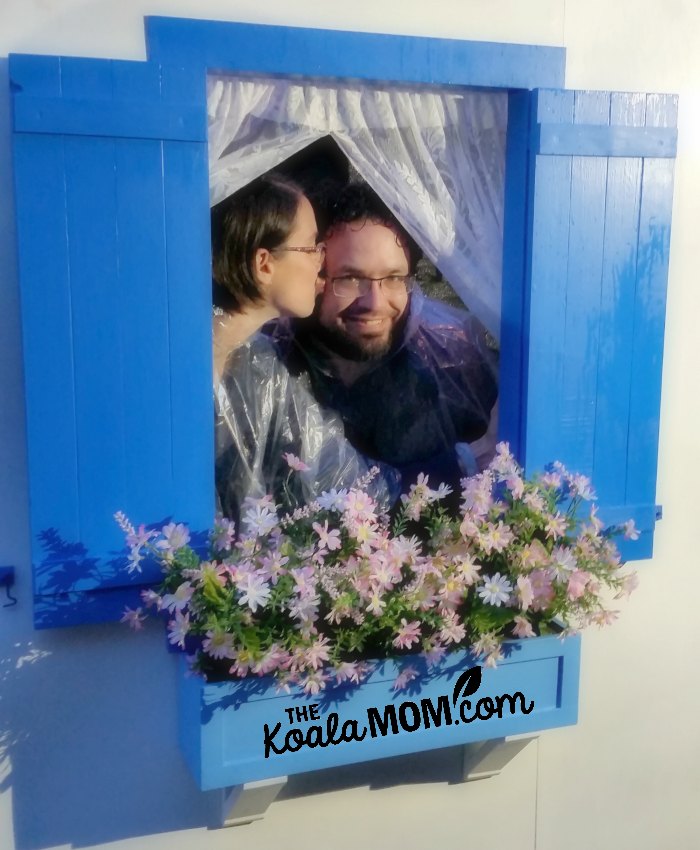 Plan Your Musical Date Night
Shows at TUTS happen rain or shine, so prepare for any weather. We went two nights in a row and had rain for our first night and clear skies for our second night. The weather during the day wasn't a reliable indicator of the weather for the evening, however! The first day was clear and sunny—until we got in the van to head to Stanley Park. The second day was cool and rain, but a rainbow appeared as I was picking up my babysitter.
In the case of rain, Theatre Under the Stars provides clear plastic ponchos for guests. You can bring an umbrella for walking to and from the show, but umbrellas aren't allowed during the performance. Snuggle together and hold hands under your ponchos!
If the evening is clear, bring a sweater or a blanket. I actually found it was warmer on the rainy night than the clear night! Blankets can be used either to sit on or snuggle under. Cushions are available by donation if you find the plastic lawn chairs uncomfortable.
Acoustics in Malkin Bowl are excellent. We sat in the back centre section and could hear everything clearly. We also had a good view of the entire stage. Both shows are two and half hours with an intermission that allow you stretch and visit the washrooms in the Pavilion or grab a snack or drink at the concession.
More about the TUTS 2019 Shows
I've wanted to catch a TUTS performance since we moved to Vancouver, but babies and other activities have kept us busy. Theatre Under the Stars has put on many great shows over the years, from some of my favourite musicals to others I've never heard of. This year's shows are Mamma Mia! (a well-known, very popular movie and musical!) and Disney's Newsies, which I'd never heard of although my husband saw the movie years ago.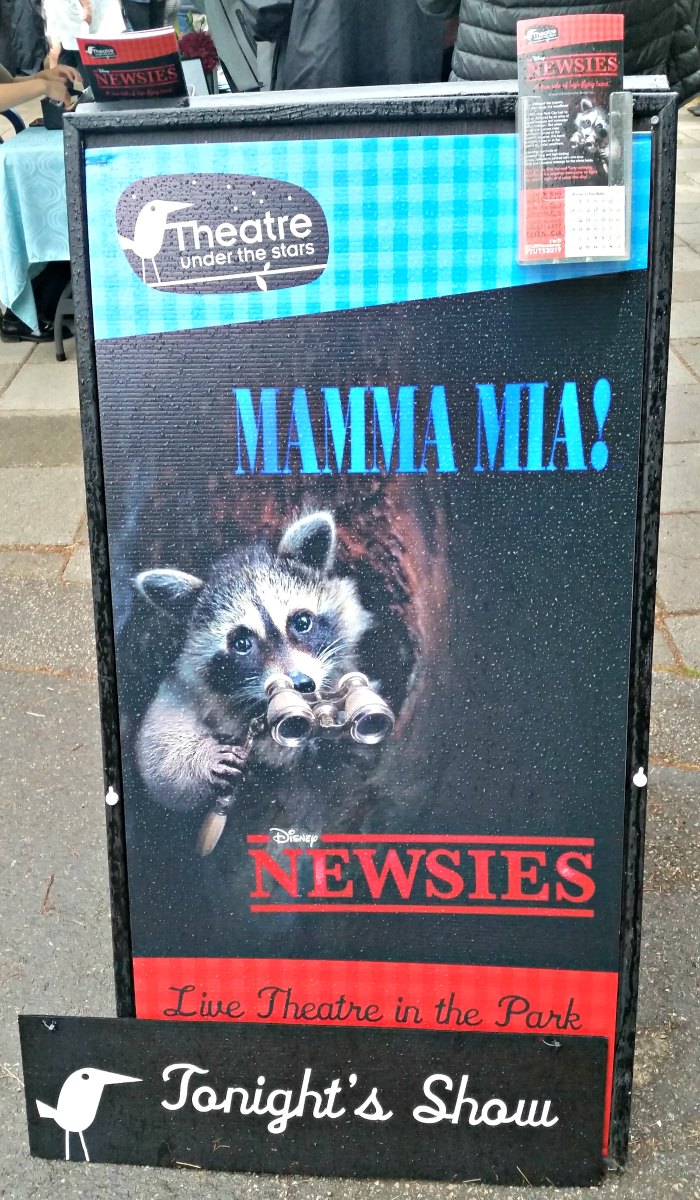 First, I have to say I was blown away by both shows. My husband and I are huge theatre fans, and while we haven't seen as many shows in recent years, we've been going to musicals since our dating days. From the setting to the choreography to the cast to the costumes, TUTS rocked it out of the park.
Both shows had an extremely talented lead cast member. In Mamma Mia, Donna's voice was absolutely stunning. In Newsies, Jack Kelley's singing sent shivers down my spine. Both of them—plus the other characters in the cast—had amazing vocal abilities. They nailed the high notes and the long notes and the fast lyrics, while also dancing through the fun choreography of each song.
Mamma Mia! live was twice as good as the movie. The musical is longer than the movie, with a few extra Abba songs and more talking. The set carried viewers immediately to sunny Greece (despite the rain). This musical was pure fun, with big costumes and big music and lots of laughs.
Newsies is very somber and political in contrast to Mamma Mia, yet the plot drew me in within a few songs. I couldn't wait to find out how Jack Kelley and his fellow young newsies would overcome the tyrannical newspaper tycoon who "employed" them. This musical was a thought-provoking show about the power of the press, standing up for what's right, and how young people can make a difference in their world. Some of the choreography reminded me of the chimney sweeps in Mary Poppins or the lamp lighters in Mary Poppins Returns.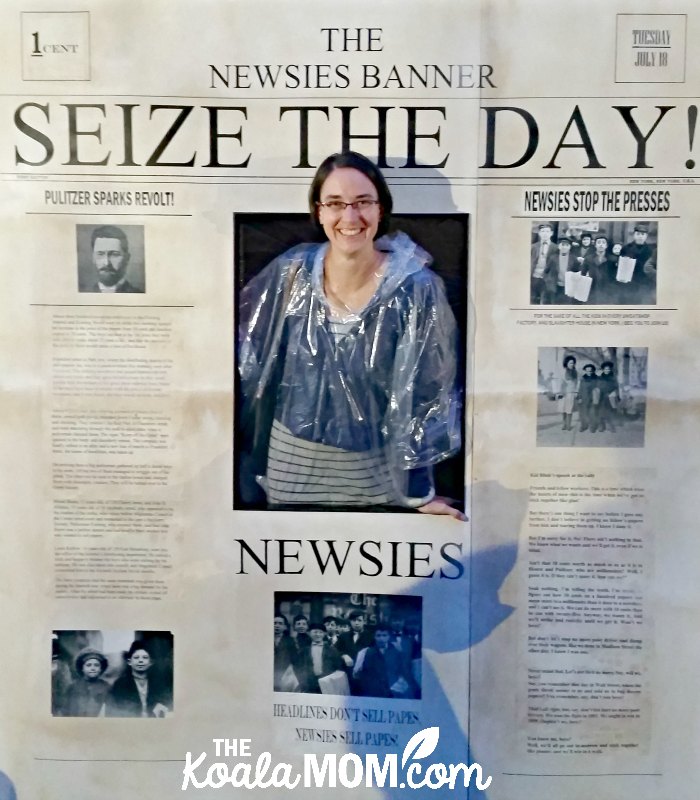 A Romantic Ambience
TUTS is located in Malkin Bowl in Stanley Park, near the Aquarium or the horse-drawn carriage rides. Stanley Park is one of Vancouver's favourite parks, and with good reason. Give yourself a bit of extra time before the show to enjoy the gardens around Malkin Bowl. The rose gardens aren't far away, but even the flower beds near Malkin Bowl and the Pavilion are beautiful.
During the second show, two crows attempted to chase off an eagle perched high in a pine tree overlooking the show. Then, just as dusk fell, an owl swooped low over the crowd. It was magical to be watching theatre with such amazing wildlife hanging out there too. As darkness fell, the stars came out, with a few fluttering moths and flying planes to mimic falling stars.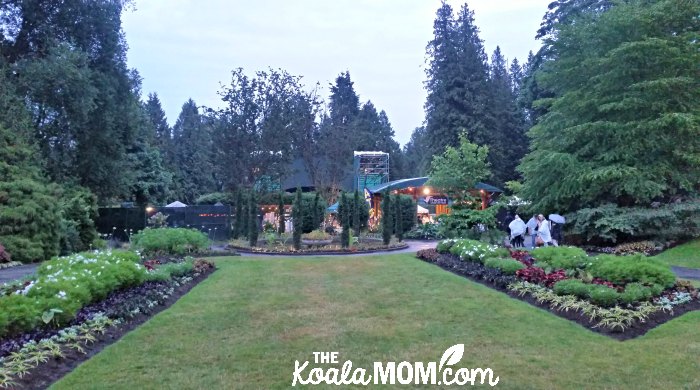 Theatre Under the Stars runs every night in July and August. Drop by the website to get more information and buy your tickets. You can also follow TUTS on Facebook, Instagram and Twitter.
That's another item checked off our Vancouer summer bucket list!!!
Have you been to a Theatre Under the Stars show? Which performance you most excited to see?