With family living in another provinces, we make a long road trip at least once a year. The girls have gotten used to this and are quite good in the vehicle, but I spend a lot of time planning how to keep them busy each trip. This Christmas, I came up with the idea of a notebook for each of them. These notebooks were a huge hit with the girls on the drive home, so I thought I'd share what our DIY road trip notebooks looked like.
I started with big, spiral-bound notebooks that I grabbed at the grocery store. With a sharpie and my rusty calligraphy skills, I wrote each of the girls' names on the covers of their notebooks. Grandma had gotten them four-colour pens for Christmas, so I clipped those into the spiral loop.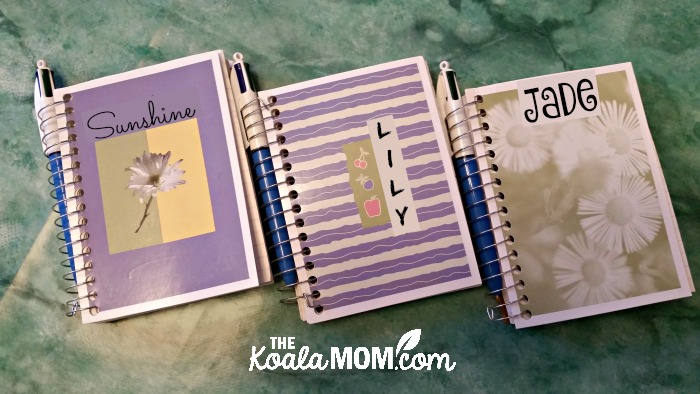 Inside the front cover of the road trip notebooks, I wrote a short note to each of the girls. I stapled a sheet of stickers in the back cover of each. I also had three small envelopes and some loose stickers. I glued the envelopes into a page in the middle and tucked the loose stickers inside.
Then I glued some pictures throughout the pages—a snowman picture from a card, a family picture from a photo booth, etc. The girls had fun flipping through their notebooks finding everything.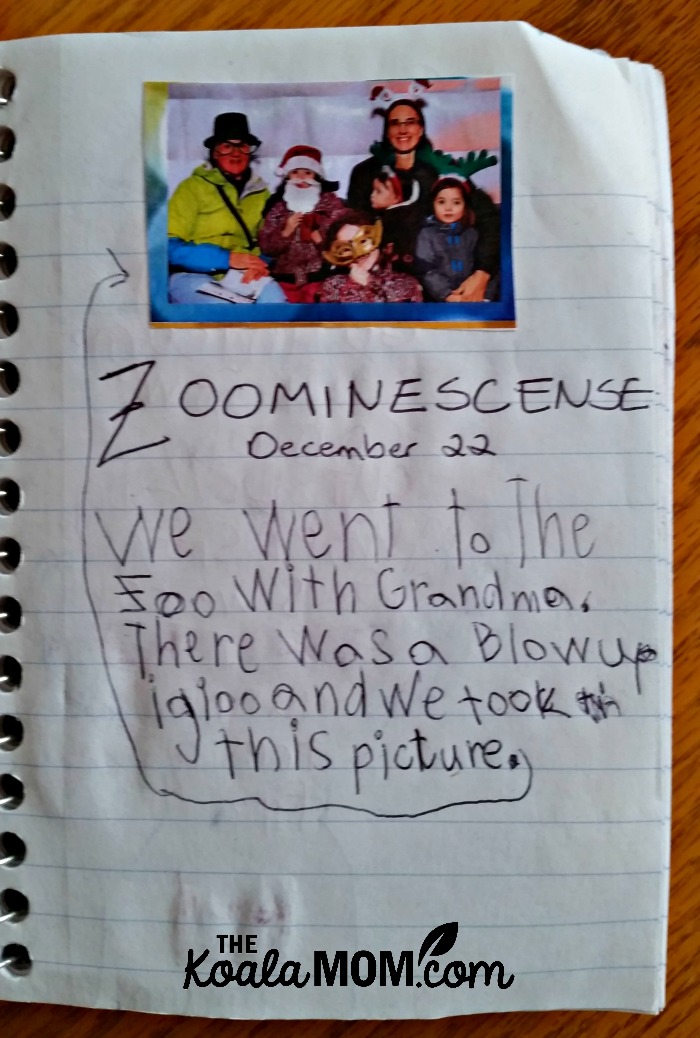 DIY Road Trip Notebooks for Reading Kids
I added more to Sunshine's and Lily's road trip notebooks, because they are both able to read and write. In Sunshine's notebook, I wrote in my neatest handwriting, as she's learning to handwrite this year. In Lily's notebook, I used printing.
The Travel Log
On the first page, I wrote TRAVEL LOG at the top. Then I created a table with two columns for "city" and "time." (I'd probably change "city" to "landmark" if I did it again.) I listed our starting point (Grandma and Grandpa's place) and a few of the next cities we'd pass, then left the rest blank for the girls to fill in.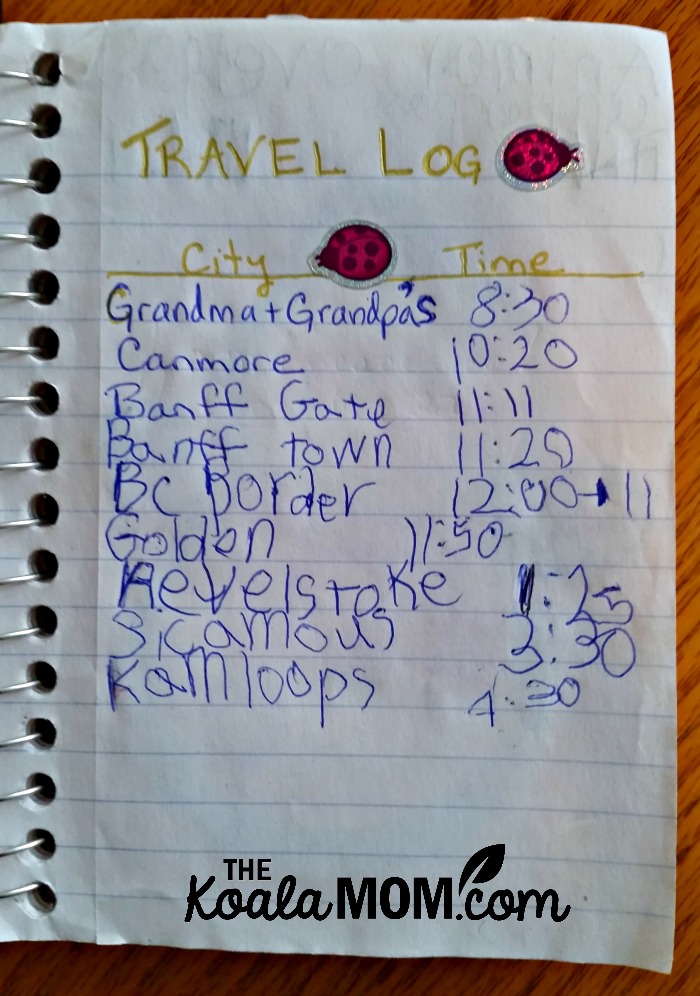 They had fun asking when we'd hit the next city and what it was. Then they'd carefully note what time we passed. I also had fun with this, as I'd watch for landmarks or places for them to record. For example, when we passed the border, I pointed it out to them. They wrote it down in their notebooks, along with the time change.
Writing Prompts
Scattered throughout the notebook pages, I wrote writing prompts for the girls. Since this was a notebook for our drive home after Christmas, I thought of prompts related to our drive and holidays.
My favourite part of our Christmas holiday was…
This year, I want to…
We built a snowfort at Grandpa's. Here's what it looked like:
My cousins and I had fun…
I enjoyed spending time with Grandma and…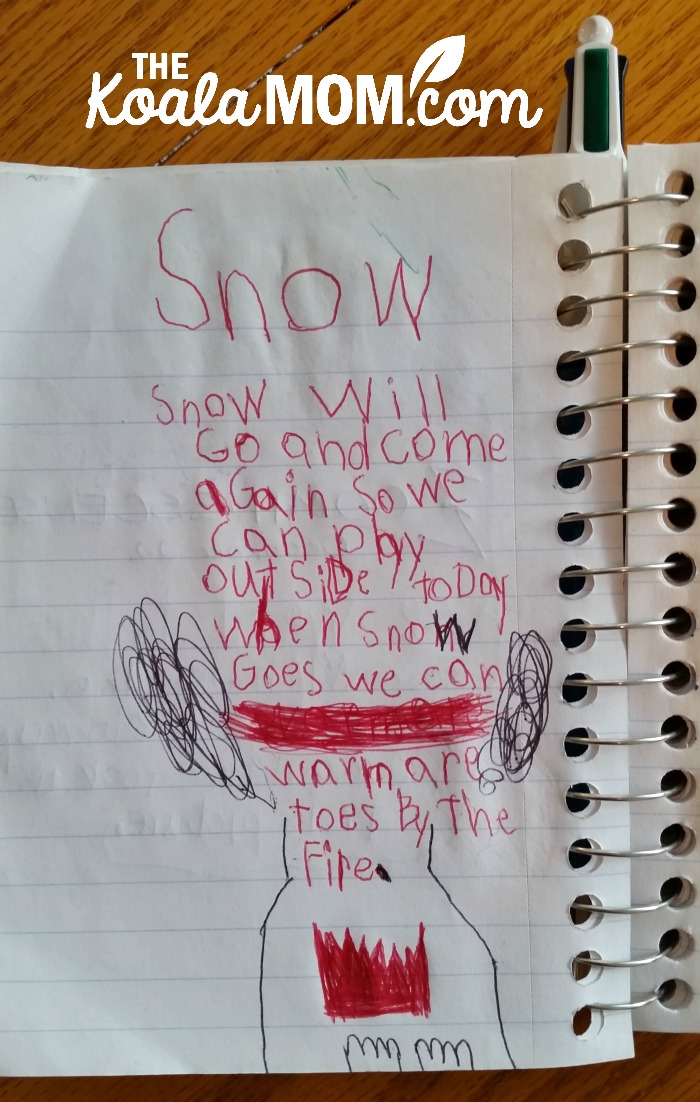 Poetry & Songs
In Sunshine's notebook, I glued a copy of the words to "The Old Rugged Cross," from my grandpa's funeral. She spent quite a bit of the drive singing to us. If I'd had more time, I would have looked up some other favourite songs and poems to either print or copy into their notebooks for them.
DIY Road Trip Notebooks for Non-Reading Kids
I kept Jade's notebook a little bit simpler, since she's now doing homeschool preschool. She's not reading yet, but she has started learning her numbers and letters. My note inside her cover was short and simple. On the first page, I wrote her name for her to copy. On each of the next pages, I wrote the letters 1 – 10 (one number per page), for her to copy. Then I wrote one letter of the alphabet on each page.
She'd also picked a patterned colouring page from a colouring book Grandma had. I cut the colouring page into four pieces and glued each piece onto a page in her notebook. If I had any drawing skills, I would have sketched some pictures for her.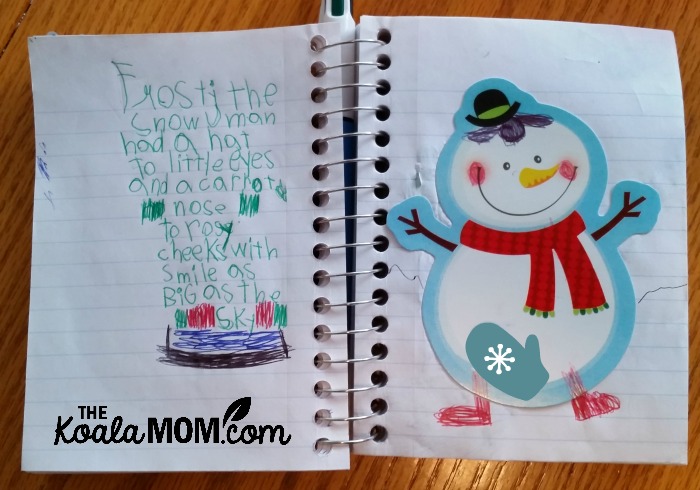 The girls had a lot of fun with their road trip notebooks on the drive. I had a lot of fun flipping through them when we got home again, and seeing how creative they'd been. Next time we go for a long drive, I'll definitely be packing these notebooks and pens so the girls can keep adding to them.
Need more ideas for keeping the kids busy on long drives? Check out:
What would you include in a road trip notebook? How do you keep your kids busy on long drives?