If you're looking for Jade this week, you'll probably find her in the blanket fort she's made on her bunkbed, beating her last high score on our Leapfrog Rockit Twist. During the school year, I tend to set limits on the kids' screen time, but over the Christmas holidays… their time is theirs. My brothers and I played endless games of cards; Jade and Pearl are are helping NomNom get berries or finding space ship parts for Albert. Here's why I like this electronic learning toy (and think your kids might too!).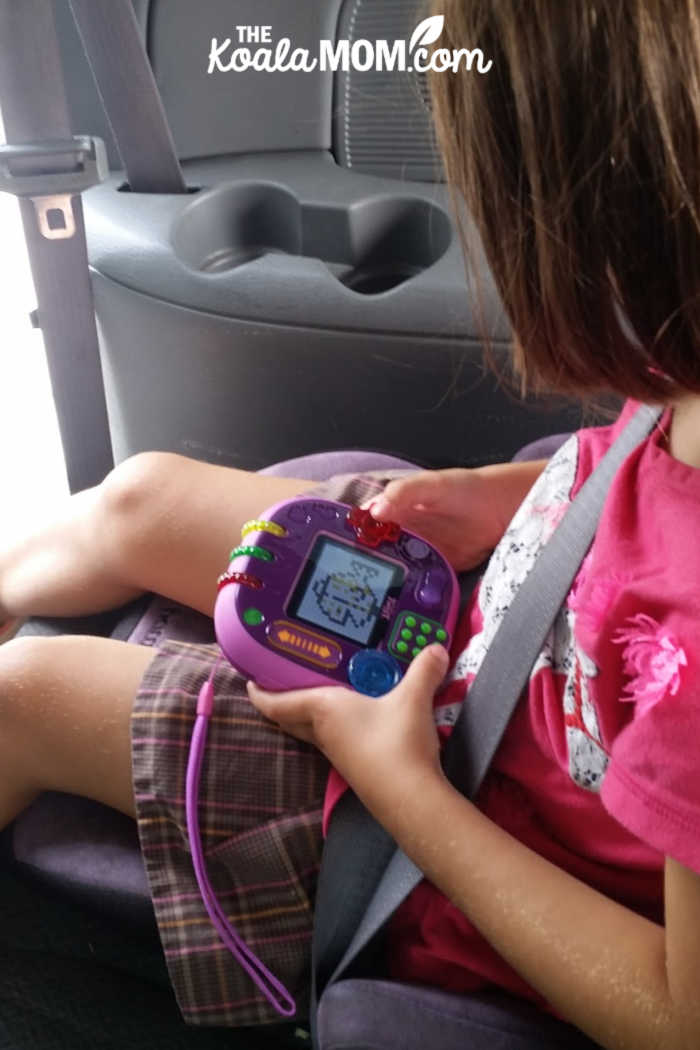 I received a Leapfrog Rockit Twist and additional game for review; all opinions expressed are my own. This post contains affiliate links; as an Amazon associate, I earn from qualifying purchases.
Leapfrog Rockit Twist review
What grabbed my attention about this electronic learning toy was the buttons. Most handheld gaming systems have just a few standard buttons—A and B or an arrow pad. The Rockit Twist has 8 colourful, light-up controls, including that arrow pad, but also twisting wheels, a slider button, and a set of nine tiny green buttons.
Kids are encouraged to use different buttons for different games, so it keeps them turning the game and doing different actions. This really adds to the excitement of the game. I "helped" Joey play a few games (okay, yeah, I wanted to try it out for myself!) and found myself waiting to see what I had to do next—slide? twist? spin? A few times in the game, I had to turn the whole system (there really is no "up"or "down" with this game as it's always changing!).
I think the appeal of having so many different games is great, but the diverse, colorful, light-up controls really makes an impact, too. It's just fun and exciting to work with the system's four sides to turn and play!! It's really unique and different being able to twist, turn, play, and learn with the RockIt Twist game system! ~ Guy and the Blog

The Leapfrog Rockit Twist is roughly square and easy for little hands to hold. It has a wrist strap to help keep it more secure while your child is playing. It also has a protective bumper all the way around, so it's withstood being dropped several times. (My kids are klutzy like me!)
And the best part of this electronic learning toy? It's RECHARGEABLE. That's right—when the battery dies, just plug it in with a standard USB cable like your phone and it's ready to go again in a few hours! (I don't want to think about the money I would have saved on AA batteries if we'd had this game a few years ago…) This also helps prevent meltdowns when there's no batteries in the house…
What age is the Rockit Twist appropriate for? Jade (age 6) and Pearl (age 4) are the ones who play it mostly. Joey (age 2) is definitely interested in it, but he doesn't yet have the coordination to use all the buttons (or follow the directions given in the games). Sometimes, his sisters help him but most of the games are beyond him. Sunshine (almost 12) also likes playing with the Leapfrog Rockit Twist.
12 Electronic Educational Games
Jade's favourite game is Albert's Escape. She says, "It's about this purple slug-like thing and he crashes his space ship onto this island and has to find parts for it and there's all these obstacles courses and it's really fun. There's this hard part where there's this spinny flower thing with a platform he stays on and he keeps bumping into walls so you can't get him out unless you move him right in front of the flower thingy and spin it away and then he drops down onto the ground."
This game uses the blue spinner to move platforms, the red arrow to move Albert back and forth, the three wheels to raise or lower elevators, and the slider button to make Albert bigger. It reminded me of other games where a character is trying to find treasure in a maze-like area.
Pearl's favourite game is NomNom. She says, "This is a game with a worm and he has to eat every berry  and when he eats them he gets bigger." This game teaches patterns, as there's a pattern shown at the bottom of the game and kids have to help NomNom find the right berry in the pattern.
The RockIt Twist comes with 12 games with three levels of difficulty. Most of these games have educational components. Sunshine keeps telling Pearl not to play the upper levels of Cookie's Sweet Treats because it requires multiplication. In Jumping Gertie, kids jump a cute goat up moving platforms while collecting letters, objects that start with that letter sound, flowers, and other rewards. Upper levels of the game require kids to match rhyming words rather than just letters.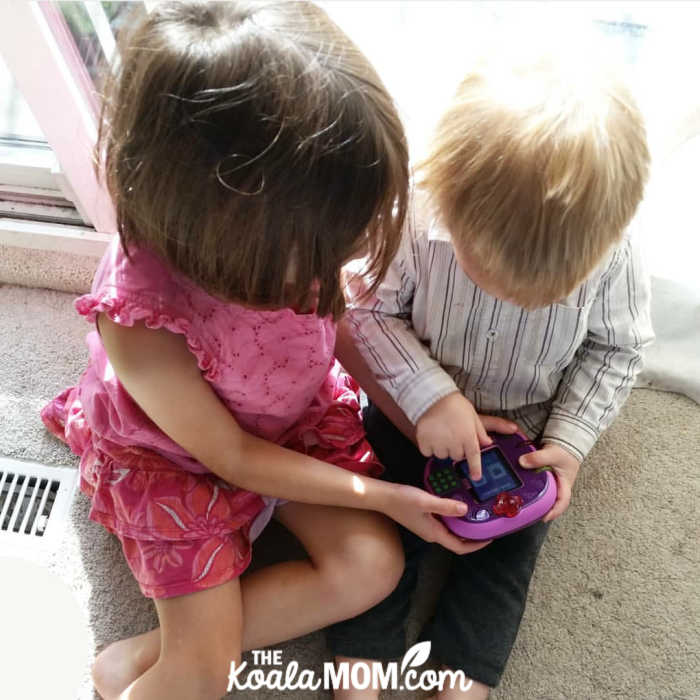 The Leapfrog RockIt Twist also comes with three virtual RockIt pets. Kids can hatch the pets from eggs and then watch them grow as they feed, bathe and play with their pets.
Educational content is important to parents and we're serving that up in a gaming system that kids are asking for. We're incredibly excited to share this unique new take on handheld gaming. ~ Andy Keimach, President, VTech Electronics North America (LeapFrog's parent company)
You can also get additional games and pets for your RockIt Twist. Just buy a game pack, connect your RockIt Twist to a computer with the USB cable, then activate the code in the game pack to download the game. You can install each game on up to five RockIt Twists connected to one parent account (so you don't have to buy separate games for each child's game system).
We installed Cookie's Sweet Treats on our RockIt Twist. It came with a cute little donut charm for kids to play with or put on a backpack. The curriculum focus for this game is addition, subtraction, multiplication and division (perfect for my kids, who don't really like math). In the Leapfrog store, you can browse RockIt Twist games by skill. It's a sneaky way to encourage your kids to practice skills they may otherwise not want to do!
How We Use the RockIt Twist
If you're planning on traveling this holiday season, the RockIt Twist is a great way to keep the kids busy on the trip! We've used older Leapfrog electronic learning toys to entertain our kids in the van since moving to BC a decade ago. The girls like chatting about their favourite games and what they're playing. (Just make sure your kids take breaks from the handheld games if they're prone to motion sickness!)
The RockIt Twist is also helpful in our homeschooling. Sometimes I just need something to keep Pearl busy while I'm doing lessons with her older sisters. She gets a bit of time to play by herself (and maybe learn some letters or adding while she's at it!) while I'm able to focus on the other girls.
When we're out and about for the older girls' activities, the RockIt Twist is easy to throw into my purse for Jade and Pearl. The reality of having a big family is that the younger kids often get to wait for their older sisters at music lessons or rugby practice. I try to arrange activities for all the girls to participate in at the same time, but sometimes that's not possible. Then it's handy to have a small, simple way to keep the younger girls busy. (The RockIt Twist does have a volume button as well as a headphone jack if we're in a space that should be quiet, like music lessons).
To find out more about the RockIt Twist or buy one for your child, drop by the Leapfrog website. The RockIt Twist is also available at Amazon, Walmart and Toys R Us.