Between various extracurricular activities for five kids, plus the occasional road trip, we spend a lot of time in the vehicle. I learned when my oldest was young that the best way to pass the time on the road is with a family-friendly audiobook. Listening to audiobooks together gives us a shared family culture, as we can then discuss the books together (and crack jokes or inside comments about them).
Some of these audiobooks I chose to listen to with my kids because I enjoyed them when I was a child. Others were recommended by my older girls, who read them and wanted to share them with me and their siblings. And a few of these books were recommendations from Mothering by the Book by Jennifer Pepito. All of these have been thoroughly enjoyable reads that I highly recommend for any family.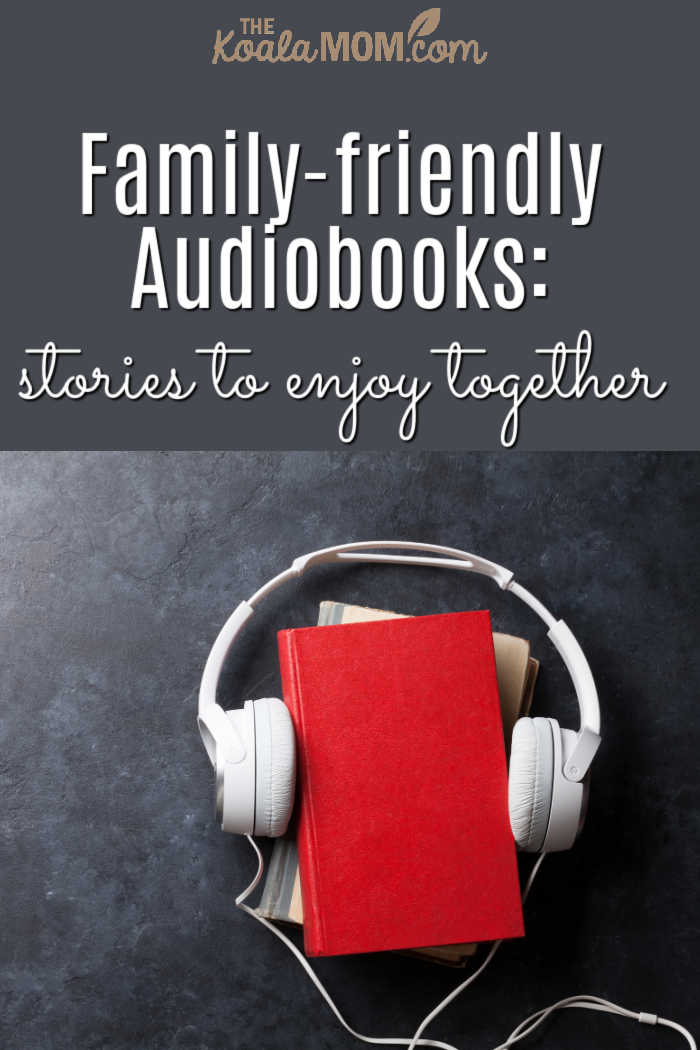 This post contains affiliate links; as an Amazon associate, I earn from qualifying purchases.
Emily of New Moon by L. M. Montgomery
This classic Canadian novel is similar to Anne of Green Gables, as it's the story of a sensitive orphan girl finding her way in the world. Emily is raised by her widowed father until his death when she is ten. She then moves in with her two spinster aunts on the New Moon farm.
Over the course of the novel, Emily gets to know the family stories and makes friends with Isla, the local doctor's untameable daughter; Perry, the hired boy; and Teddy, an artist who lives under the oppression of his mother's jealousy. A wannabe writer, Emily scribbles poetry in her school books, letters to her father on scrap paper, and stories in the notebooks given her by Cousin Jimmy.
There were laugh-out-loud moments throughout this family-friendly audiobook, either in Emily's blunders or in her blunt observations of those around her. L. M. Montgomery's characters jump off the page, from Father Cassidy who thinks Emily is a fairy to gossipy Aunt Nancy and everyone in between. The mystery of Isla's mother provides a plot for the novel as Emily strives to figure out what really happened.
Roll of Thunder, Hear My Cry by Mildred D. Taylor
Set in 1933 in rural Mississippi, this novel is the story of a black family who owns their own land yet faces constant discrimination from the white people around them. Nine-year-old Cassie is the narrator who struggles to make sense of what her parents have taught her and the injustice she sees around her. Her father works the railroad to bring in money for his family. Her mother is a teacher at the local school.
I loved the strong family bonds in this novel. Mama and Papa clearly love each other and work hard together for their family. They are stern yet gentle with their children, and Cassie has a close relationship with her three brothers. Grandma is the keeper of the family history, a voice of wisdom and patience through Cassie's struggles and questions.
Roll of Thunder, Hear My Cry does have some tough themes in it. The hints of conflict in the neighborhood come subtly at first. Cassie's parents have worked hard to protect her but she's now more aware of what is happening around her. The novel builds to a climactic ending with a violent robbery, fire, and an attempt at a lynching. This may be intense for some younger children but sparked some great discussions with my children.
The audiobook ended with the author sharing her own story and how she wrote this novel. If your family enjoyed this, there are more Logan family novels (unfortunately, our library doesn't have them on audiobook so I may have to make them our next read-aloud).
All-of-a-Kind Family by Sydney Taylor
This gentle story is about a Jewish family in New York in the early 1900s. They're an "all of a kind family" because there are five girls. Papa runs a local junk shop and Mama runs the family. All-of-a-Kind Family is about their daily life, from trips to the library to get new books to celebrating Jewish festivals to recovering from scarlet fever. There's even a hint of mystery in Papa's friend Charlie, who works in the junk shop but has an unknown past and some hidden sadness.
We liked this novel so much that we listened to More All-of-a-Kind Family as well. A baby boy has been added to the family and doted on by his big sisters. Their single uncle finds the love of his life, only to nearly lose her in the polio epidemic that goes through New York. The family lives at the seashore and Ella gets a boyfriend.
The One and Only Ivan by Katherine Applegate
My 12-year-old read The One and Only Ivan and recommended it as an audiobook when I was scrolling for new listening material. The one and only Ivan is a silverback gorilla who lives in a mall and does daily shows. He muses about his life with his best friends, a dog named Bob and an elephant named Stella. He watches TV shows in his domain, observes the mall owner, draws artwork that is sold in the gift shop.
His comfortable life changes when the mall owner brings in a new elephant—a baby named Ruby. As Ruby adjusts to life in the mall, and Stella hopes for something better for Ruby, Ivan realizes he must do something. His domain has become a cage where he no longer belongs. But how can a gorilla save a baby elephant from a life as a spectacle in a mall?
The One and Only Ivan has short chapters. I really enjoyed how the author captures what a gorilla might think and feel. This novel also raises questions about how animals are treated. We watched the movie on DisneyPlus, which changes a few plot points but is also pretty good. My 12-year-old says The One and Only Bob is also good but we haven't found it as an audiobook yet.
Ramona the Pest by Beverly Cleary
Another classic I grew up reading, Ramona the Pest was a hit with my younger kids. As a mom, I found myself really enjoying a glimpse into how an 8-year-old might view the world. Ramona is a rambunctious, creative 8-year-old who is often called a pest by her older sister, Beezus.
This novel details Ramona's first few months in Kindergarten, as she tries to kiss Davy and resist the temptation to pull Susan's curls and desperately wants to win her teacher's approval. Ramona often feels misunderstood and her adventures are always funny and interesting.
We've also listened to Henry and Beezus (Henry desperately wants tries to get a new bicycle, with various mishaps along the way) and Ramona and Her Mother (Ramona feels that her mother loves Beezus more than she does). One of our favourite family movies is Ramona and Beezus, which loosely follows some stories from several of the novels.
Charlie and the Chocolate Factory by Roald Dahl
Charlie and the Chocolate Factory is another classic childhood novel that always makes me laugh. I strongly suspect Roald Dahl didn't like TV and had strong opinions about the raising of children, but his story is thoroughly enjoyable. Willy Wonka is the erratic owner of the world's most popular candy factory and holds a contest to invite five lucky children to tour his factory.
Charlie Bucket, the only son in an extremely poor family, is one of the lucky winners. His aged Grandpa Joe accompanies him on the tour, where they behold all sorts of wonders of candy-making and eventually come out of the factory in one piece (which is more than can be said of the other four tour members). I do enjoy the illustrations in the original novels.
There are also several movie versions which you could watch and compare to the book for a fun family discussion (personally I'm not a fan of any).
Mary Poppins by P. L. Travers
Most of us have grown up with Disney's Mary Poppins and may occasionally burst into song about "a spoonful of sugar" or exclaim "supercalifragilisticexpealadocious." The Mary Poppins created by P. L. Travers is a very different sort of nanny, however.
The novel includes a few stories that didn't make it into the movie (such as the dancing cow) and a few that did (like the laughing gas); the Banks family includes twins John and Barbara and leaves out any chimney sweeps; and Mary Poppins is not only very stern but also rather vain.
Listening to this family-friendly audiobook did make me want to go back and watch both Mary Poppins and Mary Poppins Returns. I'd also like to rewatch Saving Mr. Banks, as it provides some insight into who P.L. Travers was and how Walt Disney turned her beloved novel into an equally beloved movie.
Emma and the Blue Genie by Cornelia Funke
Cornelia Funke is a German author whose books have been translated into English (and thoroughly loved). She herself reads this audiobook, with a slight German accent that I really enjoyed. Emma and the Blue Genie is a short, delightful story about a young girl who dreams of an adventure with her noodle-tailed dog—and gets it. The Blue Genie sweeps her off to his land to help him retrieve his nose ring (without which, he can't grant any wishes).
Percy Jackson and the Olympians series by Rick Riordan
Like the Wings of Fire series, we've spent most of a year listening to the Percy Jackson series. These books imagine that the Greek gods (and myths and monsters) are real and still around. Percy Jackson has grown up with a single mom, getting kicked out of one school after another, struggling with his ADHD and dyslexia, until he's discovered by a satyr named Grover and whisked away to Camp Halfblood, a special training school for demi-gods.
The first novel happens when Percy is 12. In each novel, Percy is sent on a quest, usually with Grover and his friend Annabeth (a wannabe architect) and a few other demi-gods. They encounter monsters who try to stop them from completing their quests as they race against time to achieve whatever goal has been set. Percy has a great sense of humour and his creativity always saves the day.
The overarching theme of all five books is a huge prophecy about a demi-god who will have the power to either save or destroy Olympus on his 16th birthday, and the rise of the ancient Titans, who want to destroy the Greek gods once and for all. I won't give any spoilers, but if you've listened to the first one, you'll want to finish all five. (And then, apparently, there's two more series that my older girls are reading about Percy's further adventures.)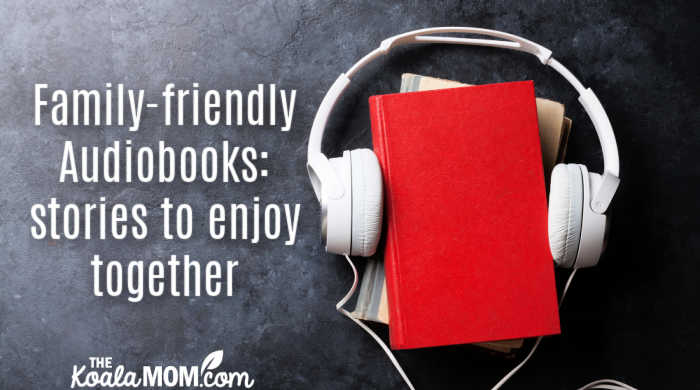 What are your favourite family-friendly audiobooks?
Photo credit: Depositphotos.