One of my first thoughts when planning our trip to Alberta this summer was what we'd listen to. Audiobooks have proved to be the best way to keep the girls happy and occupied for the 12-hour (or longer) drive from here to Grandma's. I needed something we'd all like and something reasonably long. Then I received an email about the Extraordinary Adventures of G. A. Henty and practically shouted, "Hallelujah!"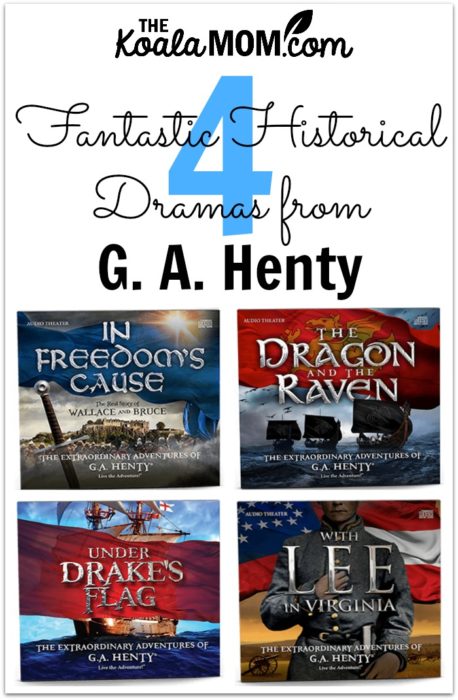 I received the audiobooks for this review courtesy of Heirloom Audio; all opinions expressed are my own. This post contains affiliate links; as an Amazon associate, I earn from qualifying purchases.
The Extraordinary Adventures of G. A. Henty bring alive some of history's most daring expeditions and greatest adventures. These stories highlight the strong faith of William Wallace, Sir Francis Drake, King Arthur the Great, and General Robert E. Lee.
Each story features Mr. George, the narrator, a jolly English gentlemen who loves history and is always happy to tell a story. Three of the stories include Ned and Gerald, two boys who meet Mr. George and then play a part in the story he's telling. With Lee in Virginia features two other boys, Dan and Vincent, whom Mr. George meets on a train trip across the States.
In Freedom's Cause (William Wallace and Robert the Bruce)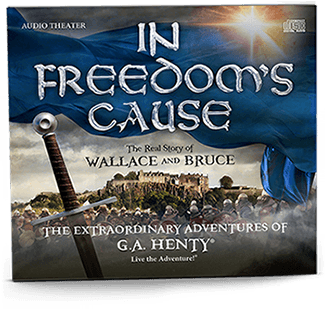 I popped In Freedom's Cause into the CD player as soon as we started driving. What I know about William Wallace and King Robert the Bruce comes mostly from Braveheart and a few other historical novels. I love all things Scottish and would love to vacation there, so I was fascinated to learn more about these heroes of Scottish history.
In this story, Wallace is the hero of Scottish liberty, while Robert the Bruce goes back and forth in his allegiance to Scotland or England.
As the story begins, Ned Forbes is a Scottish boy whose father has been murdered by the lord who now lives in the castle that should be Ned's. Ned forms a group of boys known as the Scottish Avengers, who train and prepare to defend Scotland from England. A run-in with his father's murderer sends Ned on the run and he joins William Wallace.
I wondered what the girls would think of the politics in this story and the conflict between Scotland and England. Early in the story, Sunshine commented, "One of the Scots should marry one of the English!" I laughed at that idea, thinking of Romeo and Juliet and other stories of love and war. Then Ned ran into a girl and I cast a knowing glance in the mirror to Sunshine. Lady Marjory is one of few women in the story, but she's a spunky, brave woman who does her part for Scottish independence.
The Dragon and the Raven (King Arthur the Great)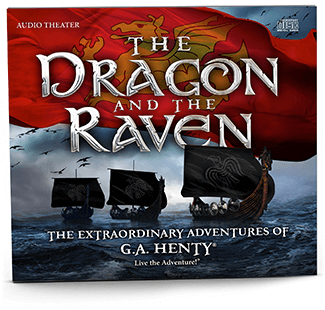 On the second day of our drive, we skipped a few centuries back in history to learn about King Arthur the Great. In this story, the English are the ones being persecuted and attacked by a stronger people, the Danes (Vikings).
Young Edmund (Ned) joins King Arthur the Great in standing against the invading Danes. Together, they reinvent English battle tactics and even take to the high seas to meet the Danes before they land.
Slowly, they push the Danes back from England. Then Edmund shows mercy to a Danish king, leading to his conversion to Christianity.
The girl in this story is Danish. She and her father are captured by Ned, who returns them safely to their home. Later, her father returns the favour by saving Ned's life. Then Ned returns to rescue her in one of the most dramatic and daring sea battles on the CD.
Under Drake's Flag (Sir Francis Drake)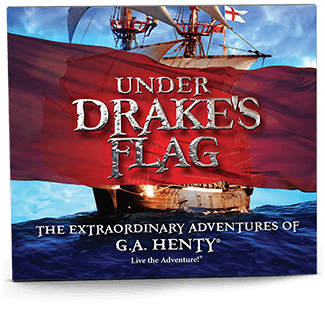 This story takes us to England in the 1500s, where Sir Francis Drake is the hero of the high seas. Ned joins his ship as a cabin boy and learns to live by Drake's code of honour. He valiantly rescues Donna Anna, a young woman on one of the Spanish ships Drake captures, and then survives a ship wreck in South America.
There, Ned and his fellow cabin boy Gerald come face-to-face with the slave trade and the Spanish Inquisition. With Donna Anna's help, Ned and Gerald help defend escaped slaves against the Spanish landlords. Then they must stand up for their faith in the face of persecution and find a way to rejoin Sir Francis Drake on the Golden Hinde.
This was, I think, the scariest of the G. A. Henty audio dramas. Even I wondered how the boys were going to get away from the Spanish Inquisitors! What I appreciated about this story is that, like all of the audio dramas, it never paints the "enemy" as entirely bad. A Spanish landlord helps the boys and (spoiler alert) Ned returns to marry his daughter at the end of the story.
With Lee in Virginia (General Robert E. Lee)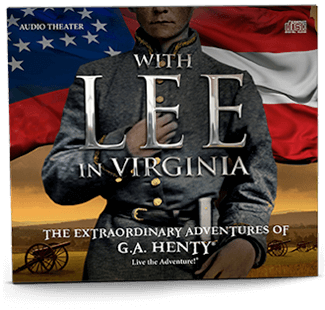 I must admit I was most curious about this story. Most of what I know about the American Civil War comes from Gone with the Wind. In the other three stories, the "heroes" were clearly victors, men who've gone down in history for doing great things for their countries. General Lee, on the other hand, fought for the losing side of war. How could he be a hero?
In this story, Vincent is a landowner's son in Virginia. He clashes with his neighbour over how a slave is treated, and helps that slave escape to Canada. When the war begins, Vincent signs up with General Lee, his father's friend and his childhood hero.
However, in his very first battle, Vincent watches his best friend die and is then sent home with serious injuries himself. He's left questioning the war and his role in it as he spends the next year recovering. A visit from General Lee restores both his faith and his sense of duty, and Vincent rejoins the army.
In battle, Vincent rides on Wildfire, his father's horse and one of the fastest horses in the cavalry. He's often sent to bring messages from one general to another, giving him (and the listeners) an overview of the war.
Then Vincent is captured by the Union army. In prison, he's reunited with his best friend as well as his old enemy. Escape brings him face-to-face with a shotgun-wielding girl who has the only boat that can get him across the river to safety. Back with the army, Vincent watches as Lee surrenders the war.
The Extraordinary Adventures of G. A. Henty
We'll be listening to the Extraordinary Adventures of G. A. Henty over and over again, I'm sure. With stellar sound effects and surprising twists and turns in each story, these CDs held our attention from beginning to end. Each adventure includes a free study guide (either included with the CD or available for download) to help you talk about the story and lessons with your children.
Faith was woven through each story naturally as the main characters struggled to learn and grow. Each hero has a favourite Bible verse which becomes a theme for the story. Robert E. Lee quotes Proverbs 21:31, "The horse is prepared for the day of battle, but victory belongs to the Lord." He talks about how they can each only do their duty, while the consequences of each battle are up to God. Wallace quotes Psalms 23 and King Arthur wonders how to love his enemies.
The cast includes well-known and acclaimed actors such as Sean Astin (Rudy, Lord of the Rings), Kirk Cameron (Fireproof, Left Behind), Brian Blessed (Star Wars), John Rhys-Davies (Lord of the Rings), Skandar Keynes (Chronicles of Narnia) and more. The music score is composed by John Campbell, who has also worked with Focus on the Family Radio Theatre and Adventures in Odyssey. All four adventures are adapted from the books by G. A. Henty.
If you're looking for some great audiobooks for your next road trip, or to teach your children about faith and history, check out the Extraordinary Adventures of G. A. Henty. Intended for audiences from age 6 up, these stories are sure to delight the whole family!