As a mom, one of my biggest tasks is getting supper on the table every night. There are days when I enjoy trying new recipes, making lasagnas and quiches from scratch, or putting together a fancy meal. There are more days when I resort to my favourite quick and easy meal ideas.
The problem with "quick and easy" is that too often, it's also unhealthy. I dislike most "5 ingredient" recipes because one of the ingredients is sure to be a can of soup, a package of soup, or some other mix I haven't got in my kitchen. Packaged foods tend to contain high amounts of sulphites and preservatives that I don't want to feed my family. So I'm left with this toss-up between serving quick and easy meals or serving healthy meals.
That's why I was really excited to hear about Seeds of Change®. These ready-to-heat products are organic and healthy. I can feel good about tossing dinner together in ten minutes now!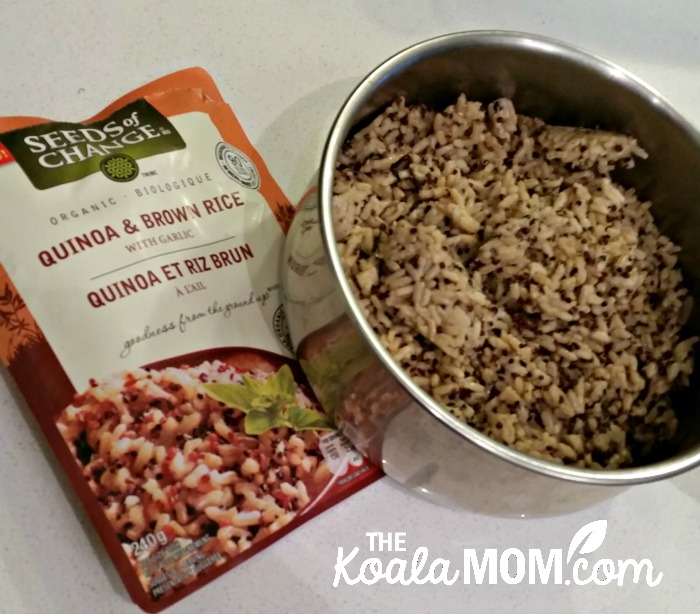 We had the Seeds of Change® Spanish Style with pork chops that I cooked on the grill (or BBQ) and a fresh salad. It was one of those hot summer nights, so it was nice not to spend too much time in the kitchen. I just dumped the Seeds of Change into a pot, added a bit of water, and stirred it a couple times while the pork chops cooked. Supper was ready in about the same time it took Sunshine to set the table.
I made the Seeds of Change® Quinoa and Brown Rice with Garlic with chicken breasts and veggies with dip. Again, it was a quick and easy meal on a busy summer evening. In the summer, I love using my counter top grill (since we don't have a BBQ). It's nice to find a side that's easy to cook and doesn't heat up the house. We don't have a microwave, but Seeds of Change is just as easy to reheat on the stove.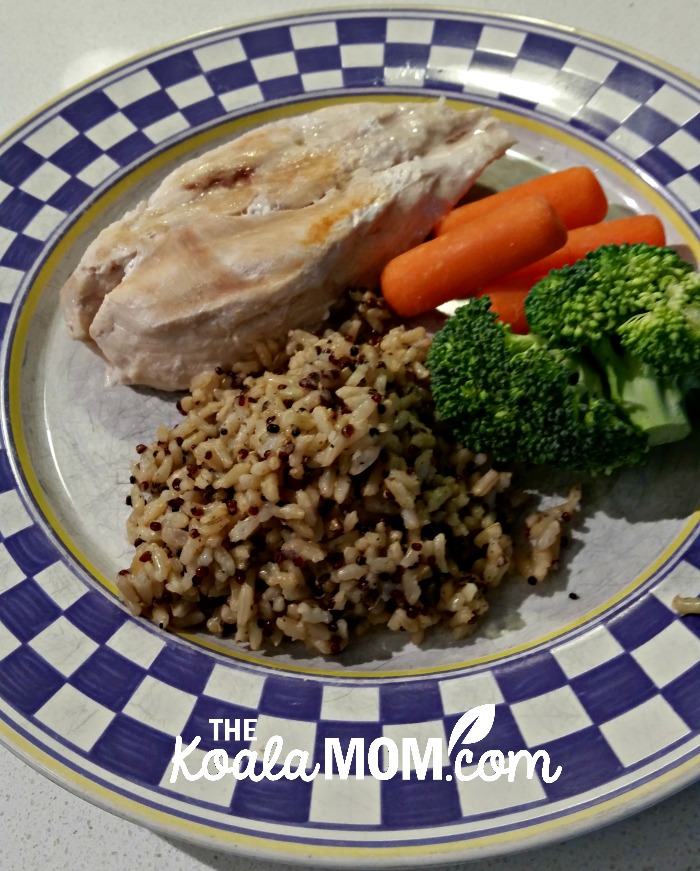 We all liked both varieties. I made two packages to serve our family of five and there was only a small helping for leftovers.
Seeds of Change® is a certified organic rice and ancient grain brand that you can heat up in the microwave or on the stove top in just minutes. They match organic products with simple-to-prepare instructions. Seeds of Change® is the only Certified Organic, ready-to-heat rice and grain brand available in Canada.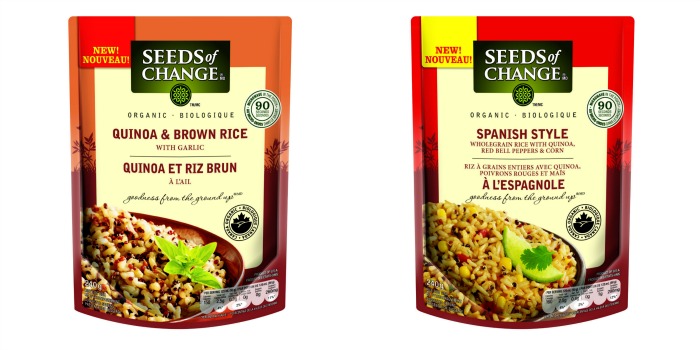 This summer, Canadians have a chance win a GRAND PRIZE trip to Ontario. They'll enjoy a meal of original recipes from world-renowned Chef Jamie Kennedy, made with local, seasonal produce and Seeds of Change. Five grand prizes include travel for two to Prince Edward County from anywhere in Canada, two nights' stay in nearby Toronto, and $1,000.000 CAD spending money. The contest ends on August 14, 2016. To enter, head to your local grocery store and purchase Seeds of Change®, then enter online with the code on the package at www.SeedsofChange.ca.
Moms can also feel good about buying Seeds of Change by knowing that they're supporting the Seeds of Change Grant Program in Canada. This program contributes 1% of sales to community gardens across the country. They also contribute 1% of sales toward sustainable farming agriculture worldwide. Seeds of Change offered grant money to help get the gardens started and keep going all season long. We've talked about joining our local community garden, so I love this idea.
Seeds of Change is all about helping Canadians access local, organic food. Whether they are supporting families who want to grow their own food, or offering easy-to-use organic products to busy moms, they are doing just that. The Seeds of Change Canada Facebook page is a great resource for Canadians who are interested in growing or cooking with organic ingredients.
What are your favourite quick, easy, and healthy meals? What would you cook with Seeds of Change?
I received samples of the Seeds of Change varieties mentioned and compensation for this post; all opinions expressed are my own.