This year, I've been getting the girls helping more in the kitchen. I want them to learn how to cook and to appreciate the work that goes into putting food on the table daily. At the same time, I struggle with safety issues and the mess that usually accompanies any help they give. Here are my tips to get kids involved in the kitchen with you.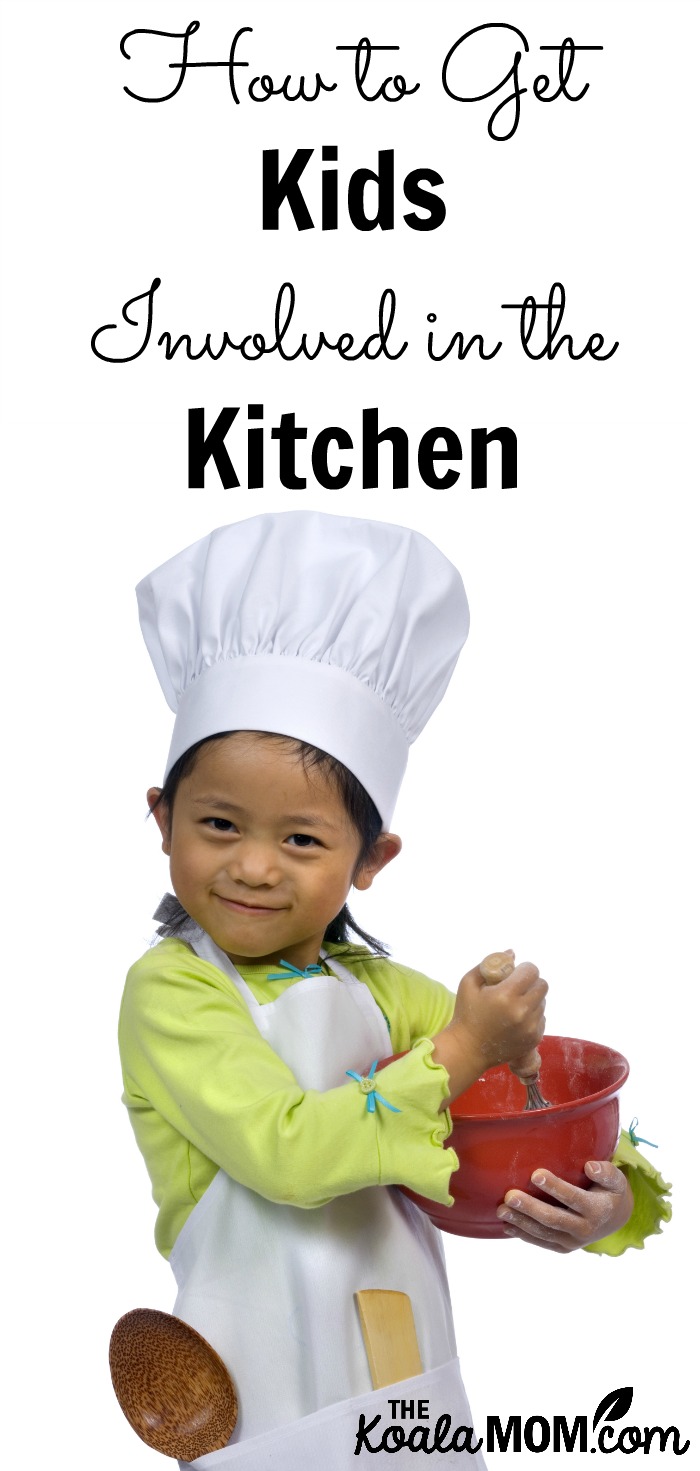 I received the Complete Children's Cookbook for review courtesy of DK Canada; all opinions expressed are my own. This post contains affiliate links; as an Amazon associate, I earn from qualifying purchases.
Get Kids Involved in the Kitchen Chores
I assigned Sunshine and Lily kitchen days several months ago. Sunshine gets odd days, Lily gets even days. On their kitchen day, they unload the dishwasher, set the table, and help with supper prep as they are able. I've given them jobs like grating cheese, stirring pots, and finding condiments in the fridge.
In our previous home, I had most of the kids' plastic cups and plates in a cupboard they could reach. It made it easy for them to get drinks and snacks as they wanted to, and to help0 unload the dishwasher. Someone looked at it and commented it was very "Montessori" of me, but it worked for us.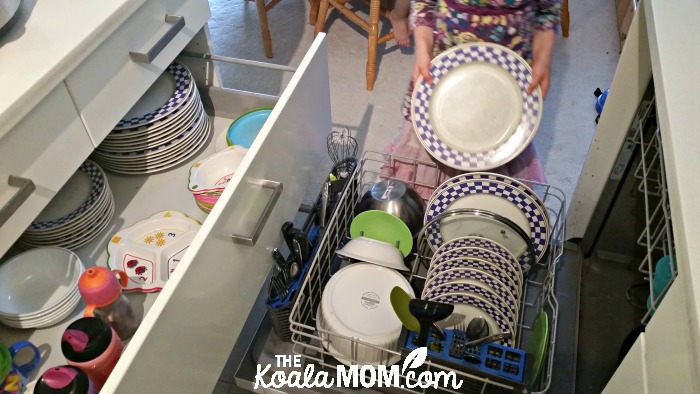 In our current home, I have big drawers under the counters. I've put all the plates, bowls and the kids' cups in a large drawer so they can reach them to both set the table and put them away from the dishwasher. I unload the knives and glassware from the dishwasher.
Besides teaching them responsibility, the girls' kitchen days have also been a chance to spend time together. I'm usually in the kitchen when they are, wiping down the counters while they unload the dishwasher or doing other tasks. Sometimes we just work together, sometimes we chat about the dishes, and sometimes other topics come up.
Find a Kid-Friendly Cookbook
Having a kid-friendly cookbook makes it easier to get the kids involved in the kitchen. We recently got the Complete Children's Cookbook
from DK Canada. Sunshine immediately took it over as her cookbook. She wanted to start cooking and baking immediately. I gave her a pack of sticky labels and told her to mark the recipes she wanted to make so that we could make a grocery list. Then I showed her my menu plan for the month and she picked which days she wanted to cook on (usually her kitchen day).
So far, she's made smoothies, French toast, bruschetta, noodle soup, and cookies. Most of these she was able to make with little help from me. I hung out in the kitchen, helping reach a few ingredients or tools that were in upper cupboards. She read the recipe and followed the directions, thanks to lots of pictures and clear steps.
I remember learning to cook macaroni and cheese when I was about Sunshine's age. For a while, I've been wondering how to teach her to cook. Complete Children's Cookbook
has solved that problem for me. Sunshine enjoys browsing through the cookbook, looking at the pictures. The cookbook lets her have some independence in what she makes.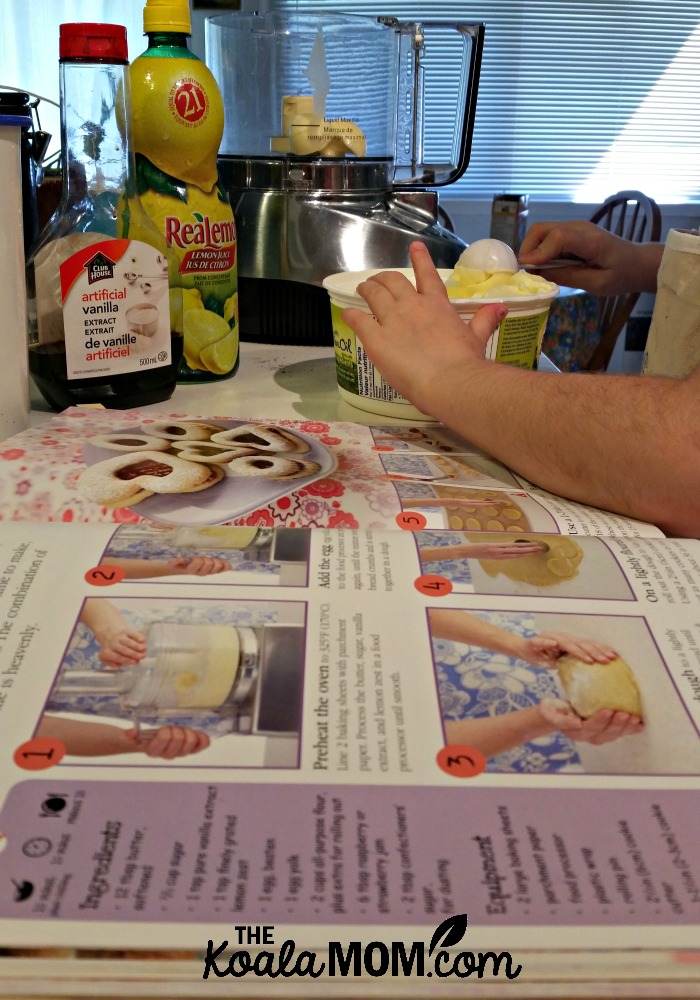 I've looked at kids' cookbooks before, but found many of them too simple. The girls don't need a "recipe" for making peanut butter sandwiches. I like this cookbook because it has some "sophisticated meals," like noodle soup or bruschetta, that are made easy and accessible for children. The kids are also taught variations on recipes in sections like "5 Ways with Bruschetta" or "4 Ways with Sauces."
Letting your young kids in the kitchen to help out can be really overwhelming, I have been there, and avoid baking while they were awake for a time just because it was easier, I get it. But it is so freaking rewarding to watch them learn new skills in the kitchen, to see their face light up when they have made something completely on their own. ~ Ashley from Forgetful Momma
Younger Children in the Kitchen
Complete Children's Cookbook
also sparked an interest in Jade. She wants to be doing whatever her big sisters do. She often helps set the table and is quite proud of being able to help like that. Right now, her help in the kitchen is voluntary, but she's often happy to do it.
Jade saw a picture of tarts in the cookbook and talked about making tarts for about a week before I said okay. She helped me stir the pie dough and cut it out, then dropped two or three blueberries into each mini tart after they were baked. I did the measuring, kneading, rolling and glazing. She was very proud of her tarts—and enjoyed eating them too. (Get kids involved from farm to table by visiting a u-pick blueberry farm!)
How do you get kids involved in the kitchen? Do your children like cooking?