We love cheese.  I buy big blocks on sale and we usually have two or three at a time in our crisper.  So when I sent my husband to the store with a coupon to try the new Kraft Shredded Cheese with a Touch of Philadelphia, I wasn't really surprised when he came home with three packages.  "They were on sale," he said.  And he couldn't decide which one to try, so he simply bought all three.  No problem.  Did I mention we like cheese?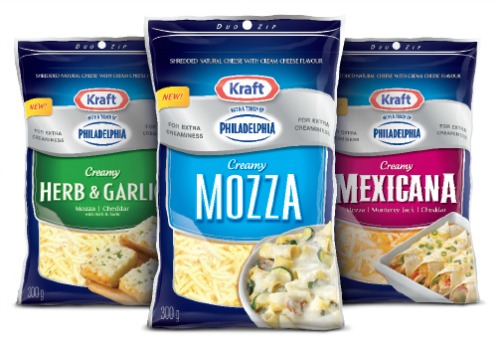 Now that I'm done school, I'm super excited to have more time to cook for our family.  When I thought about what cheesy dish I wanted to try, I immediately thought of quiche.  This is one of my all-time favourite meals, but it requires time to bake.  Last week, I looked up a couple recipes on the Kraft website, printed them off, and went to work in the kitchen.
I made my pie crust from scratch (I have an easy recipe and like rolling out crusts).  For the ham quiche, I used some black forest ham I had gotten on sale the week before, and simply chopped it up and dropped it in the crust.  (Mushroom would have been good too, but when I went digging through my pantry, I realized I had run out.)  For the spinach quiche, I had fresh spinach rather than frozen, so I simply fried the onions for five minutes, dropped the chopped fresh spinach in for an extra minute, and then poured it into the crust.
I added one cup of Kraft Shredded Cheese with a Touch of Philadelphia to each quiche, mixed up the eggs/milk mixture, poured it on top, and popped them both into the oven.  Soon our house was smelling deliciously cheesy.

The girls were very excited to have "pie" for supper and even Jade couldn't wait to get her fingers on some food.  I served up the quiche and we said grace quickly and started eating.  The ham quiche was a huge hit.  My husband and daughters loved it.  I personally preferred the spinach quiche, and got to eat leftover quiche for lunch for the next week (yum!).  Both were cheesy and creamy and delicious, just as quiche ought to be.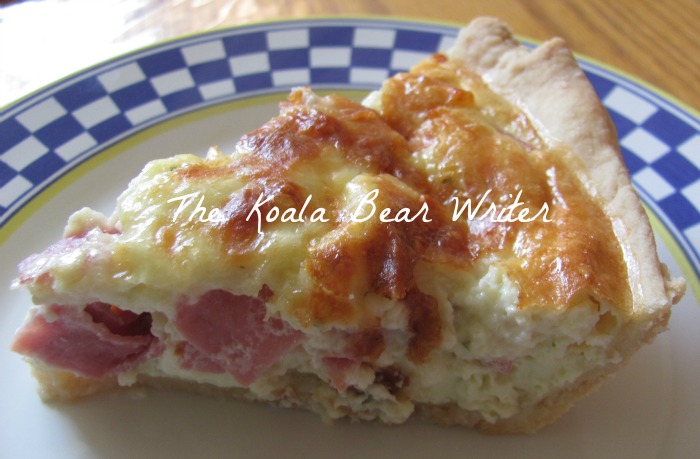 Overall, the quiche was a big hit.  Using Kraft Shredded Cheese with a Touch of Philadelphia made prep and clean-up faster, which I like.  Everyone liked the taste.  Kraft Shredded Cheese with a Touch of Philadelphia is available in three delicious flavours: Creamy Mozza, Creamy Herb & Garlic (which I used for these recipes) and Creamy Mexicana.
Kraft Canada is hosting a What's Cooking Twitter Party on Wednesday, April 16 at 9 pm.  Follow @KraftCanada and #TouchofPhillyCheese for lots of delicious ideas!  You can also check out the Kraft Canada website like I did for more scrumptious recipe ideas that include Kraft Shredded Cheese with a Touch of Philadelphia.
Disclosure: Although this post has been generously sponsored by Kraft Canada, the opinions and language are all my own, and in no way do they reflect Kraft Canada.