Winter on the west coast means rain. As someone who doesn't like rain, I found lots of ways to get out of the house with the girls without getting wet. Here's my top nine indoor things to do in Victoria, BC, when the weather outside is fit only for ducks.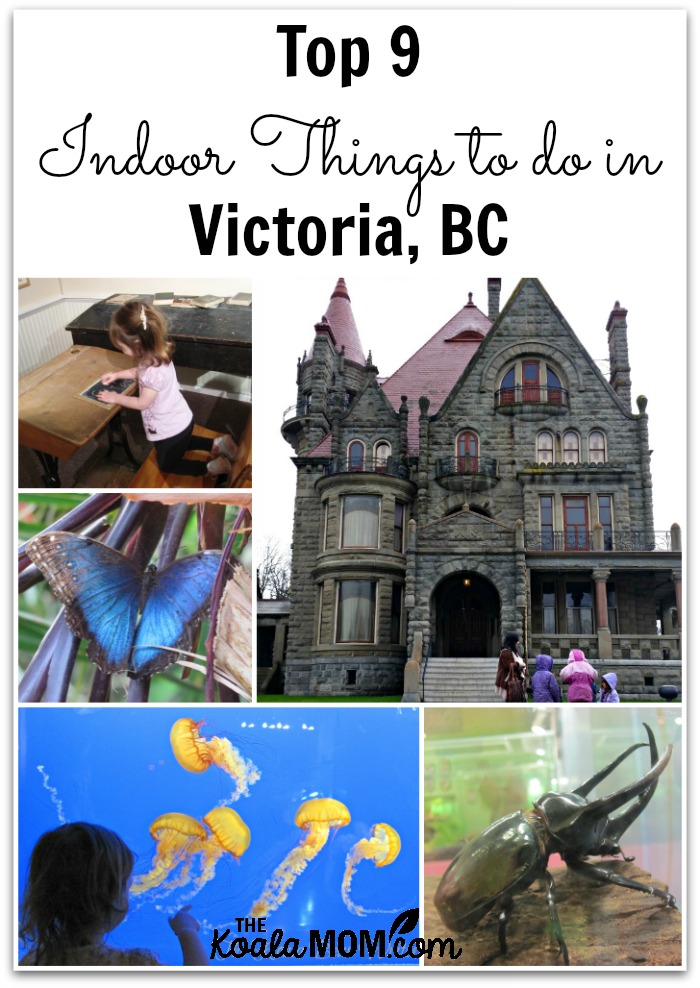 Indoor Things to Do in Victoria's Downtown
Victoria Bug Zoo—watch the ants march around their colony, hold a praying mantis, or stare down a tarantula at Victoria's creepiest attraction.
The Royal BC Museum—in the downtown core, the Royal BC Museum offers a full day of exploring. Check out the changing feature exhibits and take in an IMAX movie or grab a snack at the cafe.
The Maritime Museum of British Columbia—learn more about the sea faring history of BC (including the stories behind many names around the city) at this little museum on the tourist stretch.
Miniature World—tour the past, present and imaginary in miniature dioramas.
Indoor Things to Do Around Victoria
Craigdarroch Castle—located close to downtown, this mansion is a fun step back in time that showcases several different eras of Victoria's history.
Crumsby's Cupcake Cafe—this kid-friendly cafe offers the perfect place for a rainy day playdate. Both locations feature kids' menus and a corner with books, toys, and chalkboards for the kids. It's one of our favourite places to hang out!
Indoor Things to Do Nearby
Victoria Butterfly Gardens—down the highway towards Sidney, the Victoria Butterfly Gardens offer a taste of the tropics with their indoor rainforest filled with butterflies, frogs, turtles, and more.
Shaw Ocean Discovery Centre—located in Sidney, the Shaw Ocean Discovery Centre gives visitors a hands-on glimpse into the local Salish Sea.
Sidney Museum—this small museum has tons of great stuff to look at, including cool LEGO models.
For more things to do on Vancouver Island, check out my Pinterest board:
What do you and your children enjoy doing on rainy days? Do you have some favourite indoor things to do in Victoria?