Last weekend, the Maritime Museum of British Columbia hosted their annual Open House (admission by donation).  We rode the bus downtown and began wandering through the galleries.  Our girls aren't quite as interested in museums as my hubby and I, so I tend to read a sign quickly, chase them, read a sign quickly, chase them, read…
For this visit, my mom was with us, so between my husband, my mom and I, we were able to take turns watching the girls and exploring the exhibits.  I did try lifting Lily up to explain some of the displays to her, but speed reading is a required skill when visiting museums with little girls.  There were also several things available for the kids to do, from a mock crow's nest and ship's wheel to a log house set and some colouring tables.
Being a history buff, I enjoyed the first-floor exhibit about the early explorers in North America.  There was information about Russia, England, Spain, and France and the boats and sea captains  they sent across the oceans.  There were several plaques detailing information about Vancouver and other explorers whose names I recognized from islands and streets around Victoria.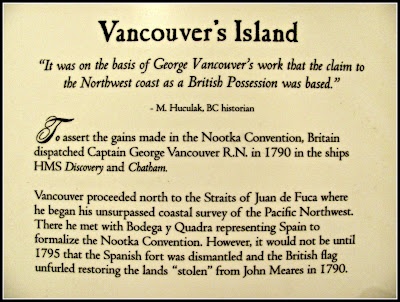 I was still circling the first-floor gallery, trying to keep the girls from making too much noise, when I noticed a doorway and signs to the second floor gallery.  There was more to this museum?  Quite a bit more!!!  I ducked into the engine room and took a quick look around (thinking that both my dad and father-in-law would enjoy that), and then went upstairs.  There was a touch pool for children (and the girls actually touched most of the critters in there, including a chiton and sea star).
While they tried to assemble a neutral buoyancy object, I tiptoed through the nearby room, exhibiting the paintings of Robert McVittie.  Then I convinced the girls to go upstairs to the What Lies Beneath Exhibit.  Here, there were several TVs showing movies about undersea life.  Lily watched the movie about underwater research projects around Vancouver Island twice.  There was also a display about BC Ferries, and so much information that I didn't try to read it all (this time!).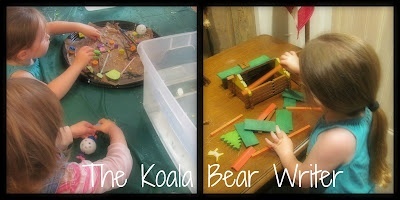 We went upstairs to check out the old courtroom, a beautiful wood-paneled room that is all that's left of the original building here.  The museum is located in the old courthouse and still has a beautiful hand-operated elevator—the only elevator I've seen that has a seat in it.  We left to catch the bus home again, but we'll be back to check out the rest of the museum sometime soon.