Victoria's Miniature World is a fun museum full of dioramas showing local and international scenes.  We've often walked past and looked at the dioramas in the window, but we'd never actually visited before. During Be a Tourist in Your Hometown, we took advantage of the chance to drop in. It was very busy because of the free admission, but we still enjoyed peering into all of the exhibits.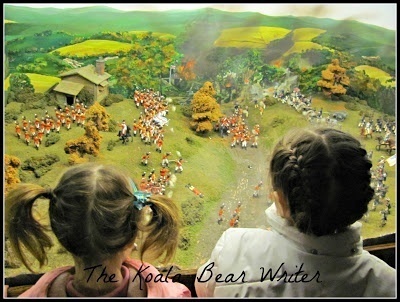 Many of the exhibits were at a height that the girls could see them without help.  Other exhibits had a stool in front of them, which helped Lily get a better view.  Their favourite exhibit had a train running around from one end of Canada to the other.  They chased the train around the exhibit several times, watching it come and go through the spiral tunnels and pass the Last Spike and then head out through the Prairies to the Maritimes.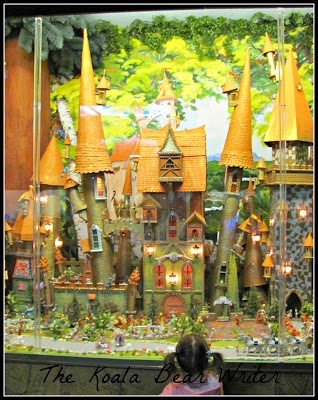 There were dioramas of various wars, others of fairy tales and fictional stories, a whole hallway full of circus models, and several exhibits of local churches and houses.  Lily's favourite was a moving carousel, complete with music.  Several of the exhibits had buttons which made various parts of the exhibit move or turned on lights, which Lily and another little boy her age enjoyed.  I had fun guessing what the exhibits were before reading the descriptions.  There was also a voice-over in most sections, telling the story behind the models, though at times this was hard to hear because of how many people were visiting.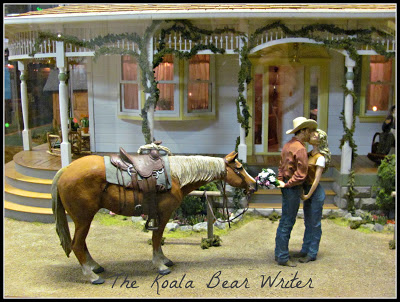 I was amazed at the details captured in each of the exhibits.  They were so tiny, and yet so precise—from any angle!  We spent nearly an hour there, yet we were moving fairly quickly because Sunshine and Lily had slightly shorter attention spans than we did.  We agreed as we left that it was much bigger than we had expected; there was lot to see there and you could easily spend much more time peering into each exhibit, reading the signs, and listening to the stories.
If you are visiting Victoria, I recommend a stop at Miniature World.