Last month, we went to the Shaw Ocean Discovery Centre in Sidney three times.  The aquariums there are absolutely gorgeous and there is so much to see in each one.  We got annual passes (the same price as going twice) and used a Groupon to take my husband's parents when they came to visit us.  Each time, we've spent about an hour wandering about, watching the undersea creatures.
One of my favourite tanks is the jelly fish.  I could watch these graceful, beautiful creatures for hours.  There are several small tanks (at the perfect level for Lily and Sunshine to look) with clear, thumbnail-sized jelly fish and one large tank with huge, orange jelly fish drifting about: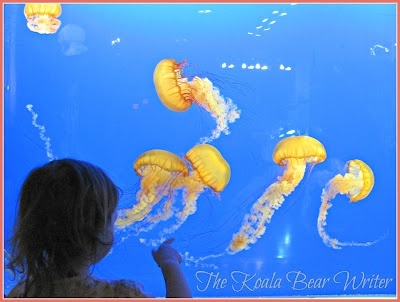 There was also a tank where we saw baby wolf eels—it was hard to imagine that these translucent orange fish the size of my finger grew to be the monstrous, ugly eel that we saw at the Pacific Undersea Gardens.  In another long, narrow aquarium, we saw a variety of hermit crabs, sand dollars, and even barnacles with their tentacles waving in the water current.  It was so amazing to see these creatures up close like that; I've seen tons of barnacles on rocks, but never ones that looked alive.
Another favourite tank holds several sea stars—I'm not sure exactly how many sea stars are in the tank, because it's been a different number every time we've been there.  The sea stars can climb up a rock at the back of the tank to hide.  One time when we were there, all the stars were on the move—one was going up, another was coming down, and a third was slowly slinking from the top glass wall of the tank around to the bottom.  They have a million tiny hairs on the bottom of their bodies that slowly creep over the wall or the sand, propelling them forward.  It's absolutely fascinating to watch.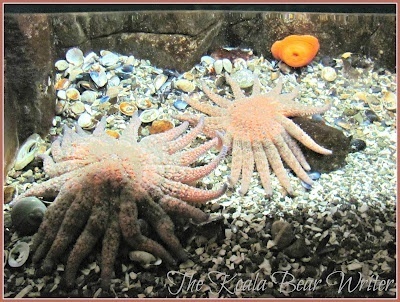 There's one aquarium that the girls could duck underneath and then stand in a dome to watch the aquarium from inside.  Most of the aquariums were at the level that the girls could easily watch, though a few aquariums were higher so I had to hold Lily up to look in them (such as the sea star tank).  The glass on all the tanks was sparkling clean, so I kept telling the girls "don't touch! don't touch!" until a volunteer told me, "They can touch as much as they want.  We'll clean it.  Just don't let them bang on the glass."
At various times during the day, the volunteers run short presentations on some of the fish or creatures.  We saw them feed the salmon on one visit and caught the octopus presentation on our third visit (and saw the octopus for the first time).  I was fascinated to learn that they only keep the octopus there for six months, because they don't have a tank big enough to keep a full-grown octopus.  They also have to make up games for the octopus to play, as octopi are very clever creatures and easily bored.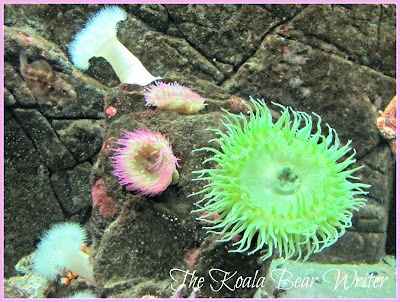 The girls' favourite part of the Ocean Discovery Centre is the touch pool.  They love being able to play in the water and to pet the sea stars, sea cucumbers, hermit crabs, fish, sea urchins, and other creatures there.  There's also an area with microscopes, where the girls can take a close-up look at some undersea creatures (though our girls haven't quite figured out how to use microscopes—Sunshine likes trying).
Sidney is about half an hour away from Victoria, but there's lots of other great shops and restaurants there to check out if you do visit.  There's also a nice beach and several playgrounds for kids, as well as a lovely beach-front path for walking, biking, or picnicking.  At every visit to the Shaw Ocean Discovery Centre, we've seen something new, and I look forward to what we'll see next time.