We spent the majority of last week at the 20th Annual Catholic Family Life Conference in Lac St. Anne, Alberta. The organizers had finally convinced Scott Hahn, one of our favourite Catholic authors, to come speak, so we decided to make the trek across the province. It also gave us a chance for a quick visit with our families, since we aren't planning to go back this year for Christmas with the baby due in November.
The conference was amazing, as it always is. We went way back when Sunshine was about one, so it was a lot of fun to return and attempt to catch up with various other friends we haven't seen in years. (Moving lots kinda makes it hard to stay in touch at times.) The speakers were all incredible; most got standing ovations at the end of their talks.

So here's a few highlights of the 2015 Catholic Family Life Conference. (This post contains affiliate links; as an Amazon associate, I earn from qualifying purchases.)
Dr. Scott Hahn
Dr. Hahn gave three talks on Wednesday, the first day of the conference. In his first talk, he gave an overview of the Catholic Church from Vatican II to the present day. He pointed out that the theme of Vatican II was evangelization, and various popes since then have carried that message forward. Pope Paul VI made various evangelizing trips and wrote an encyclical; Pope Saint John Paul II made even more trips and coined the phrase the "new evangelization." Now, Pope Francis is taking up this theme once again.
Dr. Hahn mentioned that in Mass, we inhale the spirit of Jesus; then we go out to the world to exhale Jesus to everyone we meet. Evangelization is about friendship and the joy of the Gospel. When Mary went to visit her cousin Elizabeth, John the Baptist leapt for joy in his mother's womb. So we should enjoy being Catholic!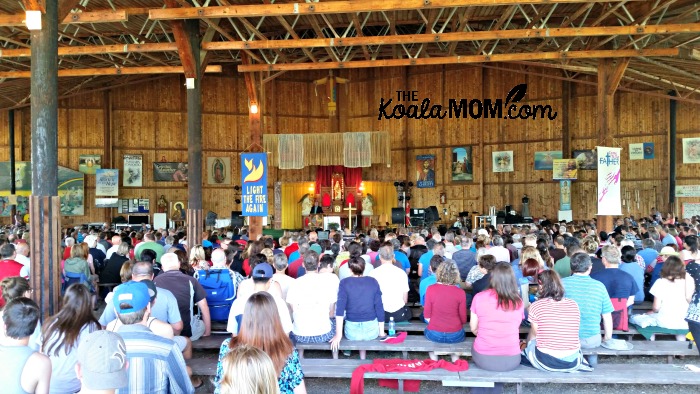 He also talked about the grace that comes to us through the sacraments, particularly marriage and confession. Sacraments are what God does for us, giving us the grace we need everyday. If Catholic married couples lived out the grace of the sacrament, our world would be transformed in one generation. Confession isn't about letting God in on our dirty little secrets; we confess so that He can let us in on the secret of grace and mercy and forgiveness.
Finally, in one of his last talks, Dr. Hahn addressed the question of sinful priests. He pointed out that when you go to a doctor, the prescription for medicine he gives you works whether the doctor himself is healthy or sick. So also Mass works whether the priest of a sinner or not. God works through the priests to give us grace.
Dr. Edward Sri
Dr. Sri talked about how God is always calling us to step out of our comfort zones and take a leap of faith. From Abraham in the Old Testament to Mary in the New and saints like Mother Teresa in the modern age, He asks big things of us. He talked about various events in Mary's life that we can learn from.
Dr. Sri later gave a great talk on marriage, pointing out that marriage is not a basic skill like riding a bike. It's a fine art that needs to be practiced and perfected. We can't learn piano or basketball in a weekend; neither should we expect to learn marriage in a weekend (or a marriage prep course).
Other Speakers and Bishops
Other speakers included Patrick Coffin from Catholic Answers, John Connelly (a long-time supporter of the conference and local speaker), Father Ben St. Croix, and Dr. Michael and Terese Ferri (a lay couple). Many of the talks ended with standing ovations as the speakers gave us lots to think about.
Various bishops came to celebrate the daily Masses with us, including Archbishop Richard Smith and the priest who confirmed me and baptized Sunshine (and is now a bishop). One Mass was even an Orthodox Mass, and it was interesting to see the differences and similarities in traditions.
Cat Chat
I think the highlight of the entire week for Jade was the Cat Chat concert. My husband and I were debating even going to the concert, because it was a bit late at night. However, the girls were so excited about it that we gave in and stayed for the evening.
Sunshine and Lily were right up at the front of the stage, getting into the music and actions. Jade, who usually doesn't like mascots, eagerly waited for each of Moses the Cat's appearances and even gave him a hug at the end of the show. She then talked about Cat Chat for the next two days of the conference.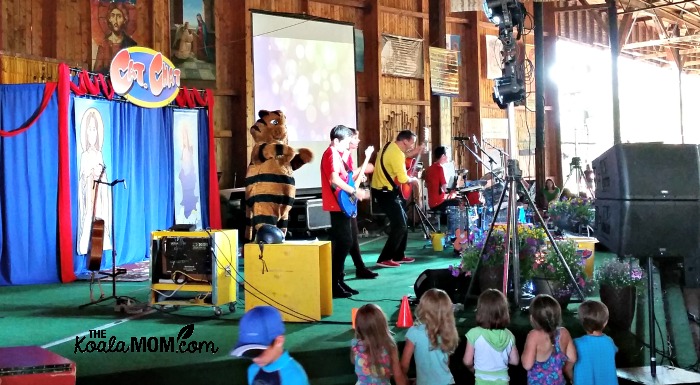 The Kids' Tent
Sunshine was stoked for her sessions at the conference. Lily was supposed to be in the "toddler tent" for kids ages 3-5, but after the first day she complained that it was for babies and there wasn't enough space to run around, and she went instead with Sunshine to the sessions for kids 6-8.
They did music, games and crafts there and Sunshine was up early each morning, determined we'd be there at 9 am for the first session. They also had fun connecting with "new" friends between the sessions as my husband and I caught up with old friends.
For the talks, Jade ended up with my husband and I in the Shrine. I wasn't totally sure how she'd do with sitting still for an hour at a time. However, she was actually really good! We took a set of dress-up bears (a wooden puzzle sort of thing) which she played with for three out of the four days.
The day we tried to bring something else for her (in case she was tired of bears), she trotted into the Shrine, found a bench, sat down, and turned to me to ask, "Bears?" I was able to scribble notes for most of the sessions while she played quietly beside me.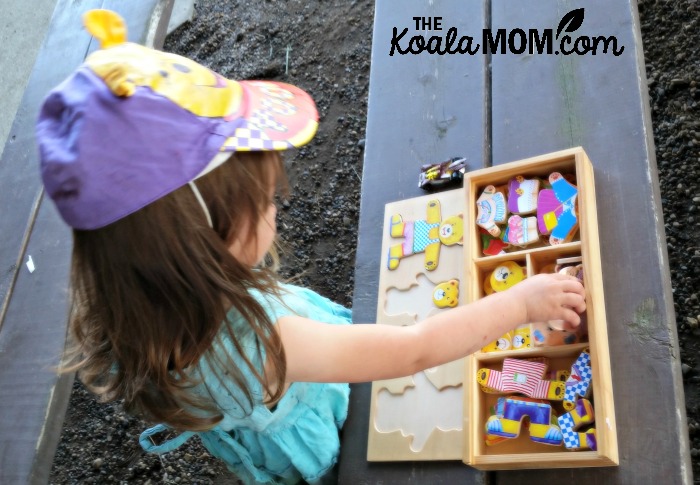 Overall, it was an excellent week. I enjoyed seeing so many dads pushing kids in strollers or wearing babies in Ergos. And it was fun to be part of a crowd where we are "only" expecting Baby #4, and people said, "That's great!" instead of "Oh, you must be busy" when we mentioned we are expecting again.
It was also neat to be part of a big, safe community where the kids could run around having fun—and if they got lost, someone they knew would be there to help them out.
For more information about the Catholic Family Life Conference (including other upcoming events), check out their website.