Get in the mood for Christmas with Where Treetops Glisten: Three Stories of Heartwarming Courage and Christmas Romance During World War II. Written by Tricia Goyer, Sarah Sundin and Cara Putnam, these stories follows three siblings through the Christmases of World War II, from December 1941 to 1945.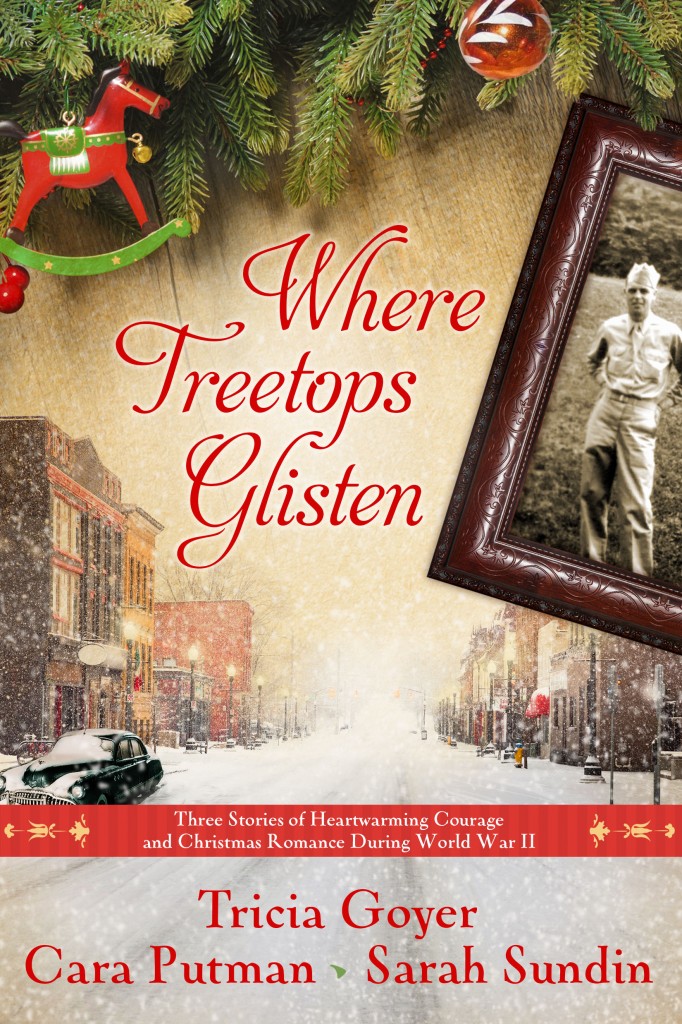 In "White Christmas," Abigail has vowed never to feel anything after her fiance's death at Pearl Harbour. She's focusing on her studies to become a teacher and her job at Glatz Candies when she runs into Jackson. He's left his family farm to work at the local toy factory, but the money he's sent home to pay the mortgage hasn't made it and the bank is about to foreclose. As Abigal's father helps Jackson sort through the problem, she finds herself falling in love with the handsome, caring young man.
In "I'll Be Home for Christmas," Pete is struggling with the horrors he saw as a fighter pilot in Europe. His pastor challenges him to give, but Pete doesn't know how to—or how it will help. Then he runs into Linnie, a precocious 6-year-old who decides Pete is her new daddy. Linnie's mother Grace is struggling to support her daughter, but Linnie's escapades have chased off every babysitter. Can Grace trust Pete—the guy who used to throw snowballs at her—with her daughter?
In "Have Yourself a Merry Little Christmas," Meredith is a nurse on the front lines in France, hoping to find a piano to plan some Christmas music for the wounded soldiers. Every German soldier she sees reminds her of David, the man who shared a summer of love with her in Florida before he disappeared when the Japanese bombed Pearl Harbour.
I enjoyed following the Turner family through each story, getting each siblings' perspective on the war. Faith is a constant theme in the stories, yet doesn't come easily for any of them. Grandma Louise appears in the prologue and epilogue and is a constant presence in the story, offering wisdom and love to her grandchildren.
Sarah Sundin's story "I'll Be Home for Christmas" was my favourite in Where Treetops Glisten. I thoroughly enjoyed the interactions between Pete, Grace, and Linnie, and may have even laughed out loud at some of Linnie's antics. I could understand the hurt that both Grace and Pete felt, the things that pushed them apart and yet drew them together. Even though I knew Linnie would get her wish of a new daddy, there were enough surprises along the way to keep me reading and enjoying the story.
I found the other two stories a little bit cliche, particularly with the theme of broken hearts. I found some of the girls' emotions unbelievable, like Abigail's desire to help Jackson when she's told herself not to fall in love again. Pearl Harbour happened in 1941, yet three years later, Meredith is still thinking every few minutes about the guy who left her that day. And the endings seemed to obvious, leaving little suspense.
Tricia Goyer is one of my favourite authors; she's written numerous books, including Blue Like Play Dough (for moms), Praying for Your Future Husband, Love Finds You in Glacier Bay and the novelization of Mom's Night Out. She and her husband have six children, including three adopted children. Sarah Sundin is the award-winning author of several World War II novels, including A Distant Melody. She's also an on-call hospital pharmacist. Cara Putnam has a law degree and is a second generation homeschooling mom (like me!). She's written twenty novels and is currently pursuing her Master's degree (I'd like to know how she does it all!).

Wanna read Where Treetops Glisten? Subscribe to my weekly email newsletter and watch your inbox on Friday/Saturday to find out how to win a copy!
I received this book for review courtesy of the publicist; all opinions expressed are my own. This post contains affiliate links; as an Amazon Associate, I earn from qualifying purchases. I'm linking up with Christian Mommy Blogger for this post.