Allie Miller is plain—at least, according to her mother, but not according to Walt Novak. Normally, Walt gets tongue-tied around pretty girls, but because he meets Allie on the train while she's helping with another woman's kids, he thinks she's taken and strikes up a conversation with her. When the two reach their destination, they discover they have a mutual friend and end up spending the next week together. Walt and Allie share a sense of humour, a love of music, and an understanding of each other's embarrassing moments.
However, Walt is about to go overseas as a fighter pilot in World War II and Allie is practically engaged to her father's factory manager, Baxter. Letters between them fly back and forth, increasing their regard for each other while they pretend they are "just friends." Walt tells his crew that Allie is his girlfriend but reminds himself she's another man's girl. Allie looks forward to each letter from Walt while trying to find a similar attraction to Baxter.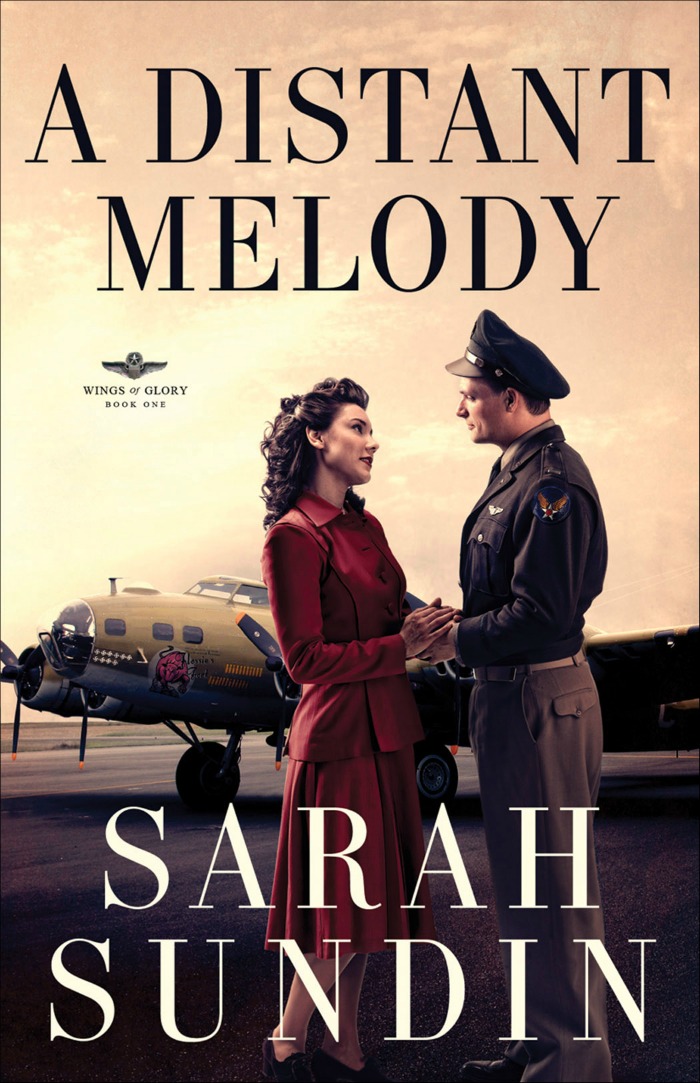 A Distant Melody is Sarah Sundin's first novel and kept me turning the pages until I found out how Allie and Walt resolve their story. Both must overcome their weaknesses and learn to be true to each other and to themselves.
One of the things that I loved about A Distant Melody was how real Sundin's characters were. After the gorgeous, perfect heroes and heroines who populate most novels and movies, it was a delight to meet characters who are "plain" or "ugly" (though beauty is in the eye of the beholder). Walt's shyness and Allie's insecurity, among other things, made them more down-to-earth and likeable. They felt like friends, people I'd have something in common with.
Another thing I liked about this novel was how faith was woven in. Walt is a pastor's son and Allie has grown up going to church, but each has to learn how to live out their faith in their everyday life. As Walt deals with his habit of telling little lies and Allie is called to obedience in the matter of choosing a life partner, their faith is tested and strengthened. The faith aspect felt real, like part of the novel, not something added as an afterthought to make it "Christian" fiction.
I had high expectations for A Distant Melody because Carla Stewart recommended it, and I wasn't disappointed. With delightful characters, precise details, careful research, and interesting plot twists, A Distant Melody was an excellent read. This is another book for my bookshelf and another author whom I'll be watching for more books from.