All Allyson and her friends want is a peaceful, grown-up evening of dinner and conversation . . . a long-needed moms' night out. But in order to enjoy high heels, adult conversation and food not served in a paper bag, they need their husbands to watch the kids for three hours—what could go wrong? MOMS' NIGHT OUT is an endearing true-to-life family comedy that celebrates the beautiful mess called parenting.
Moms' Night Out is coming to a theatre near you this Mother's Day weekend (May 9th) with an all-star cast including Sean Astin (Samwise Gamgee in Lord of the Rings), Trace Adkins (country singer and actor), Alex Kendrick (from Courageous and Fireproof).  Three of my friends had a chance to see the pre-screening of the movie and this is what they had to say…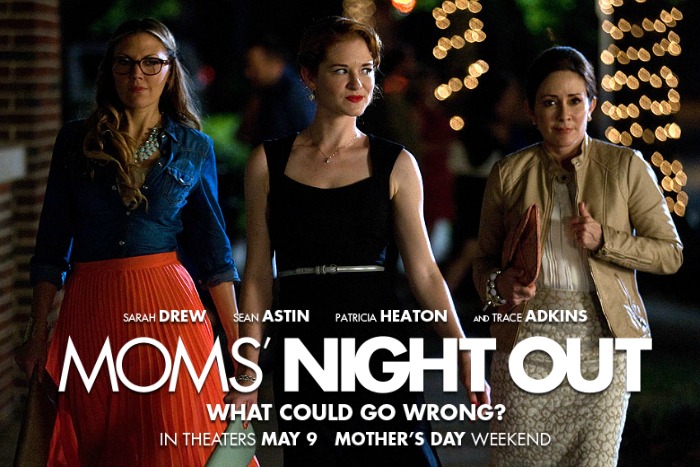 Emily, mom of 3: I loved this movie, I actually laughed so hard I lost my voice. I'd compare it to the comedic efforts of a movie like Grown Ups or The Hangover, but the woman version. At some points I had to suspend judgment and just go with the plot, but even the exaggerated scenes were enjoyable. Overall I'd recommend it for a date night or a mom's night out.
Desiree, mom of 2: Going into Moms' Night Out I was skeptical about how much I would actually enjoy it. In my experience, movies containing a religious theme inevitably wind up sounding like an unrelatable sermon designed to make me feel shame or guilt about my current abilities and success and leaves a philosophical bad taste in my mouth. What a surprise, then, to discover that not only was the religious angle used lightly and laced with so much humour that I often had tears streaming down my face!
With a nearly relentless stream of comedic mishaps reminiscent of The Hangover, Moms' Night Out successfully marries the idea of the necessity of a spiritual life with the commonly held experience of "real" life, all without leaving the viewer feeling like they just endured a 2 hour long moralistic sermon. In fact, the typical use of fear and shame to convince the viewer that they should go to church more often was instead replaced with a gentle call for self-love and compassion—a far cry from the After School Specials of old! 4 out of 5 stars.
Rhonda, mom of 2: Moms' Night Out was a funny, thought-provoking movie. As a mom I was left feeling as though many of my own crazy mom moments were just part of the experience and not an indicator of my craziness as an individual. The scene as the main character is talking to her husband right before she leaves to pick up her friends stood out to me as there have been many moments in my life where I have, in seconds, shredded out 10 worst case scenarios to not do something. Also I would have liked to see the main character discover something that could be her support as an individual, for example a new hobby, or a new activity that she can do herself.
Drop by the website to find out more about the movie (and a host of resources) or watch the trailer below.  Then grab some girlfriends and head for the theatre this Mother's Day for your own mom's night out!
If you enjoy the movie, grab a copy of the novelization written by Tricia Goyer.